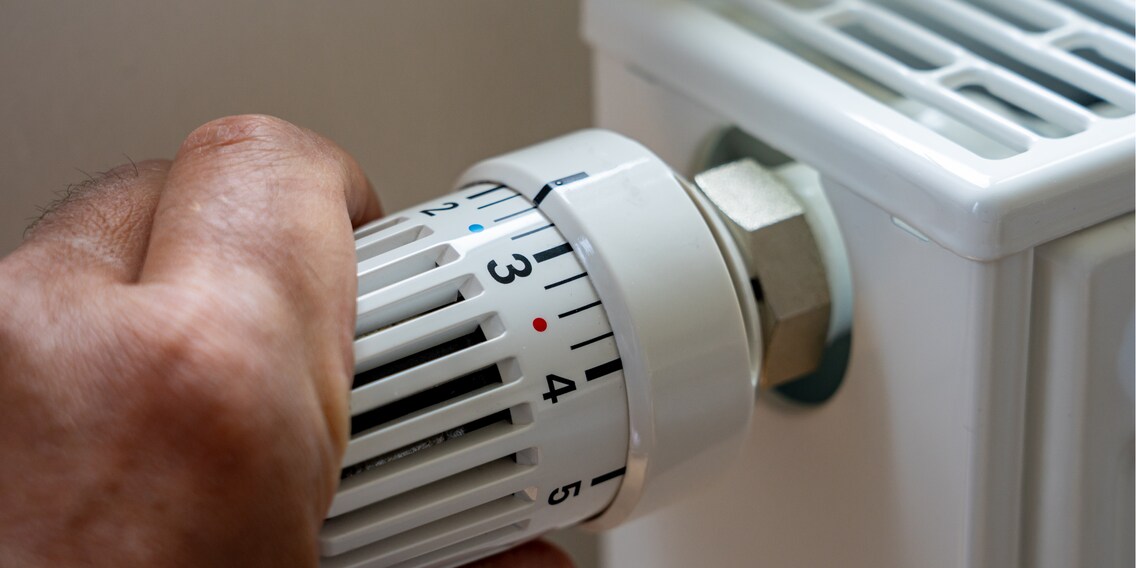 This article was translated automatically.
Saving energy: The Federal Council's tips rated
On Wednesday, the Federal Council called on us to save energy and provided concrete tips on how to do it. How good are they? Decide for yourself and make your pet list.
Energy shortage is already the word of the year 2022. Because we may be short of gas and electricity in winter, we are supposed to volunteer to help save energy. The message is as limited as the juice:
For private households, the federal government has therefore published four fact sheets, each with five tips to help save energy. They range from the simple "take a shower instead of a bath" to the expensive and elaborate "install economy fittings". I have therefore crafted a tier list - a subjective ranking - which ranks the energy-saving tips on a scale from S as absolutely top, through A to D.
Below you can see my personal tier list - you can make your own here.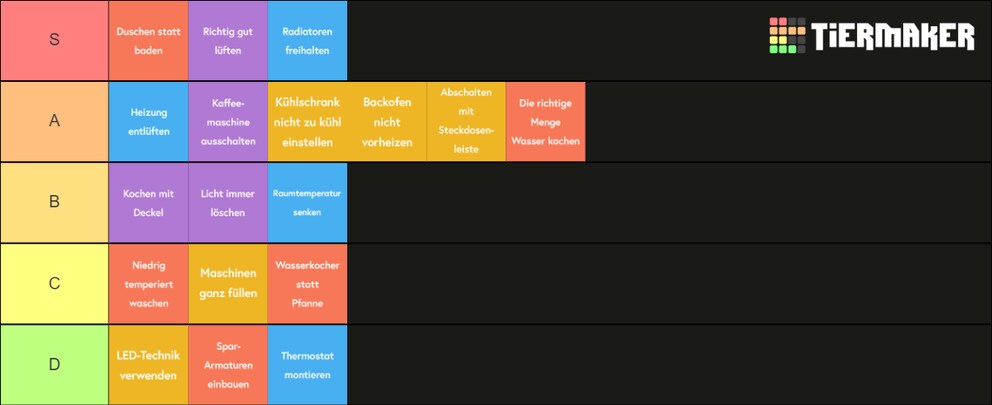 S-Tier: Easy to implement, doesn't bother me
I already follow all these tips. I always take a shower, air the flat only briefly and my radiators are all uncovered.
A-Tier: Small upsets, but I can live with them
. These are tips I have to actively think about. Turning off the coffee machine, for example. I usually don't know if I'll want a coffee later, so I often leave the machine running longer in the morning. I can easily do without preheating the oven, but there are certain recipes that require it. Baking bread, for example. For me, that means doing without it. And I have to remind myself really firmly to switch off the power strip. Installed it is for a long time.
Socket strips
12.70
per piece for 2 units
Steffen Power Easy connector strip
B-Tier: The effort is considerable
. Cooking with a lid on all the time doesn't work - pasta sauces get watery, roast potatoes don't crisp up. The big lights-out is also difficult for me. What I haven't learned in forty years, I can't beat into my head in one winter. The fact that "lower room temperature" is in the B tier has another reason: I already turn the heating to the lowest setting in winter anyway. It doesn't go any lower.
C-tier: It's almost out of the question for me
. Sorry, but I don't wash my underwear at 20 degrees. I also don't let the dishwasher rot away and washing by hand uses more energy than an economy cycle. My kettle is broken, I don't like to buy a new one and I certainly don't replace light bulbs that are still burning.
D-Animal: You can forget about it right now
. Luckily, I already have thermostatic valves. How could I possibly replace them in my rented flat? The same goes for the economy taps. To raid the savings account for a minimal effect seems excessive to me . What saving tips do you follow? What's too much for you? Make your own tier list and show me in the comments!
---
When I flew the family nest over 15 years ago, I suddenly had to cook for myself. But it wasn't long until this necessity became a virtue. Today, rattling those pots and pans is a fundamental part of my life. I'm a true foodie and devour everything from junk food to star-awarded cuisine. Literally. I eat way too fast. 
---
---
These articles might also interest you
Skeleton Loader

Skeleton Loader

Skeleton Loader

Skeleton Loader

Skeleton Loader

Skeleton Loader