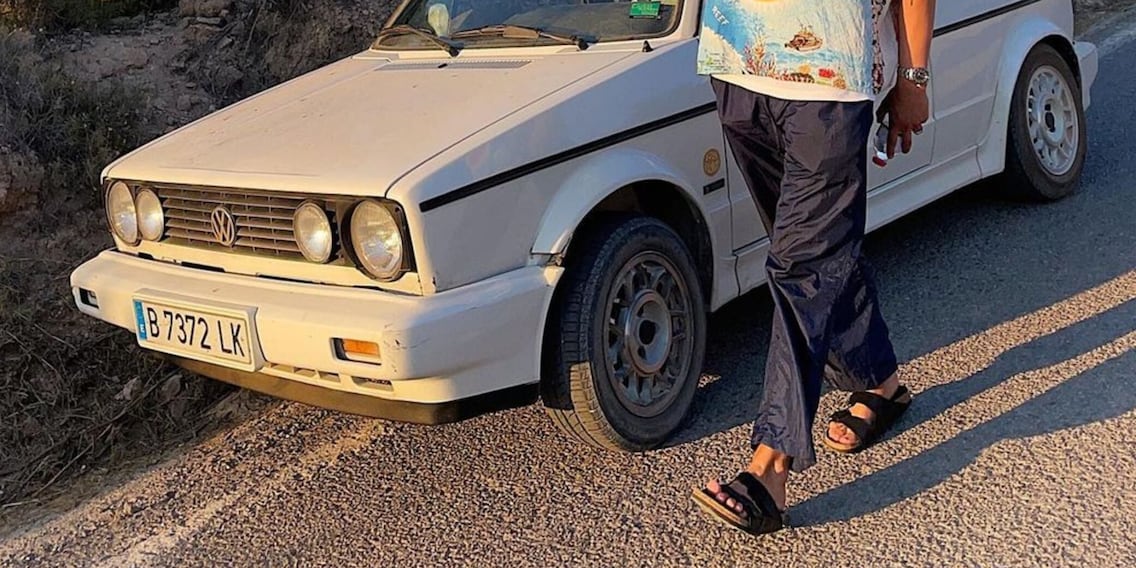 This article was translated automatically.
Sandals have no place on men's feet? What a nonsense!
While women adjust their footwear according to the seasons, many men's toes remain under lock and key all year round. There's really only one good reason for this - all the others are excuses.
Tutankhamun ruled the Egyptian empire as a pharaoh in flip-flops, Spartacus fought his way to becoming a symbol of rebellion in gladiator sandals, and even Zeus, the father of the gods, kept his grip on Olympus despite his bare toes. Actually, sandals in history and mythology are brimming with testosterone - and yet today men and open-toed shoes are a combination that probably polarizes more than any other fashion pairing.
A quick Google search on the subject yields numerous forum posts in which bewildered gentlemen want to know whether sandals are "unmanly" or "can ever look good on men." The search engine also spits out articles with emotional outpourings like "men's sandals stand for everything that's wrong with the world." As a woman, I am not directly affected by the controversy. Nevertheless, I can't help but shake my head and ask myself: What on earth has the sandal done to the world of men?
Unkempt feet are a no-go regardless of the shoe
So, to get to the bottom of the disgust, I google for reasons why men are banned from wearing sandals according to popular opinion. One that is mentioned particularly often: Men, unlike women, have unkempt feet. For example, in an article that I found unironic, Business Insider writes about why men should definitely not wear flip-flops: "Men don't go to pedicures and don't wash their feet as often as they should."
As a solution to this problem, however, the online magazine does not suggest buying nail clippers and improving foot hygiene, but moccasins or sneakers. Because icky feet are, after all, so much less icky when they sweat a little more in closed shoes at high temperatures. Don't. At this point I'd like to say: please take care of your feet regardless of your gender and whether you wear open-toed shoes or not.
Dad style is cool, narrow-mindedness isn't
An equally common argument: men would look sloppy in sandals. Whoever says that is - exgüsi! -is simply not up to date in terms of fashion. Dior, Prada and Fendi are just the most prominent of the many leading fashion houses that sent their models down the runway in open-toed shoes for the current season's menswear collection. Sometimes elegant in a suit, sometimes casual in shorts. And what's good enough for the hottest high-fashion stages should surely be worthy of everyday wear.
I understand that the fear of looking like an unfashionable dad on summer vacation is deeply rooted. But think trendy dad sneakers and dad pants - it's never been cooler to walk around like a dad. And unless you're a tasteless tourist and dressed like one from the foot up, a pair of sandals won't magically turn you into one. As with all other clothing, it's the combination that counts.
The only reason not to wear sandals
Personally, I think sandals on men are great, obviously. Perhaps precisely because it's a bold fashion choice given the controversy. The average man stays away from sandals. Those who do wear them either know fashion or are at least confident enough not to care about the fuddy-duddy opinions of others. Both great.
So for me, there's really only one legitimate reason not to wear sandals as a man: you just don't like them. That's perfectly fine, too. But in 2022, to still be picking on men's sandals is honestly pretty passé and discriminatory on top of that. So I'm advocating free toes in the summer for everyone who feels comfortable wearing them - and not neglecting foot care.
Men's sandals mini-guide
Convinced to slip into a breezy pair, but unsure which model suits you best? Five suggestions:
Leather styles - simple and casually elegant.
Great with smart pieces like suit pants and blazers.
Birkenstocks - relaxed and down-to-earth
Work especially well when paired with linen pants.
Flipflops - chilled and carefree
Can be the most likely to look grungy, so it's best to go for black models or those made of leather.
Trekking sandals and bathing slippers - athletic and cool
Particularly good with streetwear looks - gladly also with socks, who dares.
Auftaktbild: Instagram: @magnus
---



Has endless love for shoulder pads, Stratocasters and sashimi, but a limited tolerance for bad impressions of her Eastern Swiss dialect.
---
---
These articles might also interest you
Skeleton Loader

Skeleton Loader

Skeleton Loader

Skeleton Loader

Skeleton Loader

Skeleton Loader