Pixel Buds review: they still need a bit of work
Google is on a high right now with its wireless headphones. In the process, it even managed to discover ambition. But what everyone wants to know is whether it's worth buying a set of these Pixel Buds?
Google is no longer confined to the software business. These smart headphones follow hot on the heels of a smart speaker, smartphones and laptops. The Pixel Buds are touch- and voice-controlled, feature integrated Google assistant and can interpret for you. Well, in theory. We tested it out and thought it still had some work to do.
The honeymoon phase
I had no complaints when unboxing the product. I opened it up to find a manual, USB-C charger cable and a cute little grey case that's home to a pair of snoozing Pixel Buds. It's certainly a good place for storing and charging the device.
Pixel Buds come in three different colours – I ordered the white ones for this test. Looks-wise, they tick all the boxes. And in terms of functionality, they nestle fairly well in my ear. But since I've always gone for over-ear headphones, these took a bit of getting used to at the start.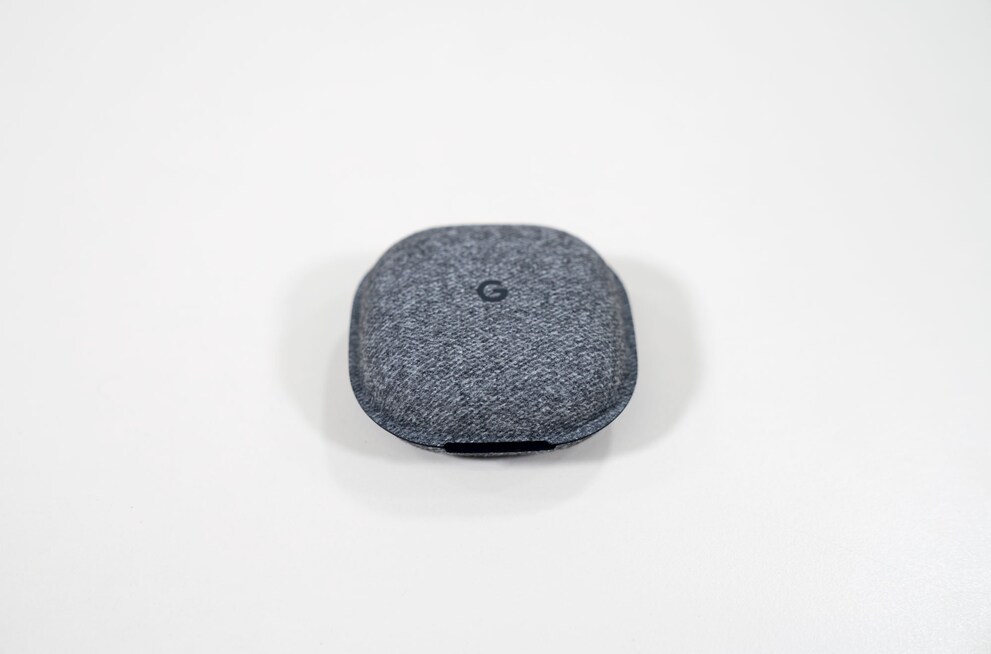 Strictly speaking, Pixel Buds aren't completely wireless. These headphones are, in fact, linked via a thick cord. However, I highly advise against taking a pair of scissors to it, as that's what delivers audio and power. In practical terms, we found the Pixel Buds fit in ears of different shapes and sizes. The cord also forms a kind of strap to stop the headphones falling out.
As the Pixel Buds aren't in-ear headphones but – as the name would suggest – earbuds, they don't go all the way in your ear. They're quite loose-fitting, but thanks to the strap, they stay in place even when someone like me gets carried away headbanging and shaking their head about wildly. I much preferred this cord to wireless headphones, as I'd be forever worried about losing them when I was out on my bike.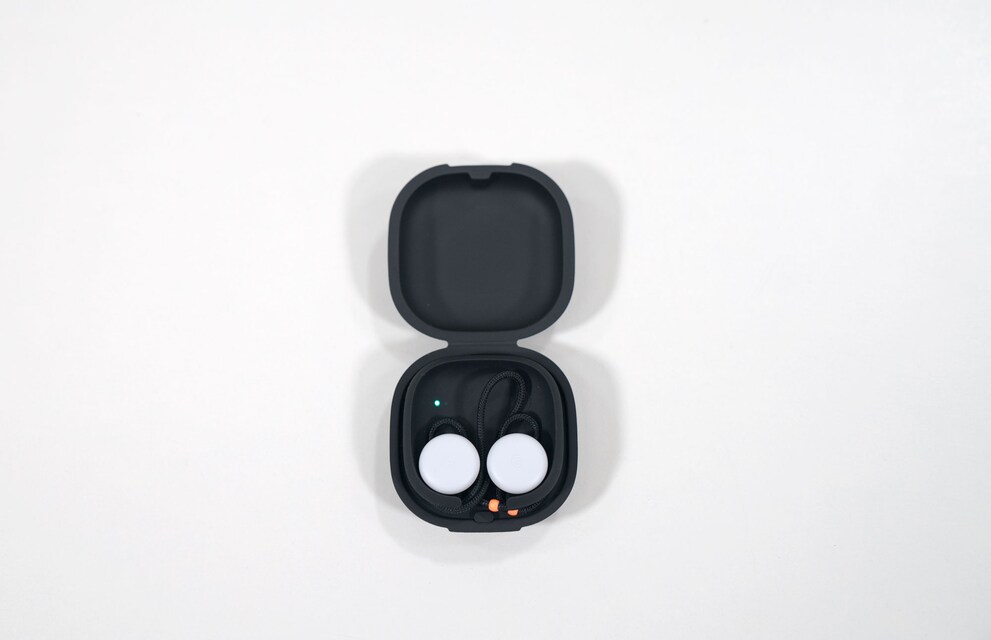 Set-up, sound quality and Google Assistant
If you have a 6.0+ Android smartphone, all you need to do is flip open the charging case and you'll see a question pops up on the display, asking if you want to pair your Pixel Buds.
It only takes one click to initiate the short set-up. However, if the Pixel Buds aren't yours – as was the case for my colleague Livia – you'll probably be pestered by a few pop ups at the start. You see, they appear on every compatible Android device in the vicinity that has bluetooth activated.
The case features an integrated battery and can charge the Pixel Buds several times. According to Google, this should give you up to 24 hours of total playback time. A single charge lasts for about five hours, which isn't very long without a case nearby. But then again, maybe I'm just too spoilt with the eight hours and twenty hours my JBL Everest 100 and Sennheiser Momentum can give me. In Google's defence, the latter do allocate more space for the battery.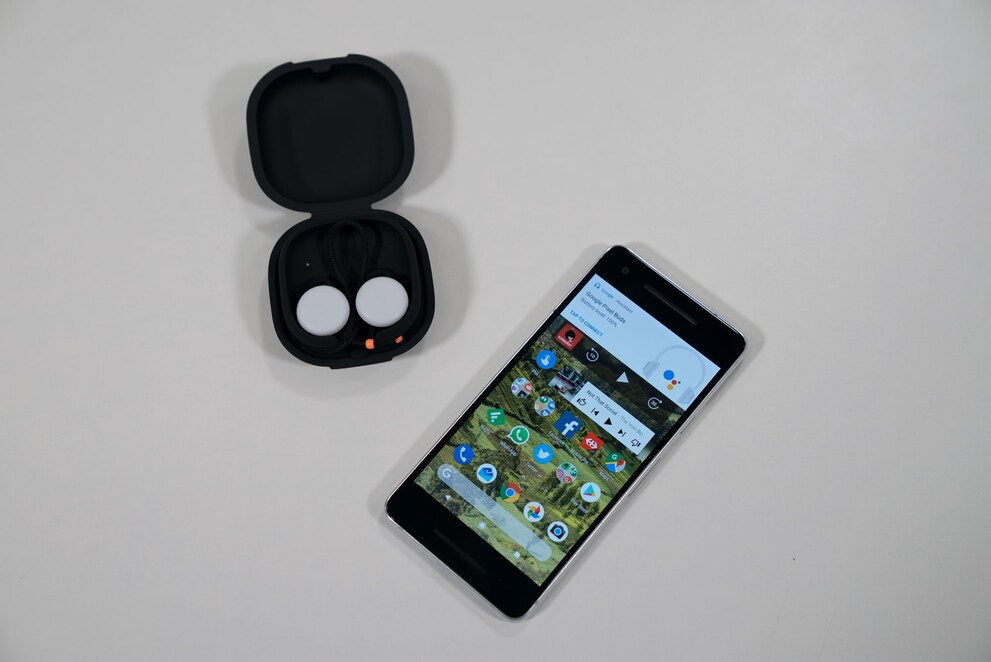 As far as audio quality is concerned, I was actually pleasantly surprised. They do verge on hollow sound compared with the Sennheiser. However, the Momentum has a neutral quality, which makes the whole thing rather subjective. That being said, I still enjoyed full sound and impressively powerful bass when I listened to a variety of bands.
Public transport users will also be pleased to hear that very little sound escapes from the headphones even if you crank up the volume. This means it's easy to stay aware of what's going on around you. While that gives you an undeniable advantage when you're cycling, it's not ideal if someone plonks themselves down next to you on the train with their boombox at full blast. Nonetheless, the Pixel Buds have enough power to drown out most noise without the sound cracking.
In terms of controls, the right headphone features a touch-operated interface. A swipe forwards or backwards regulates the volume. Press it briefly and you activate the Google Assistant. Meanwhile, two short presses gives you the time and notifications from the notifications centre. It's a fat lot of good if most of your messages are in Swiss German. However, a few seconds after you receive a notification, you can dictate a reply by pressing and holding down on the interface. Just bear in mind your language options are only German, English etc.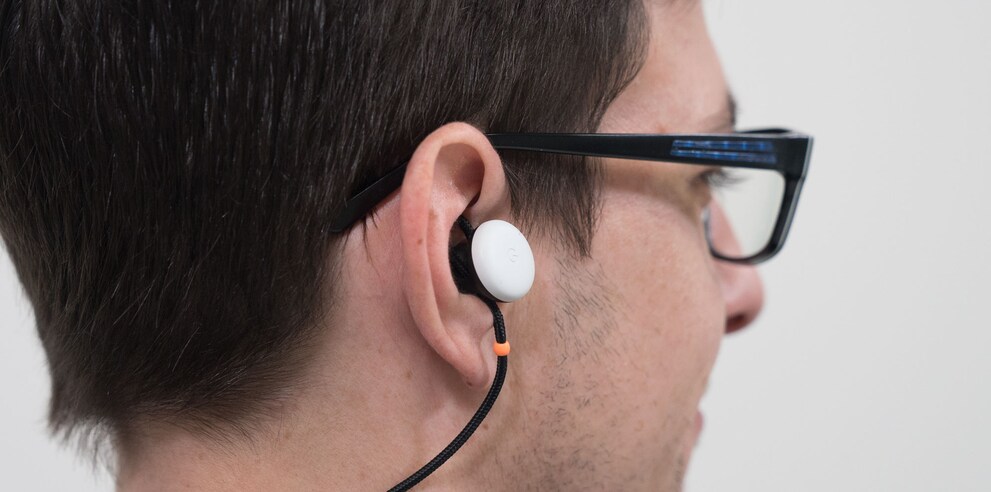 The integrated microphone is also meant for talking to the Google Assistant. For instance, you can ask it to read out your latest messages. At the moment, though, this is limited to texts. The Google Assistant can only read other messages, such as WhatsApps and e-mails at the exact time they're delivered.
Behind the scenes it's all falling apart
Once the initial new product euphoria is over, you start to notice more and more flaws. There's the strap system for a start. While it does give you a great deal of flexibility, the cable keeps slipping backwards so you keep having to readjust it. Similarly, the charging case may look the part, but most people (in our office at least) would need a manual just to figure out how to put the damn headphones in it.
One of the most annoying things is you can't actually switch the Pixel Buds off. At best, you can put them on standby mode – that's when you store them away in the case. But to be honest, I can't be bothered packing them away every time I take them off. It would mean having to cart the case along everywhere you went. I mean, sure, it has its own inbuilt battery. That's handy, but it doesn't detract from the nuisance of having to carry something extra with you.
Don't get me wrong. I do like the fact the headphones pair with your device as soon as you take them out the case. I'd just have preferred an on/off button. One workaround is to deactivate bluetooth on your smartphone. However, if you have other devices, such as a smartwatch, it's game over.
Something else I noticed while testing was that the Pixel Buds are kept awake or on when there are other bluetooth devices nearby. There's no other way to explain how the headphones could have run out of charge after two days of not being used.
In terms of comfort, the headphones tend to be loose-fitting. However, over time the Pixel Buds started pressing on my right ear. It wasn't a big deal – just a bit annoying.
Moving on to the touch controls: They appeared to work seamlessly as long as you weren't wearing gloves. An issue I had was that they were too sensitive. For instance, every time you put them on and take them off, it misinterprets the movements and inadvertently turns the thing on. That's not so bad if you're just listening to music. But if it's a podcast, you're always losing your place.
I noticed something else that was rather odd while I was changing the language from English to German (German/Germany, otherwise the assistant won't recognise anything). It mixes up the two languages. What do I mean exactly? Although it does read my notifications in German, it drops in some English gobbledegook at the end. It was only my colleague Raphi who found the solution to the problem.
The Google Assistant tries to announce in English: «You don't have any notifications» and fails miserably. Even resetting the Pixel Buds and the case didn't improve matters. Once I set everything in English again, I could understand everything the device said. The only time it switched mysteriously to German was to tell the time. Yip, this bit definitely needs patched.
The flagship feature that isn't even that
Google made a song and dance about one feature in particular, namely real-time translation. You press the right headphone and say «translate Chinese for me» to activate Google Translate's conversation mode. Once you've done that, you can chat away to people in 40 different languages.
Whenever you want to say something, you press and hold down the headphone. The app then translates the phrase into the relevant language and conveys it via smartphone loudspeaker. The person you're talking to can then reply in their language and the translation will be fed straight to your ear.
In actual fact, the translation feature isn't as bad as it looks on the video above. (About that… apologies for the crazy look I'm rocking with my hair. My barnet seems to be hiding the Pixel Buds from view). Although Google Translate rarely gets everything spot on, it usually translates well enough to have a conversation – albeit a faltering one.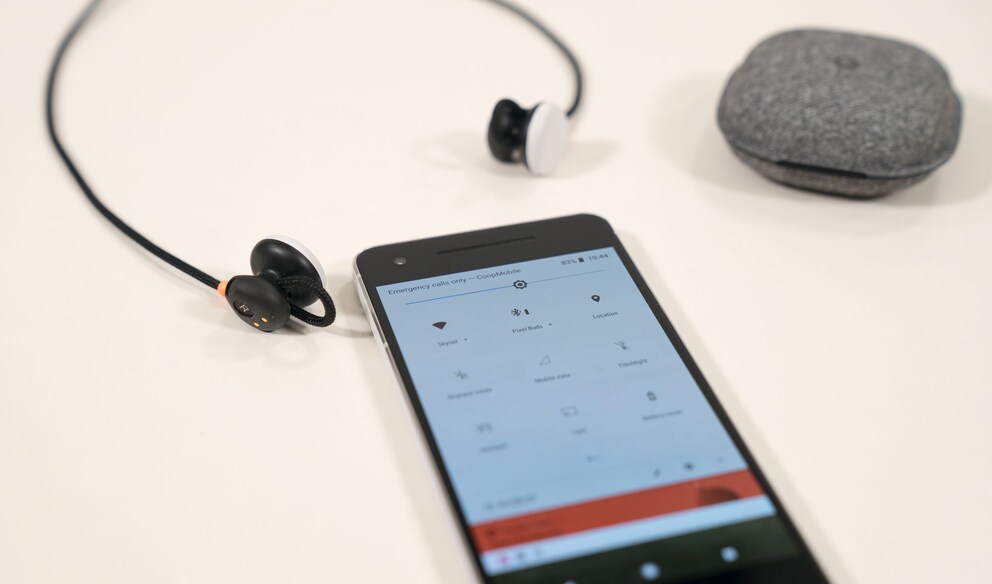 I'm guessing you'll be asking round about now – and rightly so – why on earth you need Pixel Buds for this kind of task. Let's face it, you can use Google Translate on any smartphone, including iPhones. As it happens, I think the app works better without the Pixel Buds, as both of you can hear what it's saying.
When you've got the Pixel Buds in, you only hear the translation of what the other person says. That interrupts the conversation dynamic somewhat. Another criticism I have is that the process is pretty inconsistent. Sometimes I could just talk freely, while other times I absolutely had to keep the button pressed. There was even one occasion where I had to restart the phone because the talk button for the foreign language wouldn't accept any input.
But on the whole, I have to say Google Translate works amazingly well. The Pixel Buds, on the other hand, are more of a hindrance and don't really add any value.
Verdict: I really want to like them but…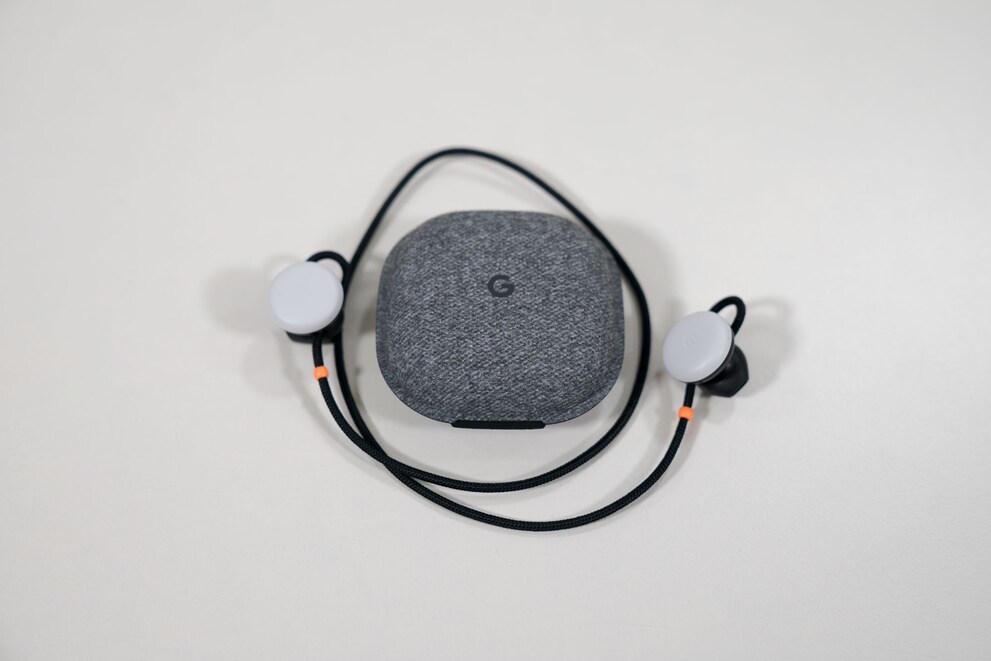 The Pixel Buds are a strange kind of product. You get the impression they're not quite the finished product – although in a lot of respects, they do the job well.
In terms of aesthetics, the design is elegant and the colour options give you variety. What really made me sit up and take notice was the sound: the powerful bass, clear sound quality and decent volume. On the whole, the headphones were a comfortable fit and the strap made an interesting addition. Meanwhile, the case looked elegant and doubled as a battery pack.
The problem is almost every compliment comes with a caveat. Take the strap in your ear, for instance. You're forever having to readjust it. And you can't turn off the headphones. As for the touch control, it's too sensitive, and the voice commands are too limited. In terms of Google Translate, I think it works better without the Pixel Buds.
As I say, I really want to like this product given I appreciate the individual elements. But at the moment, I'm finding it very difficult to recommend headphones that set you back more than 200 Swiss francs, that do look good and deliver decent sound but that still fall short of the mark. I'd hold of for the next version.
---

Being the game and gadget geek that I am, working at digitec and Galaxus makes me feel like a kid in a candy shop – but it does take its toll on my wallet. I enjoy tinkering with my PC in Tim Taylor fashion and talking about games on my podcast http://www.onemorelevel.ch. To satisfy my need for speed, I get on my full suspension mountain bike and set out to find some nice trails. My thirst for culture is quenched by deep conversations over a couple of cold ones at the mostly frustrating games of FC Winterthur.
---
---
---
---