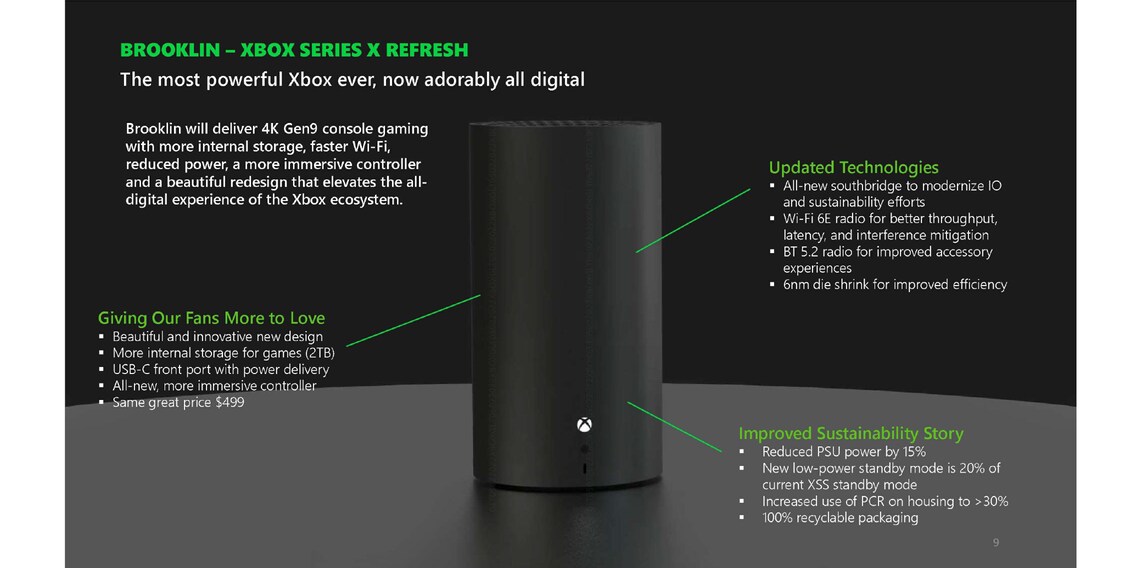 New Xbox and controllers for 2024 leaked

Translation:
machine translated
The Xbox is to receive an update in 2024. The first pictures and information have now been leaked. According to these, there will be a cylindrical, purely digital version of the Xbox Series X and a new controller.
The court case between the US antitrust authority FTC and Microsoft over the Activision Blizzard takeover is still ongoing. Now pictures and information about a new Xbox Series X have surfaced, which are said to come from documents from that trial. According to these, the Xbox and its controller will receive an update next year.
The revised versions of the current Xbox Series X and S are codenamed "Brooklin" and "Ellewood". The new X version is expected to receive the following tweaks, according to the revelations:
New cylindrical design without disc drive .- Doubling of storage to 2 terabytes .- WLAN update to Wi-Fi 6E, Bluetooth in version 5.2 .- USB-C front port including Power Delivery
15 per cent less power consumption and throttling of standby power consumption to 20 per cent compared to current Xbox
On the new Xbox Series S, the current version of which is already digital-only, storage is expected to double to 1 terabyte, Wi-Fi 6E and Bluetooth 5.2 will also be on board. However, there will be no USB-C port and it is unclear whether power consumption there will also be throttled.
New Xbox controller
Also seen in the leaks is a new Xbox controller.
The controller comes in a two-tone design and is codenamed "Sebile". It is already supposed to be compatible with the current Xbox and will therefore be introduced later this year. According to the leak, it will have the following new features:
Supports Bluetooth 5.2 and gets an updated wireless connection with precise haptic feedback .- Supports direct connection to the cloud .- Accelerometer (gyro support)
New modular control sticks and quieter buttons .- Removable battery
"Lift to wake" function (lifting the controller wakes it up)
When and at what price should the new products be released in stores?
The revamped Xbox Series X is expected to remain the same price and retail for $499 in late October 2024. The Series S update is expected to cost US$299 - according to the roadmap, its launch will be at the end of August. The new controller will cost 69.99 US dollars and will be released at the end of May.
---

I find my muse in everything. When I don't, I draw inspiration from daydreaming. After all, if you dream, you don't sleep through life.
---
---