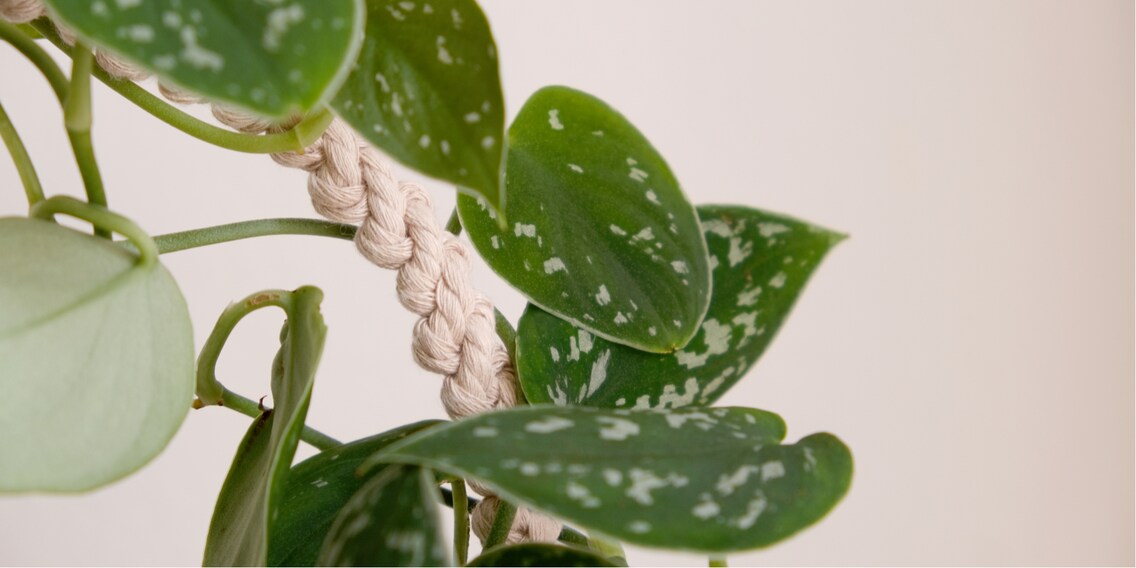 My self-made "fitness device" for plants

Translation:
machine translated
Some of my plants have gotten a little out of shape. With a self-made circle climbing aid I want to get them fit again for the summer.
The motto "Summer bodies are made in winter" did not matter to my plants. Just before the start of summer, their branches come apart and their leaves go limp. To get my candlestick flower and ivy in shape quickly, I want to give them a workout. And that with the right fitness device called "Hoop Trelli". I saw the circular climbing aid on the net and want to make it myself. The DIY succeeds right away and in a flash. Nevertheless, I realize at the end that I would approach it a little differently next time.
Choice of materials
Vine aids can be made of metal, wood, plastic or combinations of different materials. And they can help plants grow in width or height specific to their species. For my first Hoop Trelli I choose a metal ring, for my second I make the ring myself. And both variations I want to personalize with the same simple but decorative macramé knotting technique. The first variant with leather straps, the second with macramé yarn.
Knotting technique
First, I tie a knot around the metal ring and form a loop with the left leather strap end. Then I take the right leather strap end, pass it first over the loop, then under the ring, and once on the right side, pass it through the loop.
When I pull on both ends, the first knot becomes visible. Now I repeat the whole thing until I have leather strap all around.
When I reach the end of the third leather strap, I leave some space. Here I wrap "support legs" of aluminum wire, so that the ring later has hold in the earth. Afterwards I knot up to these support legs and that's it.
Variant 1: Leather strap, time needed: 20 minutes
Since my candelabra flower has just a few floppy heart-shaped leaves hanging down, it needs a lot of swing. Therefore, I tie three different colored leather bands to its metal ring (diameter 10 cm). The length of all three leather straps is about 180 centimeters. You can also use regular cotton yarn or a macramé yarn that matches the technique, as I'll show you later in variation 2.
Variation 2: Macramé yarn, time needed: 30 minutes
In the second variation, I make a ring including support legs right away by hand and this time I knot a macramé yarn all around so that no wire is visible. For this I use a wire made of aluminum, which can be easily bent by hand and cut with a side cutter. Because I want to make a ring of about 20 centimeters, I use about 40 centimeters of macramé yarn. I can always cut it off. This time I stick to one color, because that emphasizes the spotted creeper better.
I'm already happier with this macramé hula hoop than with variation one. I can place the circle higher up and not see a bit of the aluminum wire. Because the latter was so easy to bend, I would try other freestyle shapes and fitness equipment with my plants. As soon as the next green roommate can be hung, I will find the right workout for him and also sometimes resort to colorful macramé yarn. The main thing is to show off his strong Summer body perfectly.
---



«There are only two ways to live your life. One is as though nothing is a miracle. The other is as though everything is a miracle. I believe in the latter.»
– Albert Einstein
---
---
---
---