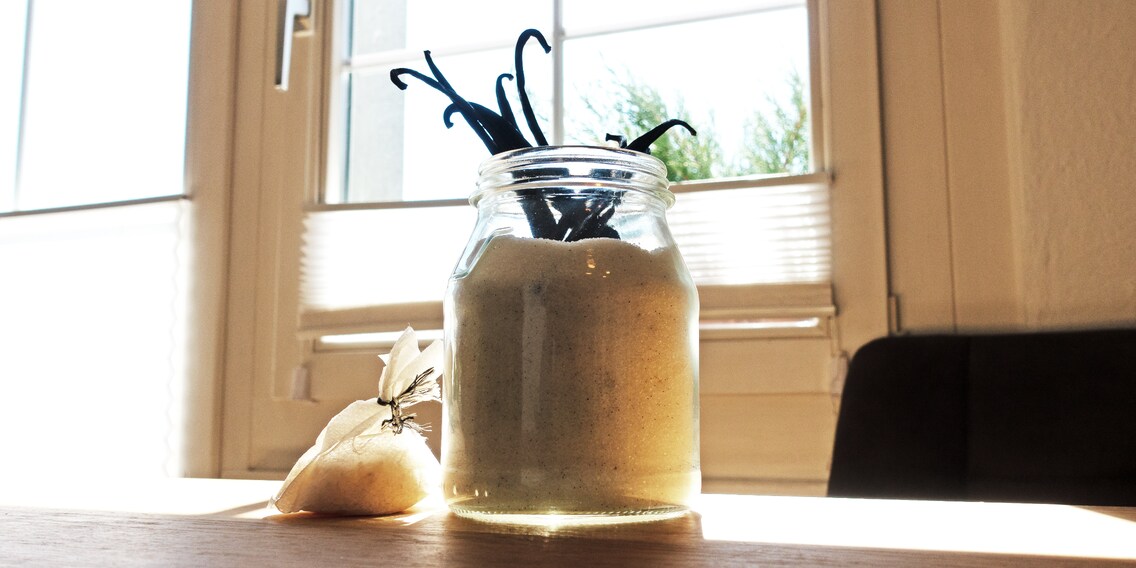 Making vanilla sugar yourself – fun, tasty and cheap(er)

I ordered vanilla beans from Sri Lanka and made sugar with them. Since it turned out so perfectly, I want to spread my technique to our lovely Community.
Vanilla is said to be invigorating, strengthening, even an aphrodisiac. Its delicate taste, beguiling fragrance and especially its soaring price make it a precious commodity. So precious that my eyes start watering whenever I buy the delicious pods in Switzerland.
Cake decorations
10.60
per piece for 2 units
1766.67/1l
Dr. Oetker Bourbon vanilla beans organic bud 6 g
But worry not, there is another way! I ordered my own pods towards the end of December – directly from a "farm" in Sri Lanka. As a thank you, my January vanilla shipment also included an elephant New Year's card. How kind! Besides, I hope the hard-working farmer benefits more from my direct payment than if the pods pass through intermediaries.
The difference in price is striking. A pack of 20 top quality vanilla beans – there are two quality grades – cost only 17 francs/Euros including shipping. Not even a fifth of the price of what I'd have to pay in this country at 100 francs/euros. I found this offer on a resale platform.
How to make vanilla sugar yourself step by step
I made my first 400 grams of vanilla sugar as soon as I received the pods. After three and a half months, they're now all used up. Time to roll up my sleeves and assemble everything to make my recipe again:
Sugar of your choice
Vanilla beans (3-5 per 500 grams of sugar)
Some rice
An empty tea bag (tea filter)
Some twine
A sharp knife (like you'd use to carve)
A soup spoon
A cutting surface
A bowl
A funnel
A jar with a lid (like you'd use for jam, preserves or yogurt)
Make sure the lidded jar closes as airtight as possible. Jam or preserve jars work best. What also works is a yogurt jar with a plastic lid. It won't close perfectly, but well enough. I can fit 400 grams of sugar in my yogurt jar. For this, I use three vanilla beans.
Once you've assembled everything, here's how to make vanilla sugar.
1. Weigh the amount of sugar to be prepared and add it to the bowl.
2. Grab a knife and the vanilla. Depending on pod length and thickness, three to five are enough for 500 grams of sugar. This will give you a flavour intensity similar to store-bought vanilla sugar.
3. Carefully halve the pods one by one using the knife.
4. Scrape the black seeds out of the pod halves with the blade.
5. Add all the vanilla seeds to the sugar in the bowl.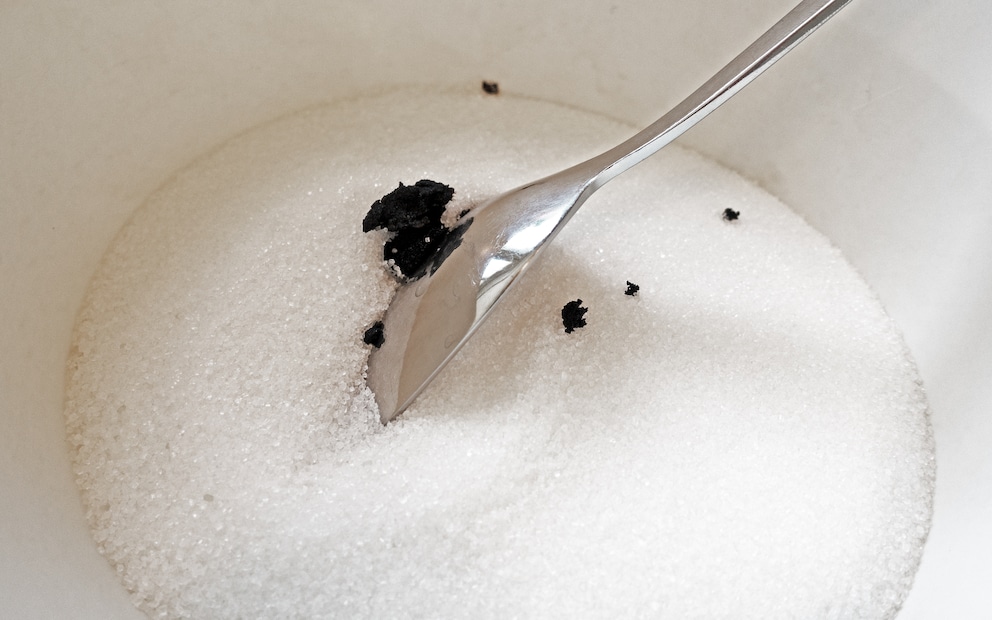 6. Now you need to mix the seeds into the sugar well. To do this, it's best to start by spreading the vanilla paste through the sugar with a spoon. After that, stir a bit and keep spreading.
7. Keep on mixing.
8. Once you're happy with the vanilla dot-to-sugar ratio, grab the funnel and jar and bottle your vanilla sugar.
9. Grab some rice, put the rice in an empty tea bag and tie it shut with string. Before you close the sugar jar, add in this rice bundle. The rice helps reduce moisture within the jar. Just as rice does in a salt shaker.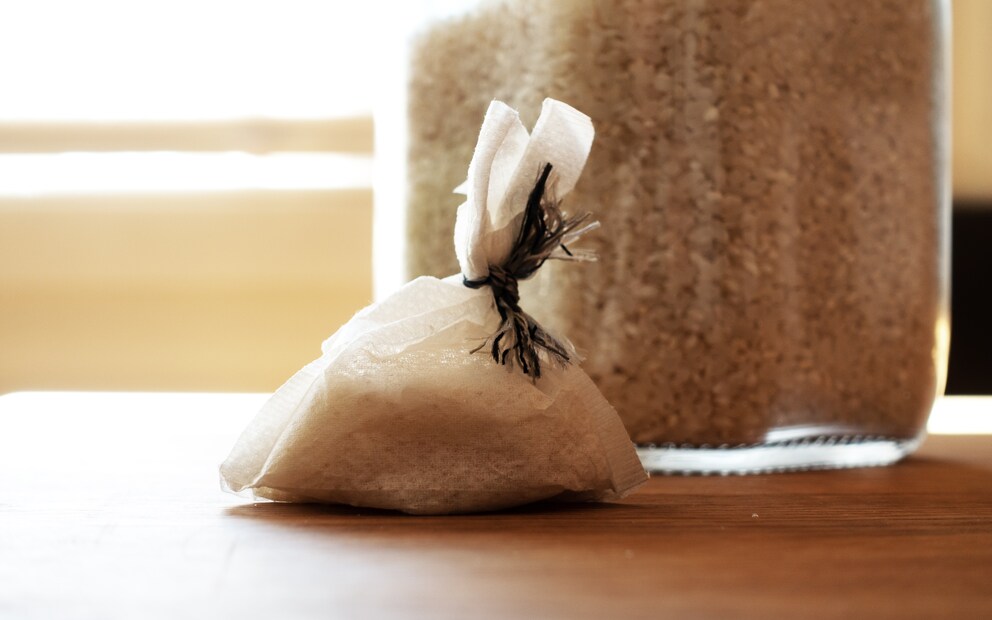 10. After a day or two, you'll notice that the moisture makes sugar stick together a bit in some places. Therefore, shake the jar well once a day until the rice has absorbed all moisture after a week.
In the end, if you like, you can put the halved empty pods in the sugar. They add additional flavour, though not nearly as much as the seeds. For the rice, I resorted to round grain. Let's see, maybe one day I will cook myself a mini portion of rice pudding using it.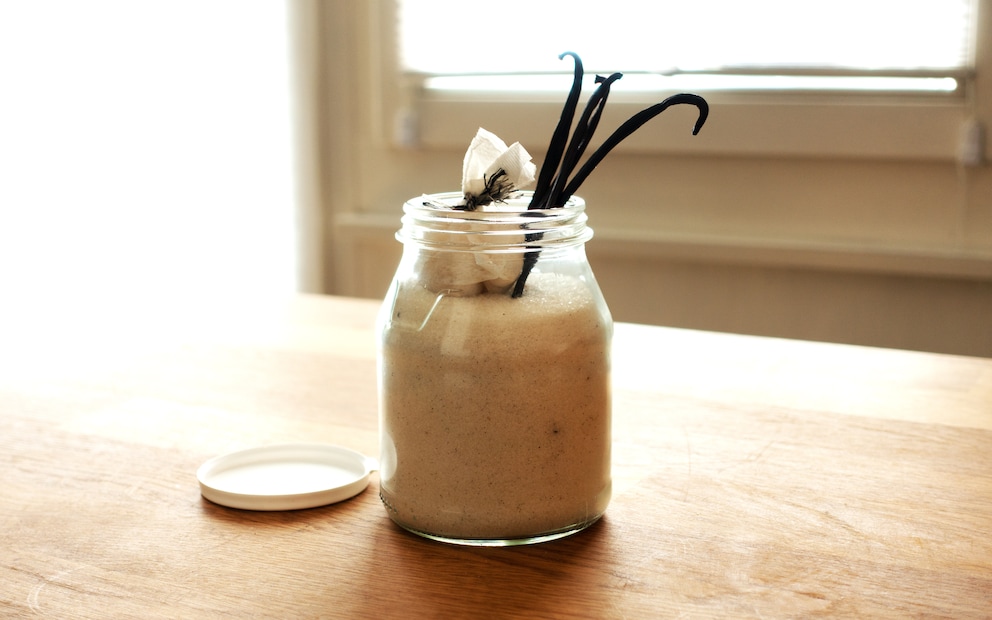 Since I still have some pods left, my next step is to make vanilla syrup. I'll report back as soon as I have a syrup that tastes better than the one from Monin.
Enjoy!
Header image: Martin Jud
---

I find my muse in everything. When I don't, I draw inspiration from daydreaming. After all, if you dream, you don't sleep through life.
---
---
---