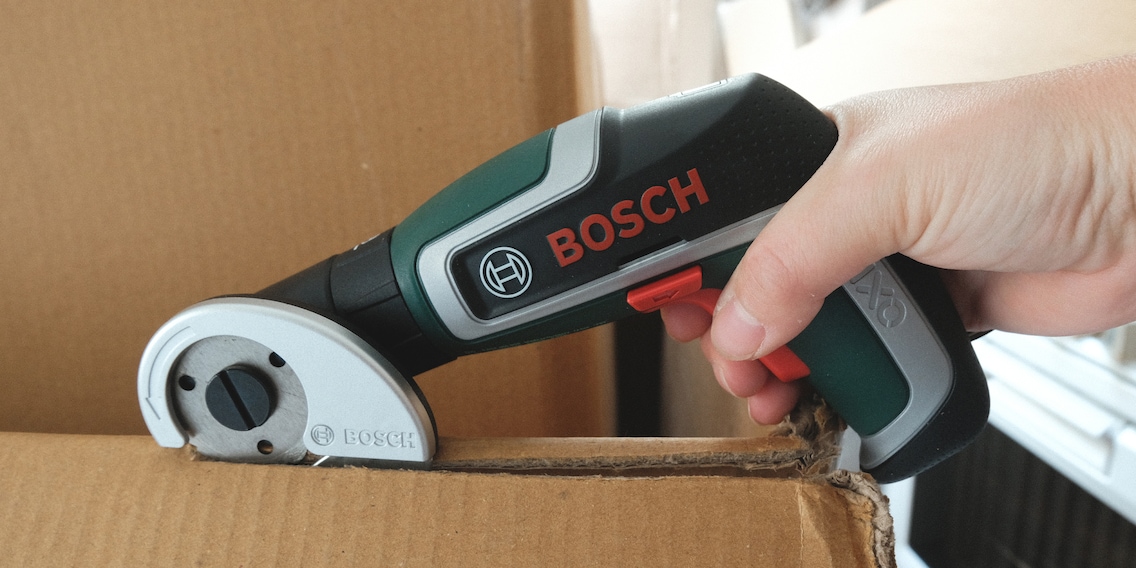 IXO 7 from Bosch in the test: The cordless screwdriver for gadget fans

Translation:
machine translated
It only has about as much torque as a human hand, but all the more attachments. That's the IXO 7 mini cordless screwdriver from Bosch. Not for dedicated do-it-yourselfers - but for gadget fans and frequent users.
A cordless screwdriver for people who don't really want a cordless screwdriver.
This sentence describes the IXO 7 from Bosch best for me. Anyone who is even remotely serious about handicrafts can stop reading right here. Because although the new IXO 7 has 20 per cent more torque than its predecessor, it is still only 5.5 Newton metres.
For comparison, my basic Metabo has 34 Newton metres. I can get away with that as long as I don't hit concrete or tiled walls. With the IXO it's not enough for much more than soft wood. Even the cheap part, which is available from Swedish furniture dealers for just under 35 francs, has 16 Newton metres.
Bosch and I disagree
But that's not what the IXO is supposed to measure up to, according to Bosch. It is for everyone, even for those who already own a cordless screwdriver, because the IXO does not compete with them, but with manual screwdrivers. Huh? If you don't feel like screwing furniture together by hand, you buy a cordless screwdriver. And if you don't have a cordless screwdriver, you want to screw furniture together by hand - or at least you do it so rarely that it's not worth the investment. So where is the room for the IXO 7? At most for those who enjoy small gadgets.
Because if there's one thing the IXO can do, it's attachments. There are nine of them. From very useful ones like angle or eccentric attachments to dust collectors like corkscrews and pepper mills. At least that's my classification. I can hardly imagine anyone pulling out the IXO all the time to open a bottle of wine or season bolognaise.
The Cutter, on the other hand, I could actually use, at least for the five minutes until the cutting disc jammed. But I blame this mishap more on myself than on Bosch. Somewhat euphorically, I cut up a large cardboard box, which was probably also a little thicker than the permitted five millimetres. I spent a good half hour trying to loosen the disc, unfortunately without success. So the attachment has to go to the Bosch service centre so that the fault can be analysed there and, if necessary, a new model sent to me.
Relief during shelf assembly
I also liked the angle attachment because I had to build up a shelf with annoyingly placed screws. The ten bits are included and magnetic so they hold in the drill chuck. Three screws went in so much easier than by hand - and than with my cordless screwdriver. Because with my cordless screwdriver, I can't even get to the spot where I need to screw. With the fourth screw, the IXO collapsed with its low power, because the two pre-drilled holes did not fit perfectly over each other.
Fully charged, the IXO 7 sinks 190 screws with a full battery. That's more than enough, even if the performance drops off a little towards the end. If the lithium-ion battery needs to be charged, it can be done conveniently in the storage box. Less convenient, and for many of you always a cause for criticism: the seventh IXO is also charged via micro-USB.
When asked, Bosch said: "The charging power is identical. Since we include the matching micro USB cable in the scope of delivery, it shouldn't make much difference to the user in terms of handling. In the future, however, we will gradually convert the portfolio to USB-C." Better late than never. From mid-2024, USB-C is definitely to become the EU-wide standard for devices such as smartphones, headphones and digital cameras. It's good if the small battery-powered screwdriver also follows suit and micro-USB cables are not still lying around just because of it.
Conclusion
The Bosch IXO 7 does what it promises. It helps with furniture assembly and simple drilling. It has about as much torque as your hand, but definitely more endurance. It is certainly a relief on rein days. But how often does that happen for most people?
My criticism is therefore not of the implementation per se. I question the real benefit. The device alone costs almost 70 francs, the individual attachments another 18 to 24 francs. That adds up quite a bit in the end. For people who already own a functioning cordless screwdriver, I don't see the added value. For all gadget fans, on the other hand, who like to impress their girlfriends with electrically operated pepper mills, the IXO 7 can certainly be a nice present.
---


My life in a nutshell? On a quest to broaden my horizon. I love discovering and learning new skills and I see a chance to experience something new in everything – be it travelling, reading, cooking, movies or DIY.
---
---