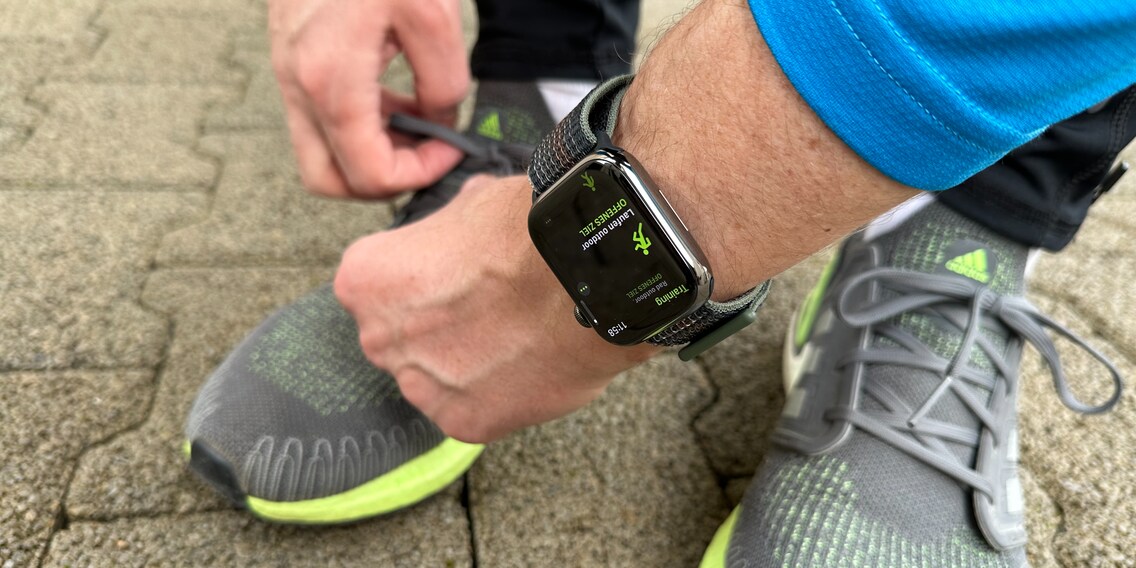 How the Apple Watch has ended up as my jogging partner after all
I admit it: I'm usually firmly in Apple's clutches. And yet, my wrist has long been an Apple-free zone. Why? Partly because a Garmin watch served as my jogging partner. But now, everything has changed.
For a long time, I walked around prejudiced. I thought, «Sure, the Apple Watch is a good smartwatch, but it's not really suitable for sports.» That's why I always had a Garmin around my wrist to accompany me on my runs. And then I'd simply keep it on for the rest of the day. Besides, the Venu 2 Plus also sends me notifications and, if push came to shove, I could even use it to make a phone call. All in all, I was quite satisfied with it.
When the occasion arose, I'd occasionally switch to a classic mechanical watch. Let's face it, most sports watches aren't particularly chic.
And then it happened: I've had an Apple Watch 8 for a few weeks now. At first, I was sceptical that it could oust the Garmin. But it has. For me, the gap between the specialised sports watches from Garmin and the like compared to the Apple Watch with the current WatchOS has become so small that I've tossed aside the Garmin and replaced it with the Apple Watch – for sports and everyday use.
I consciously hazard the several weaknesses it has compared to the Garmin. For example, I bid my Garmin running coach farewell and prescribed myself a dose of morning charging to deal with the significantly shorter battery life. In return, the Apple Watch scores with its ease-of-use in my Apple-dominated everyday life, which easily makes up for the trade-offs.
Of course, I could still switch to the Garmin watch for jogging. I even did that a few times. But I quickly realised it just wasn't worth it. Switching between watches and syncing the data to my Apple activities was just too tedious.
Here's what I learned from the change.
1. The battery of the Apple Watch lasts longer than expected
I charged my Garmin once or twice a week. I didn't have to worry much about the battery; it always seemed to be charged enough for a spontaneous post-work jog. Apple specifies a runtime of 18 hours for the Apple Watch 8. That means I have to schedule about an hour every day for the charging dock.
I charge the Apple Watch while I shower and eat breakfast in the morning. It's usually 100 per cent charged by the time I start my workday. Provided I don't use it to make phone calls – which I rarely do, anyway – or use the GPS function, it's still over 60 per cent charged in the evening. That's easily enough to throw on my running shoes.
The Apple Watch is surprisingly frugal during my run. For a one-hour jog, I use about 15 per cent battery with GPS enabled and the activity being recorded in the Health app. I can further curb the power consumption through various measures. For one, I can activate power-saving mode; GPS signals are then received and recorded less often. Alternatively, I can take my iPhone with me on my run. That way, the phone handles GPS tracking, which significantly extends the runtime of the Apple Watch itself. Without the iPhone to support it, Apple specifies a runtime of six hours with active GPS during an activity. That's more than enough for a marathon.
2. More data than I need
Garmin tracks a bunch of data. It literally records every step. The running dynamics data Garmin provides on the Forerunner 255 and up tells me whether I run on both legs with equal efficiency. In addition, I get information on my current performance status and a target time forecast during the run. Apple's no match there. Mind you, the «Running Power» feature has been available since the WatchOS 9.0 update. But my running power in watts is a value calculated from the data measured by other sensors – unlike when I pedal on an exercise bike, for example, and get «real» data on my cycling power in watts. Even so, Apple's data isn't totally useless; I can try to keep the watts stable when running, whether I go uphill or downhill.
WatchOS 9.0 also introduced data on stride length, cadence and ground contact time. These are all aspects sports watches have been capable of tracking for a long time; Apple is seriously late to the game. But now that they finally are there, the Apple Watch is a suitable running companion to me.
The display of the 45-millimetre watch provides enough room for five lines of data. That's almost a bit too much to be able to make out everything with a cursory glance. But I could configure it to my own taste. This video from CNET shows you how to do that.
The thing is I'm a lazy configurationist. I opt for a default setting that shows me the duration of my workout, the distance travelled, my average speed, and my current heart rate zone. I really like the way the data is presented with the differently coloured fields.
3. There are also training programmes on the Apple Watch – but no Garmin coaches.
I miss Jeff. Jeff is one of the coaches you get for free with Garmin. I followed his training programme for three whole years. A programme he created for me based on my wants. For example, I could tell him that, in 16 weeks, I want to complete a 10K run in a specific time, and he'd create two to three coordinated workouts per week to match. If I perform particularly well or skip a workout, the training schedule adjusts dynamically. I've yet to find a worthy replacement on the Apple Watch. Got any tips? I'd really appreciate it if you left them in the comments.
Of course, there's no shortage of apps that lust after my running data and entice me with all sorts of gamification nonsense. I could become a member of the Nike Running Club or get invited to challenges and events through Adidas Running. And there's Training Peaks, a kind of brokerage platform where coaches can sell me their programme based on my goals. But I find 25 or even 40 dollars a steep price to pay for a single guide. A somewhat cheaper alternative is the app from «daslauftraining.com» (available in German only), where you can get a 3-month subscription for just under 20 euros or francs.
Still, I'll stick purely to Apple for now. In Apple's workout app on the watch, I can choose to run for a specific time or distance or at a specific pace. I could also create my own programme, complete with intervals as well as warm-up and cool-down phases. But I find it too tedious to put all that together on the small screen.
4. There's a watch strap for every occasion
I'll admit it: this is where I fell for the consumerist trap. With my Garmin, I had one strap for all occasions, and I never thought twice about it. With the Apple Watch, on the other hand, I can buy a suitable strap for every occasion, including doing sports. My collection now includes a leather and stainless steel strap for the office and a Sport Loop for running. Apple and Nike brand watch straps will run you between 50 and 100 francs, with non-licensed ones available for less.
So far, I'm very happy with the Apple Sport Loop. It's made of a nylon fabric, is infinitely adjustable – it fits my rather narrow wrist with its 18-inch circumference well – and stays shut thanks to velcro.
Being able to clean my bracelet was especially important to me. I don't want to have to worry about months' worth of sweat accumulating in it. Every now and then, I simply rinse off the Sport Loop under running water with a little soap. Sure, a silicone strap would be more resistant to sweat, but those just aren't my cup of tea.
Apple has even published an official manual detailing how to clean the bands. I didn't come across it until afterwards, but fortunately I didn't go super wrong in my ignorance.
5. You've got your phone on your wrist
Of course, the Apple Watch isn't the only smartwatch that's LTE-enabled and offers some of the functions of a smartphone on your wrist. Samsung and Huawei also have LTE models in their lineups, Google recently joined the game with the Pixel Watch, and Garmin has the LTE-enabled Forerunner 945.
Wearing my Venu 2 from Garmin during exercise, I always had my iPhone with me in one of those arm cases. I had gotten used to it, but being able to leave my phone at home when wearing the Apple Watch feels amazingly liberating. I know that I can be reached on the go even without my phone.
But I definitely didn't want to be disturbed by every notification from Teams or from e-mail newsletters. So, I set up my own focus mode. Now, only my wife or my boss has permission to disturb me when I run – depending on whether I'm running in my own free time or for testing purposes, of course.
Verdict: Apple narrows the gap to the competition with WatchOS 9.0
Before WatchOS 9.0, I wouldn't have seriously considered the Apple Watch as a running companion. Granted, I'm not particularly ambitious, but I still like to see some performance data so I can try to improve. The Apple Watch lagged behind the more sports-centric competition for a long time. It's started to catch up, even if there's still some way to go before it overtakes it.
A Garmin watch is certainly still the better choice for sports. But the Apple Watch overcompensates for its weaker performance in sports with its performance in everyday use. It's almost perfectly integrated into the Apple universe. Instead of my iPhone, it's my Apple Watch that now wakes me up by gently vibrating on my wrist. In addition, I can now control podcasts from my watch and use Siri to send messages. My iPhone stays put in the pocket much more often these days.
My prejudice that the Apple Watch isn't suitable for sports was significantly weakened after testing it. For my needs, it's enough. I'm living proof that Apple's product strategy works, at least on me. Apple doesn't aim to deliver the best device for every special case in every market segment. Instead, the aim is to deliver a very good device that fits perfectly into the Apple universe.
Header image: Martin Jungfer
---



Journalist since 1997. Stopovers in Franconia (or the Franken region), Lake Constance, Obwalden, Nidwalden and Zurich. Father since 2014. Expert in editorial organisation and motivation. Focus on sustainability, home office tools, beautiful things for the home, creative toys and sports equipment. 
---
---