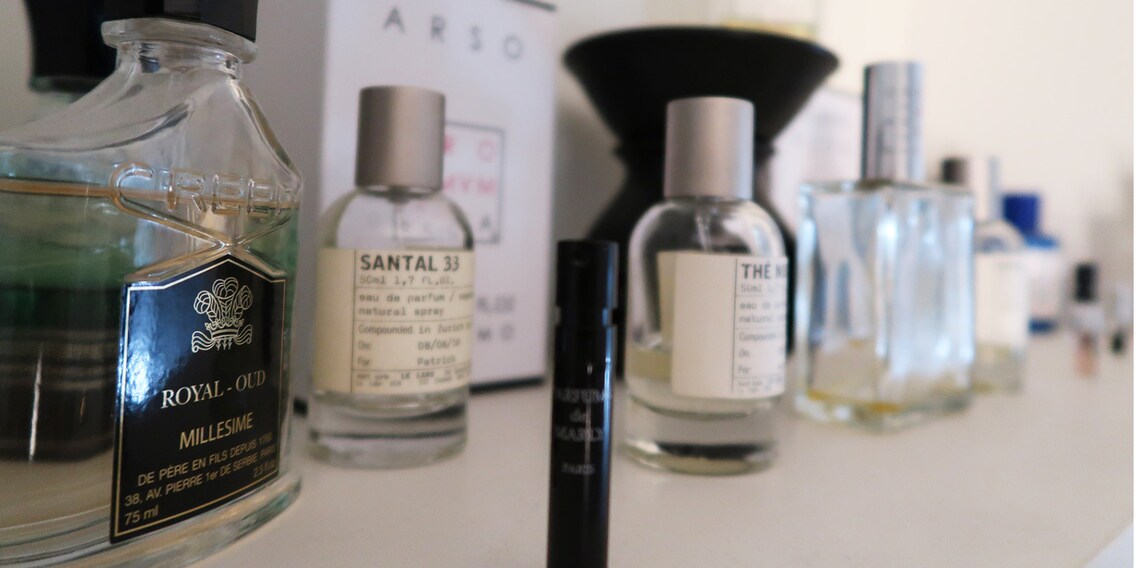 Eau de parfum: my precious

I'm hooked. Hooked on scrumptious scents. How did this happen?
There are two things I just can't resist: sneakers and expensive perfumes. It's all Calvin Klein's fault. His unisex perfume, CK One, was the catalyst for this entire disaster in the 90s. I, like so many others, showered myself in the thing. And found it... terrible. I guess I was just doing as one did. Peer pressure, or something. Man or woman, we all proudly rocked the cheap no-idea-what-this-is-actually-supposed-to-be scent. Ew.
This couldn't be what we were condemned to. I refused to believe that. Life had to have more to offer my nose than this nondescript one-size-fits-all brew in a bottle. I searched tirelessly for many years on end. I loitered in cheap Import-Parfümerie stores behind train stations and around other dodgy venues. All in vain.
My first time
At the beginning of the noughties, an acquaintance of mine introduced me to the fragrances of Creed. The profession of the perfumers behind the brand had been passed down from father to son since 1760 – that's seven generations. First in London, then in Paris. Through some detours, I got my hands on a real-life sample of the family cartel's Original Vétiver. For free, of course. The first shot is always free. I stood no chance. I went out and got myself a proper-sized vial of this concoction of bergamot, coriander, sandalwood and vetiver.
After a trip like that, there's no going back. It's like with wine: once you've tasted a Romanée-Conti, you'd sooner die than ever reach for Tetra Pak-ed plonk again. I've worked my fingers to the bone at countless jobs to finance my ruinous penchant for expensive fragrances. Private radio stations, advertising agencies, online shops – you name it.
Eventually, Original Vétiver was no longer enough. I desperately needed a new kick and wanted to try some harder stuff. So, next came Royal Oud and, finally, Aventus – the Fragrance of the Year 2010 by Creed. From then on, there was no stopping me.
Me: the poly druggie
After a little walk on the wild side with Tom Ford and Acqua di Parma, I ended up with the Roman Fragrance Mafia of Pro Fumum. First Arso and Fumidus for the cold months, then Acqua Viva for the summer. I can't deny it. With each inhalation, I relinquished more and more control over my olfactory sense. I became my own nose's slave.
But I was far from finished. On the contrary. One day, while I was surfing the Internet, I came across a New York lab with French connections. It also hawked its designer goods in Zurich at Bellevue, a prime location. So, fat wallet in hand, I hiked over. And when all was said and done, I found myself back at the Sechseläutenplatz with sweaty palms and 50 millilitres in my backpack. Two years later, I had managed to snort my way through Thé Noir 29, Bergamote 22, Vétiver 46 and Santal 33.
Fragrances
Le Labo Santal 33 by Le Labo Eau de Parfum Spray (without packaging) 30 ml
And then there was the shower gel, beard oil and deodorant from the same corners. A toxic cocktail. It probably qualifies as poly drug use.
Head, heart and base
Something had to be done. But what? Should I have stopped cold turkey? That seemed too callous. How could I possibly go from starting my morning with apple, black currant and pineapple head notes to a total lack thereof? Enjoy my first cup of coffee without cedar, birch and jasmine heart notes, and end the day without vanilla, musk and oak moss base notes? Impossible. So, I decided to slowly wean myself off the stuff. Slowly use up one bottle at a time. I had accumulated a large enough stock over the years to last me a nice long while. So... that was the plan. And then?
Well, then came my birthday and I was gifted a coupon for a luxury perfume shop in Basel. So, it's all my wife's fault, really. Just like that, the old wisdom about changing your environment to get clean had most cruelly been proven true.
Long story short, I recently showed up at my dealer of choice with gleaming eyes. I was received by a team of friendly ladies who filled me 100 millilitres of a cedar leaves, pine resin, leather and incense concoction. Fresh Arso by Pro Fumum for the nose. A relapse into old patterns. The addiction had grown even stronger.
I give up. Hooray for my olfactory bulb. I think I'll be a perfumer or truffle pig in my next life. I'll tell the tale of how I slipped into my sneaker addiction some other time.
---



What matters isn't how well you play when you're playing well. What matters is how well you play when you're playing badly.
---
---
---
These articles might also interest you
Skeleton Loader

Skeleton Loader

Skeleton Loader

Skeleton Loader

Skeleton Loader

Skeleton Loader