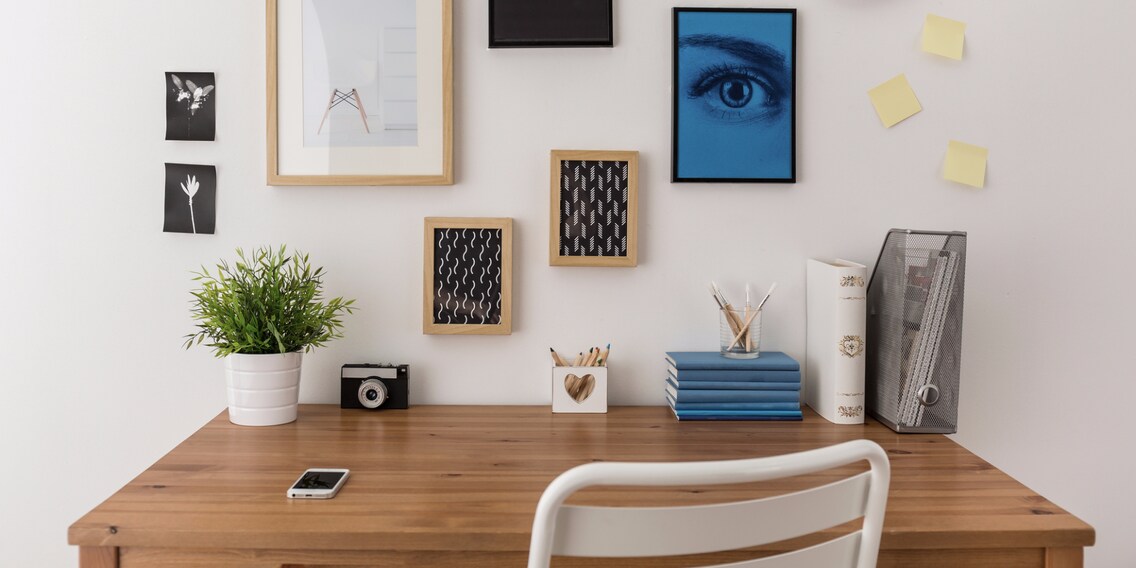 Decluttering for your (inner) peace of mind

Courses with so-called clutter coaches, i.e. experts on decluttering, are more popular than ever. Now I know why.
Should I or shouldn't I? My critical gaze keeps hectically wandering back and forth between the Elsa figure in my hand and the bin. My brain is working overtime and I am trying to answer multiple questions at the same time. What do I even need this thing for? What will happen if I do opt for the bin? Would I regret this one day? Or would this object simply fade into oblivion? Would my memory of the amazing Frozen advent calendar my mum gave me last December and that contained this thing just fade away? I must admit, I am a bit ashamed that I was asking myself such profound questions, given that I was holding was nothing more than a six-centimetre piece of plastic.
A few weeks after moving into my first apartment, a long time after I had unpacked the boxes, this suffocating feeling took hold of me. My enthusiasm for my newly-gained freedom made way for slow lethargy. My urge to get things done had left without much of a ceremony, and I could barely bring myself to get up from our new, far too comfortable couch.
A few days later
When I was waiting for someone at the train station, I walked into a book shop and I made my way to the frowned-upon "self improvement" section, trying my best not to get noticed. That was when Hideko Yamashita's book caught my eye: "Dan-Sha-Ri – Decluttering to Cleanse Your Heart and Mind". Admittedly, the title did make me smile. I took the book from the shelf. I started leafing through it – and decisively put it back in its place. After all, it would be a little bit strange to buy something when what you really want is to declutter. I made my way through the other sections of the book store, but I soon realised that my subconscience had already made its decision. I walked back, grabbed the book, earned myself a bit of a smirk from a girl who had also been flirting with the idea of buying a self-improvement book, and then I paid.
Dan-Sha-Ri: Das Leben entrümpeln, die Seele befreien
The change
96 pages later I had made up my mind. Something had to change, and this change had to happen that very weekend. No sooner said than done! From my extracted wisdom teeth to the old picks for my electric guitar. I radically parted with so many things I had kept until then for fear I might miss them one day. And lo and behold: Suddenly I could breathe again. My mood improved, and I was energetic again.
Just a coincidence?
It might all be in the mind, and yet I have a rational explanation for it all. Here is a simple example: When we are stressed, which is equal to a mental burden and inner restlessness, we are unlikely to take the time and energy to keep our homes tidy. And the messier it becomes, the more we start to feel the pressure to do something about it. This, in turn, causes us even more stress. A vicious circle. In other words, our chaotic and overcrowded environment in a way reflects how we are feeling at that time. Reversely, this also means that we have the power to change our mood by changing our surroundings.
Letting things be things
The author of the book puts the main focus of her approach on the relationship between things and the person who owns them. The things that we want to keep have to have some sort of relation to the here and now, and they must not be related to the past (connected to memories) or the future ("I might need this at some point"). Moreover, people tend to quickly turn objects into subjects that we load with our feelings and memories. This, in turn, makes it harder for us to throw them away.
The Japanese Dan-Sha-Ri method is not about frantically throwing everything away. It is about cherishing the things that we keep and to bring the things that we no longer use to a place where they serve a new purpose. The idea is that this turns into a holistic way of thinking that creates the awareness needed to question material things even before we buy them.
So the next time you are faced with having to make the same decision I did with my junk, you can confidently opt for the bin. Strangely enough, letting go of something gives you more than keeping it – inner peace, for example.
You may also find these articles interesting (in German):
News + TrendsComputing

Warum der eReader das Papier schlägt und ich doch nie auf Bücher verzichten werde
---



As a massive Disney fan, I see the world through rose-tinted glasses. I worship series from the 90s and consider mermaids a religion. When I'm not dancing in glitter rain, I'm either hanging out at pyjama parties or sitting at my make-up table. P.S. I love you, bacon, garlic and onions. 
---
These articles might also interest you
Skeleton Loader

Skeleton Loader

Skeleton Loader

Skeleton Loader

Skeleton Loader

Skeleton Loader