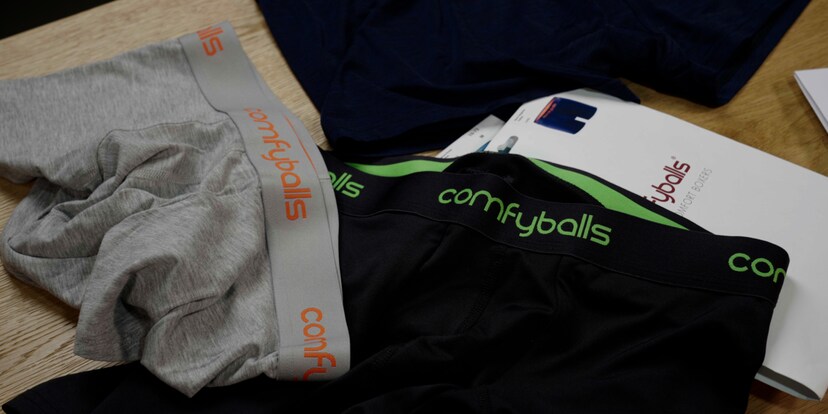 Comfyballs underwear: the last pair of trunks you'll ever need
Can underpants still be improved? Yes. After testing Comfyballs products for several weeks, I have seen the light. They're the best underpants I've ever worn, pure and simple.
Comfyballs – great marketing from the offset. I want, no, need my testicles to feel safe and sound. Previously, my underwear drawer contained an unorganized mess of random brands printed or woven into their elastic waistbands. Guess I was just your average consumer. When required, I snagged up a multipack from S.Oliver, Hilfiger, Diesel, Jack&Jones, Hans&Franz or whomever, never paying much attention to the actual brand I was getting. Until now, I didn't really think you could mess up underpants. They all felt the same anyway.
However, that all changed very recently.
My drawer still contains a few multipacks. But I hardly ever wear them anymore. I've become a Comfyballs wearer in the last few weeks. It all started with a user comment aimed at one of our product managers after she recommended the brand.
Two things to note here:
All articles in our store that are marked as either «Promotion» or «New to our range» aren't penned by our editorial team. Here's where our colleagues from Category Management take over. It is advertising.
There are two reasons why you regularly see this product mentioned: the underpants sell well. And they get good reviews.
That's why I contacted the manufacturer of Comfyballs underpants. I learned quite a bit about the Norwegian company's history, which was only founded in 2012.
For example: founder Anders Selvig made the first prototypes of his boxer shorts using a home sewing machine and the help of his wife – dissatisfied with the fact that «classic» boxer shorts aren't designed to provide sufficient stability to male genitals. Or as Anders Selvig put it in his own words:
«Traditional boxer shorts aren't designed to keep your equipment sufficiently in place.»
Admittedly, that does sound a bit forced. Probably works better in Norwegian. Still, it does have an innocent kind of charm to it.
Paal Steensland, who's been a friend of Anders since childhood and is now responsible for sales in Switzerland and France, gave me a small selection of underpants to test. In the past few weeks, I tried out three different Trunks from Comfyballs.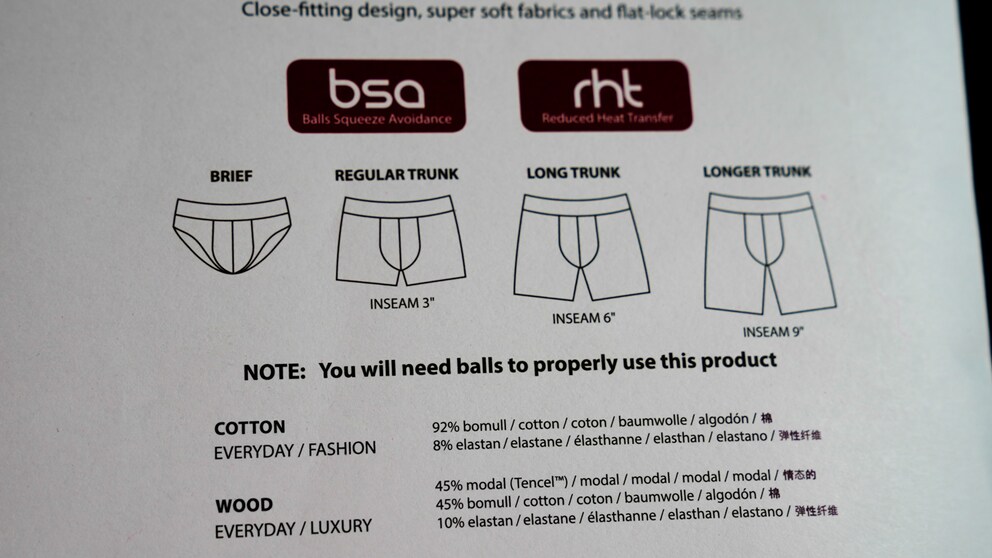 All conditions for proper use of the underwear are properly stated.
I only tested their Trunk models. These are tight-fit boxer shorts. Forget the days of underwear confusion, a spectre haunting me since I entered of puberty. No more briefs, or even loose boxers at this point. This focus is on tight-fit Trunks appears to be the way to go when flirting as well according to «Men's Health,» the trade magazine dedicated to enhancing masculinity (article only available in German).
Testing different fabrics and lengths
In the test, I rotated through my Comfyballs underpants daily, both during normal office days and sports or longer walks, as well as playground activities with my daughter. All underpants were – of course – washed several times to get a first impression of their durability.
I had the Cotton, Wood and Performance models at my disposal. They differ in what material they use:
Cotton: 92 per cent cotton with 8 per cent spandex.
Wood: 45 per cent modal (Tencel), 45 per cent cotton and 10 per cent spandex.
Performance: 84 per cent polyester with 16 per cent spandex.
All Comfyballs underpants use the same cut, giving them a decisive advantage over the competition. To give your, um, «equipment» more support, the fabric pouch that contains it is much tighter towards the groin than your average pair of trunks. Comfyballs call this a «Package Front». The goal of this style: your testicles and penis are lifted up and out from your inner thighs. This also causes your leg to give off less heat to the genitals.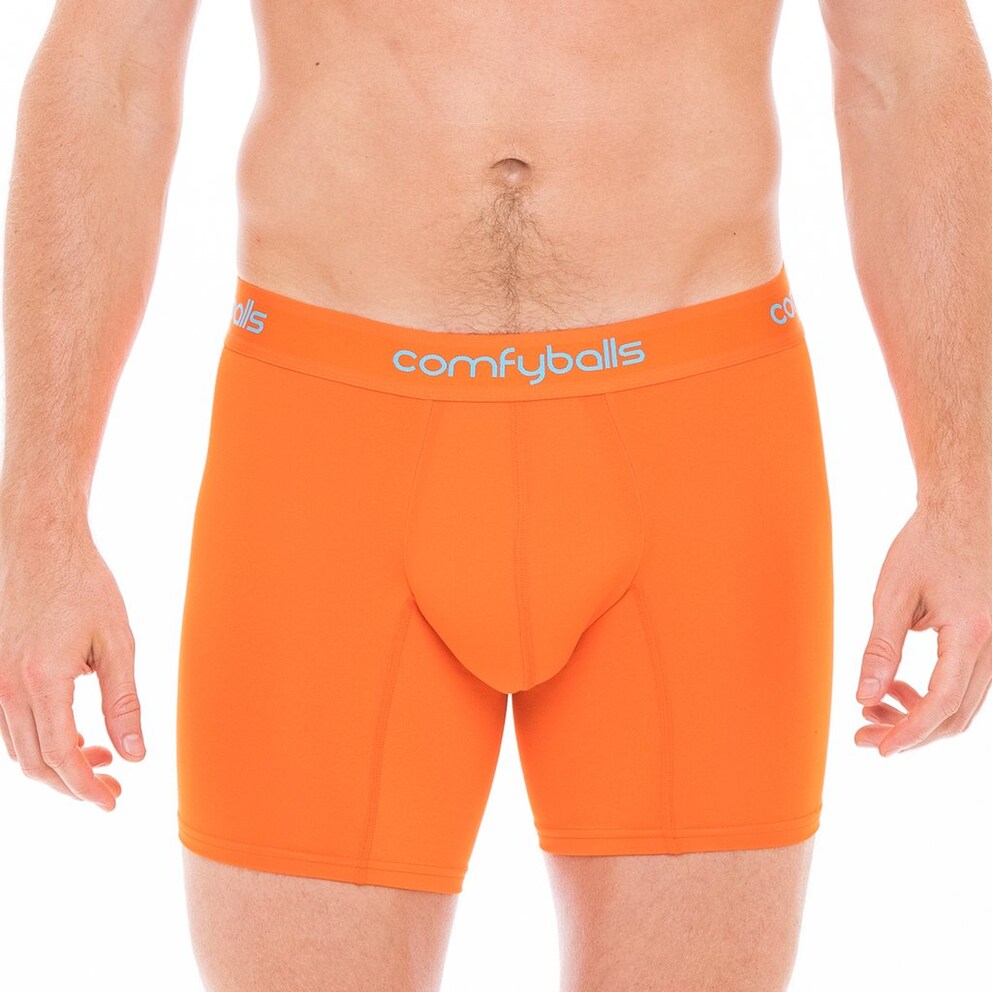 The Cotton variant feels soft and smooth. According to the manufacturer, combed single jersey cotton with a weight of 180 gr/m2 is used. The fabric showed no signs of wear during my test, even after about ten washes.
Tencel's modal fibres, which are used in the Wood variant, have become increasingly popular in recent years. The shorts are softer and a bit more flexible than the Cotton version, and are even more comfortable than the cotton, in my opinion. I recently tried Modal, which uses beech wood pulp, during a pyjama test.
Noticeably, Comfyballs Performance trunks are made for sports. Polyester as the main material ensures that any moisture, a.k.a. sweat, quickly disappears. Due to the high spandex content, no fibres or seams will suffer, even when stretching.
Speaking of seams. In addition to the style, they're the second reason for that particularly pleasant feeling. They're very flat, and barely felt, especially in those sensitive areas. This reduces the risk of friction. The seams are also quite flat on the sides and waistband, which is why you almost don't feel them under a pair of jeans or even suit pants, where they're even less noticeable.
Conclusion: expensive, but worth the money
Even when ignoring the cleverly chosen brand name, I'm still looking at a pair of underpants that, to me, are the best I've ever worn. I already owned a similar brand's model for workouts, with their material turning out particularly breathable and moisture-regulating in spite of their slightly tighter fit. But even these didn't come close to the feel of Comfyballs.
There's less sweat «down there» as my precious parts actually have more distance from my thighs. And thank God, I won't have to perform any embarrassing rearrangements in the middle of a crowded street anymore.
Yes, Comfyballs are no bargain. But I'm perfectly willing to spend a little more money for underpants that fit perfectly and make me feel good all day. The manufacturer's commitment to sustainable production and climate neutrality admittedly also helped me make this decision. Comfyballs even sell multipacks.
Anyways, my older trunks can now sleep soundly in their drawer, safe in the knowledge that they'll only have to suffer through another sweaty day if my Comfyballs are in the wash.
---

Journalist since 1997. Stopovers in Franconia (or the Franken region), Lake Constance, Obwalden, Nidwalden and Zurich. Father since 2014. Expert in editorial organisation and motivation. Focus on sustainability, home office tools, beautiful things for the home, creative toys and sports equipment.
---
---
---