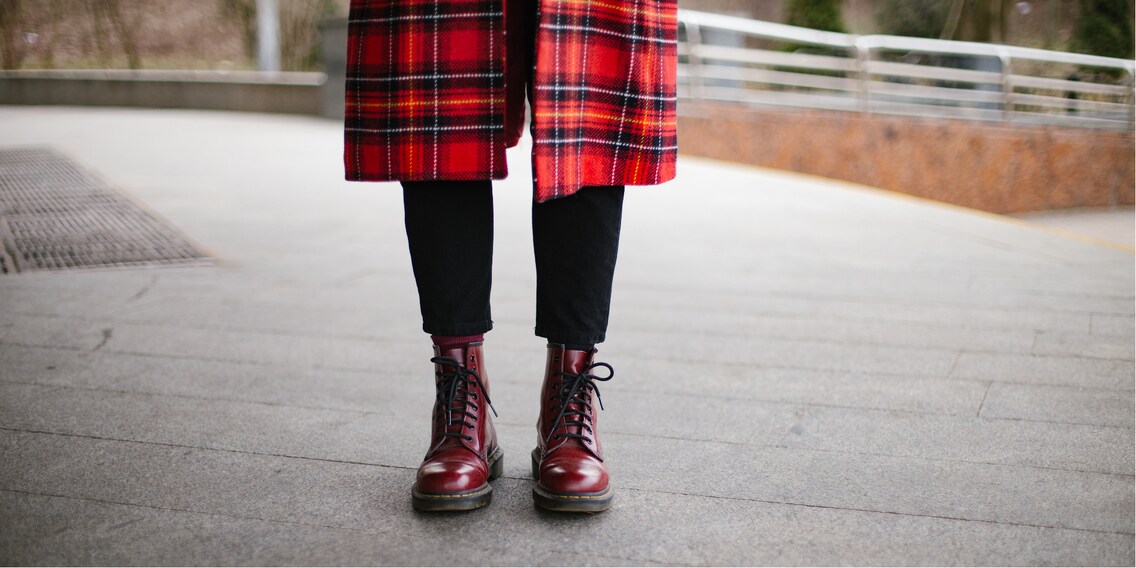 Combat boots are on the march

Forward, march! Show off your stylish combat gear this winter with chunky lace-up boots – with peaceful intentions, of course.
Combat boots are the new sweatpants. Why am I making this comparison? Many fashion trends are anything but practical. After getting used to comfortable lounge wear – at least on my lower half – thanks to home office over the past months, I need a footwear equivalent to brave the cold winter months. Something that's not only suitable for everyday wear, but also fashionable and safely gets me through the snow. You know, on the rare occasion I do actually leave my house...
Scrolling through Instagram, you can see a certain style of shoe has been on the rise for a while now. If I'm to believe influencers, combat boots are the bomb right now. I'll admit that I've been on the fence with combat boots in the past. I thought jump boots were way too crude and made me feel like I had two club feet. But everything is different this year. Heck, I even go to the supermarket in trainer pants. So, I wanted to give the classic jump boot a chance, namely Docs by Dr. Martens.
I've not regretted my purchase decision so far. Walking through the snow on eggshells in pretty but impractical shoes is passé. Nowadays, I walk confidently and safely over black ice in my new lace-up boots with profiled, non-slip soles. Plus, they're amazingly comfortable. Finally, a practical trend I don't have to suffer to follow.
But there is one catch to this trend. If you style it wrong, your outfit can look very austere. To take away the austerity that comes with chunky boots, you need to play with opposites. You're right on point if you combine them with opposites like delicate and flowing fabrics as well as fitted winter coats, capes or light knits. «The delicate meets the rough» is the fashion formula to follow.
Casual
Lighten your combat-boot look with a long winter coat. To add some spice to her outfit, French blogger Aïda goes for shiny black lace-up boots. They really make for that «wow» factor. Sunglasses and a crossbody bag round out her outfit without stealing the show from the boots.
I was particularly taken with Annemiek Kessels' unspectacular look. She wears her minimalist chunky boots with a black, almost floor-length coat that's gathered at the waist. This gathering accentuates the influencer's waist despite the oversized cut. A different coloured scarf or sweater, draped over her shoulders, makes the monochromatic outfit look anything but drab.
Stylish
In addition to wide and flowing fabrics, as is the case with skirts, you can also combine this trendy shoe with wide-leg pants. By showing a little skin, you can make the boots looks more playful. Maria Chervotkina shows us how it's done. The Russian's outfit is ideal for mild winter days. She pairs her Docs with a pair of white jeans that have a frayed hem. A lined blazer and loose hair make her jump boots look more feminine.
You can wear leather pants with these boots. And you can decide if you prefer a tight or wide fit – both work just as well. If you think wide-leg pants look too masculine, you're wrong. Lauren Sara Bartlett proves that's not the case with her Instagram outfit. She tucks the hem of her wide pants into her boots. She pairs that with a cream-coloured knitted sweater, gold earrings and burgundy nail polish. The combination works.
Elegant
Combat boots are true quick-change artists, even if you don't see it at first glance. The sturdy boots can also be styled elegantly. To get the chic look, as shown by blogger Ambra Bny, you need a pair of (faux) leather pants, a handbag and a fake fur coat. And just like that, you have the perfect cuddly look for cold winter days.
If Ambra's outfit is too posh for you, check out Leia Sfez's Instagram post. The Frenchwoman casually combines her shiny Docs with black skinny jeans and a jacket. Parisians really do have this «Je ne sais quoi»... Leia adds some colour to her monochromatic look by pairing it with a differently coloured bag. Et voilà, you have an outfit that is edgy and elegant at the same time.
How do you style combat boots? Let me know in the comments. Click here to see the Dr. Martens range.
Not in the mood for Docs? Check out these alternatives:
---



When I'm not exploring the depths of the sea as an open water diver, I enjoy plunging into the world of fashion. On the streets of Paris, Milan and New York is where I keep my eyes peeled for the latest trends. And I'll show you how to take them from the catwalk to your everyday life. 
---
---
These articles might also interest you
Skeleton Loader

Skeleton Loader

Skeleton Loader

Skeleton Loader

Skeleton Loader

Skeleton Loader