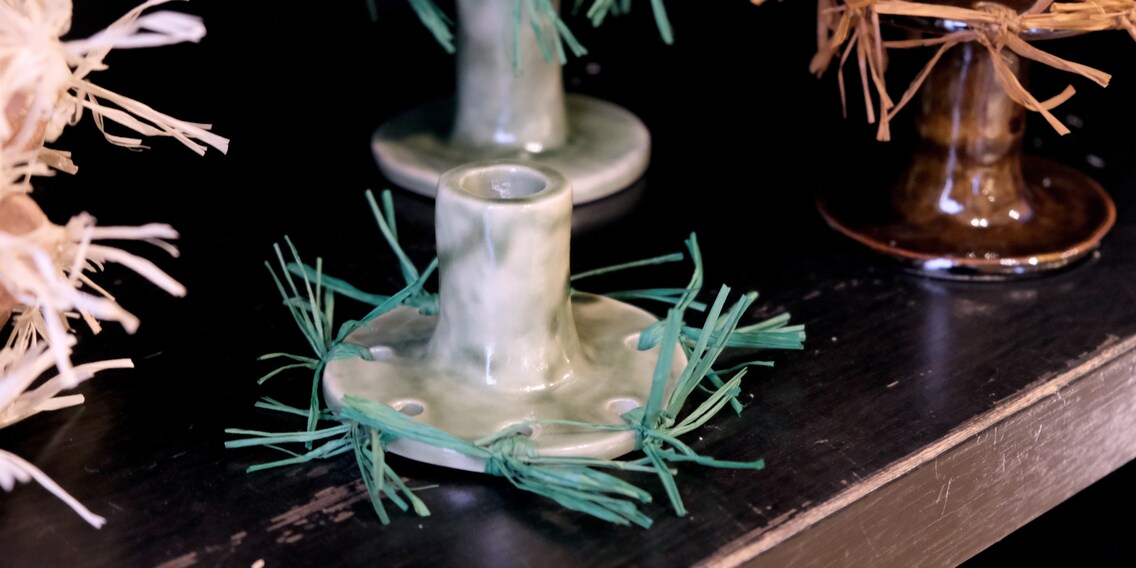 Calculated style break: ceramics with pine needles or leather details

Translation:
machine translated
Fed up with drab ceramic plates and vases? Salvation is at hand. The material mix is now conquering our interiors. These five examples show the way.
I looked around at the "Maison & Objet" trade fair in Paris and discovered a trend that in fashion would be called a style break: mixing colours, patterns and fabrics. Five brands show with their individual pieces how beautiful cross-potting can look.
1. Bast
When I thought of Bast, I always thought of parasols and their gently rustling roofs. Since I got to know Juliette Godard's work, I have a new association. The designer knots bast cords onto ceramic vases instead of umbrellas. She was a knitwear and jersey designer until she founded the label Goju in 2019 to specialise in pottery. Since then, she has used raffia to give her ceramic objects an organic character - a far cry from the strict, geometric cut patterns from her days as a textile designer.
2. Pine needles
Some pick up chestnuts in the forest, others go one step further: designer Eneida Lombe collects pine needles to mix up pottery with. For her vases called "Caruma", which she designed for the brand Vicara, she added a pine needle weave to ceramics. Since 2015, Eneida has been running her own workshop, where she creates pieces like these with the aim of combining tradition and modernity .
3. Cotton
Like a planetary ring. That's what the disc of woven cotton that frames the "Ammos" lamp looks like. It is made of porcelain and mixed grey sandstone and comes from the duo Carole Meyer and Vero Mila. The ceramists are part of the "Potiers de Saint Jean de Fos", a research institute founded in 2016. It is preferably dedicated to architectural forms such as those of "Ammos".
4. leather
Two times I had to look to realise that the handles of the tableware by Natalia Brilli are not ceramic but leather. The deceptive effect comes from the monochrome colour scheme she often uses in her work. The designer has worked in the fashion world for more than twenty years and has already run her own label. Today, however, she devotes herself to objects made of recycled leather, tapestries, raffia objects, furniture and ceramic pieces. The latter are made in Belgium.
5. With cotton
A touch of boating charm envelops the Tuscan stoneware vases from
Lisa Maïofiss. This is because their handles are not made of ceramic, but of rope and cordage. The ceramicist, who has her own workshop, was inspired by antique vases for this collection. That is why the pieces contain small grains of terracotta, which make them look raw and natural. Furthermore, the irregularly grooved surface and painted vase make them unique.
The mix-match method in ceramics shows once again how many possibilities the old craft offers to always make something new out of it. I believe that it will influence the tableware and decoration trends in the near future. Because I have already found the first pieces in our assortment that bring a break with style into your home.
---



«There are only two ways to live your life. One is as though nothing is a miracle. The other is as though everything is a miracle. I believe in the latter.»
– Albert Einstein
---
---
These articles might also interest you