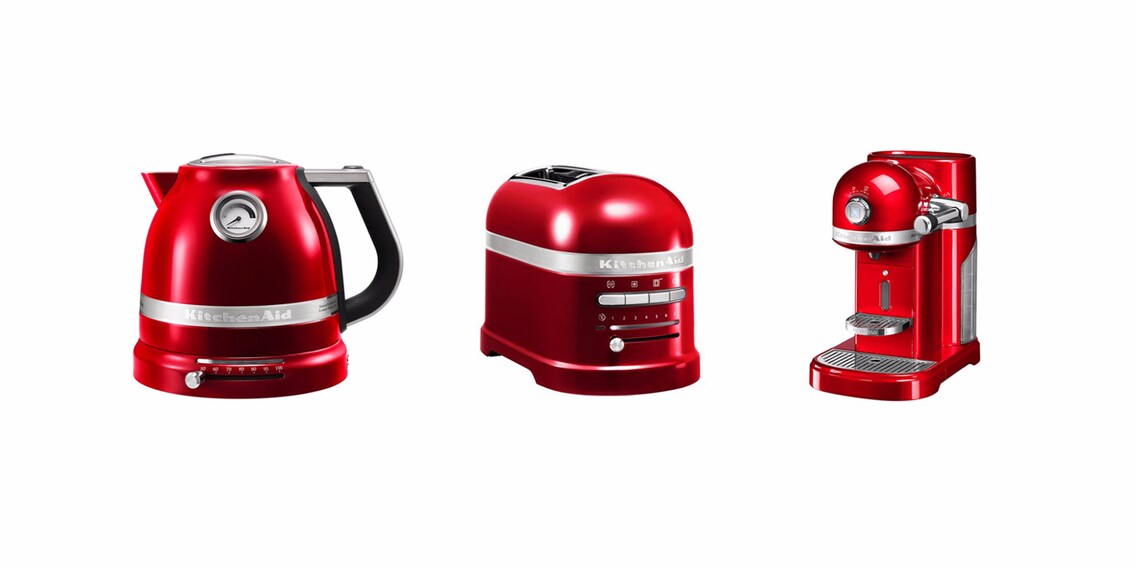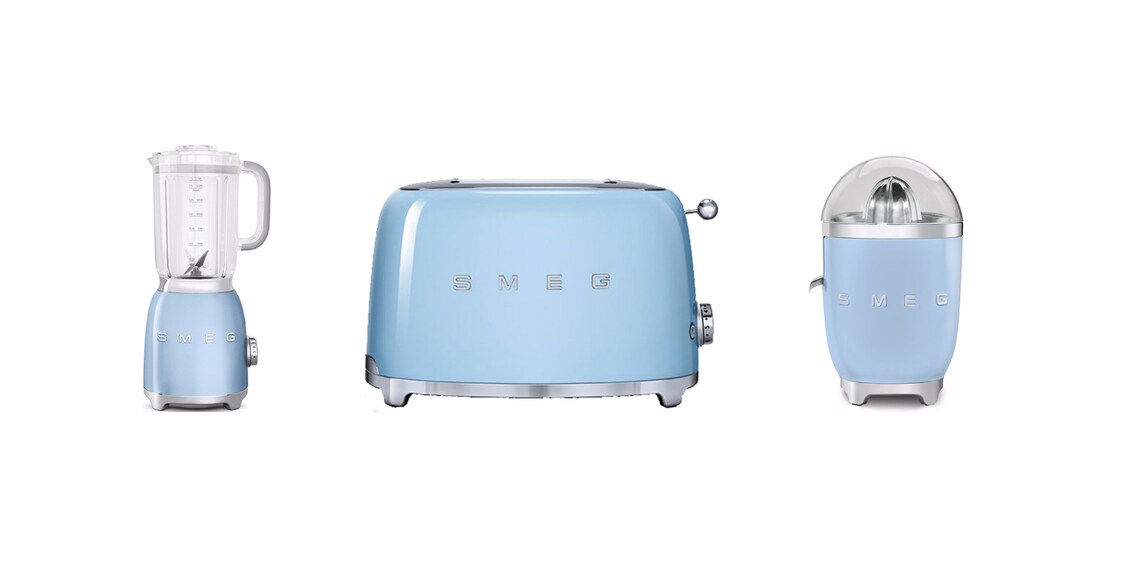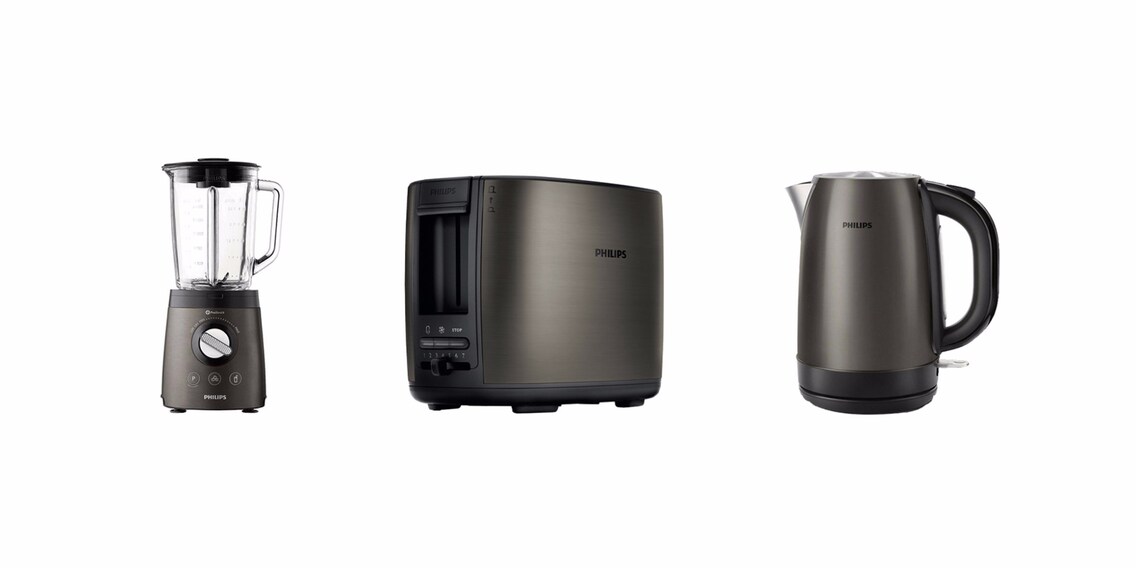 Brightly-coloured breakfast series: Early birds catch more than just worms!
Eat breakfast like a king, they say. And we agree! Feast your eyes on freshly baked rolls and crispy cereal but also on delightfully designed kitchen appliances.
For even more fun in the kitchen, how about going for colour-coordinated kitchen equipment? The following appliances look great together and will have your mouth watering.
The way to a man's heart is through his stomach
And I think we can safely say that the same applies to women. In any case, you will make hearts beat faster with this streamlined, bright red KitchenAid series. Its colour description alone is making us go weak at the knees – "Candy Apple Red". Sounds like a great way to start the day.
The complete set at a bargain price:
Smoking hot
The Philips collection shown below includes a powerful blender, an elegant kettle and a toaster. The series is made of elegant titanium. There is the risk that the sight of these beautiful objects first thing in the morning might will keep you in a dreamlike state for the rest of the day. Legend has it that many a slice of toast has been burned because of their beauty. Having said that, a darker shade of toast would actually look quite good with this series.
The complete set at a bargain price:
For "your daily bread"
Similarly to the Philips series, the Electrolux Expressionist range consists of a blender that makes tasty breakfast smoothies, a toaster for "your daily bread" and a kettle for that first cuppa of the day. Even if you're far from being an early bird: With this equipment, nothing can go wrong when you're preparing breakfast. Just be careful not to be blinded by the reflection of the rising sun in all that stainless steel! At least you'll be awake if it does.
The complete set at a bargain price:
A splash of colour for the kitchen!
If you like things colourful, take a closer look at the Retro Style series by SMEG. The appliances come in pastel green, pastel blue, cream and Cadillac pink. Our recommendation: Get each device in a different colour and you've got yourself a wee pastel-coloured rainbow!
The complete set at a bargain price:
Bringing light into the darkness
The Illumina series by Russell Hobbs transforms your kitchen into a disco. Futuristic-looking multi-coloured light strips simplify making hot drinks, toast and smoothies by taking the guesswork out of selecting the right setting for your appliance. You'll know what browning level your toaster is set to, which temperature your kettle is aiming for and how fast your blender will blend.
The complete set at a bargain price:
Not only for the dark side
The last thing morning grumps need to hear is that the Siemens kettle, toaster and the filter coffee maker are only available in black. Thankfully, this elegant series also comes in red and silver. The latter colours are bound to make starting the day easier.
The complete set at a bargain price:
Bittersweet
For all of you out there who enjoy "analogue" coffee making, we recommend the Bodum Bistro range. Equipped with a kettle and a French press, nothing can go wrong. Any coffee bitterness can be counteracted with a sweet fruit smoothie made in the matching Bodum blender.
The complete set at a bargain price:
You might also like this:
---
These articles might also interest you
Skeleton Loader

Skeleton Loader

Skeleton Loader

Skeleton Loader

Skeleton Loader

Skeleton Loader