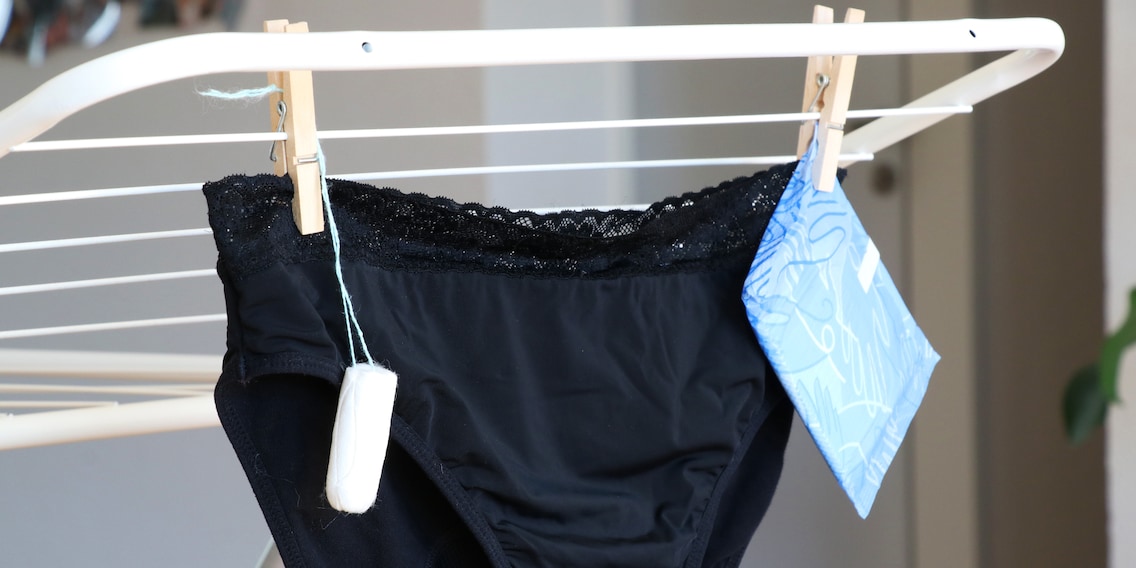 Bloody pants! Washout or winner? My first time using period underwear

Translation:
Julia Graham
Period underwear stopped looking like granny pants a long time ago. You can now get the reusable alternative to disposable pads and tampons in a wide variety of designs. But I haven't ever tried them – that is, until now. Pants on, let's go.
It's day four of my cycle. The worst of the bleeding (and cramps – yay) of my period is over and I've finally plucked up the courage to slip into my very first period pants. It slowly dawns on me why the slogan «Dare To Care» is printed on the packaging of my Selenacare period underwear. It actually does take a lot of effort not to reach for the tampons and single-use pads in the bathroom cabinet. What if they leak through to my clothes and end up being bloody pants in the very literal sense? But, thanks to my home office set-up, there's hardly been a better time to put the knickers to the test. So I risk it and pull on the underwear with its built-in period protection. It stays in place and is comfortable. Really comfortable.
It sparks a sense of hope. Once I'd ruled out the menstrual cup for personal reasons, I was stuck with tampons and disposable pads again. But I wanted an option that was more practical and as environmentally friendly as possible. These washable pants could be the alternative I was looking for. Or at least, something to add to my period toolkit. Putting them to the test will let me know for sure.
Selenacare has four different types of pants to choose from: Active, Hipster, Brasiliana and Classic. I opted for the latter:
This version comes with a lacy waistband and looks most like my normal underwear. The pants also hold 25 ml of blood securely. In other words, just enough absorbency for the start and end of my period. Or as Selencare puts it: «perfect for the light and medium days». The briefs are made of 59% nylon, 20% cotton, 10% polyester, 7% elastane and 4% polyurethane. According to the manufacturer, you can wash them at 30° to 60° in the machine and reuse them up to 60 times. The absorbent part on the gusset is four-layered and has in-built antibacterial protection, meaning it's slightly thicker than the rest. But it's not comparable to regular pads, which are too rigid and inflexible. Comfort? Check. But is it still comfortable to wear when you add blood to the equation.
Let it flow
If I can overcome my reservations about period underwear once, I can do it again. I've since worn the pants a number of times during my period and made up my mind about them.
At first, I'd hoped to be able to wear the underwear to bed, and then I wouldn't need to have a tampon in my body all night. In theory, it's a great idea. The only issue is feeling the synthetic fabric on my lady bits. It made me sweat a lot at night, despite the fact it's supposed to be breathable. What resulted was a restless sleep. However, I find the knickers a real godsend during the day, especially when I'm working from home. There's no more annoyance of having to change tampons and stuff like that, no damp feeling, no leaks, no unpleasant smell.
In theory, I can wear the pants all day – at least that's what the manufacturer says. Provided my period isn't too heavy. The underwear can't absorb more than 25 ml of blood. But the thing is, the black material makes it difficult to gauge how much blood is already there. Which is why I tend to go more with my gut. As soon as the pants start to feel the slightest bit wet, I'll change them. For me, that's every four to five hours on light days. Meanwhile, on heavier days, the pants work in tandem with my tampon. Almost as a security measure. At least that means I avoid using a pad (and the awful sticky strips) that I'd normally have reached for. Unfortunately, this brand doesn't yet have a version that offers greater absorbency.
While the pants are straightforward to use, they do require more effort when it comes to looking after them. For instance, I have to wash them by hand in cold water after wearing them before they can go in the machine. Putting them in the tumble dryer is an absolute no-no, as the drying process can shorten the life of the pants. Then there's the issue of what comes off in the water. Although synthetic period pants mean I get to reduce the amount I throw away, I end up producing microplastics when I put them in the washing machine.
Another downside is that, compared to a menstrual cup, one pair of period pants alone isn't enough. Which is why I'm thinking of getting more. Perhaps also some from other brands. That way I can test out other alternatives.
Verdict
All in all, I'm pleasantly surprised. The Selenacare version looks pretty and is comfortable to wear – during the day, at least. Until I find pants that can handle my heavier flow days along with the light, I'll keep using these knickers for the start and end of my period. And in between, they'll save me using a pad or two.
---



As a massive Disney fan, I see the world through rose-tinted glasses. I worship series from the 90s and consider mermaids a religion. When I'm not dancing in glitter rain, I'm either hanging out at pyjama parties or sitting at my make-up table. P.S. I love you, bacon, garlic and onions. 
---
---
---
These articles might also interest you
Skeleton Loader

Skeleton Loader

Skeleton Loader

Skeleton Loader

Skeleton Loader

Skeleton Loader