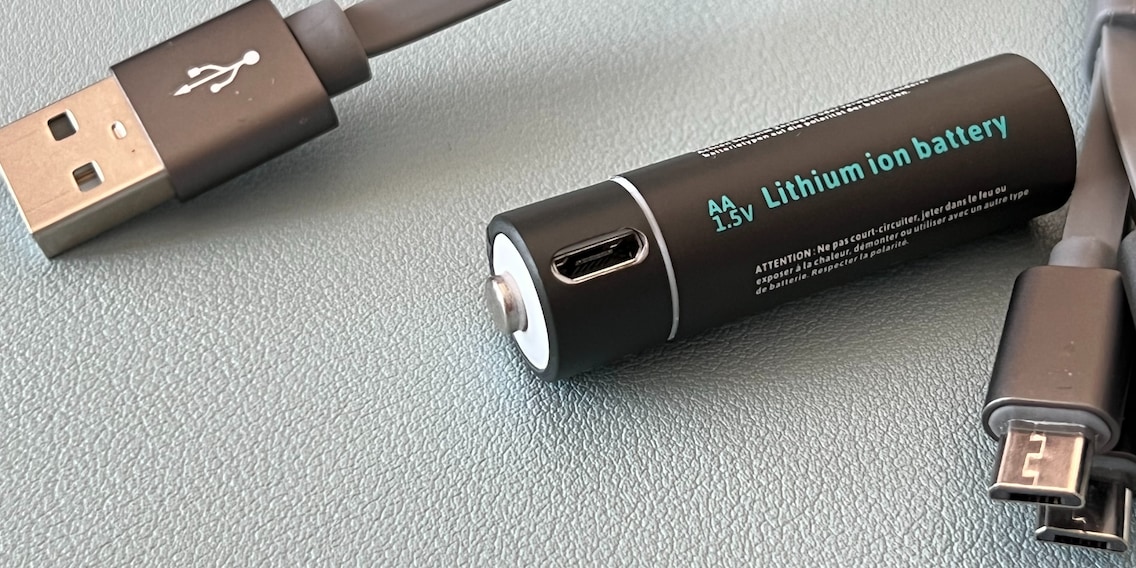 Batteries of the future? Showing off Pale Blue's new lithium-ion batteries
Lithium-ion technology is available in permanently installed smartphone batteries – and, fairly recently, in rechargeable batteries as well. The ease of use for these Pale Blue batteries certainly convinced me.
Rechargeable batteries are clearly better for the environment than the disposable variety. However, they also have their weaknesses. Charging takes ages, if you can even find the appropriate cable. They lose charge when lying around unused. And they often don't provide enough voltage, even more so if they've already been through a few charging cycles.
The young American company Pale Blue promises to solve the problem: batteries that can be recharged quickly and provide high voltage. I wanted to try that out: Pale Blue's sales representative for Switzerland sent me a selection to test.
What you get for your money
The manufacturer has already met ecological requirements for its packaging. An uncoated cardboard box is all that's needed to transport the batteries. No need for the usual plastic film. However, the box didn't only contain the batteries, but also a hard plastic case. Not really environmentally friendly, but still. However, I soon got why it was there. A plastic box is the perfect place to store batteries when they aren't in use.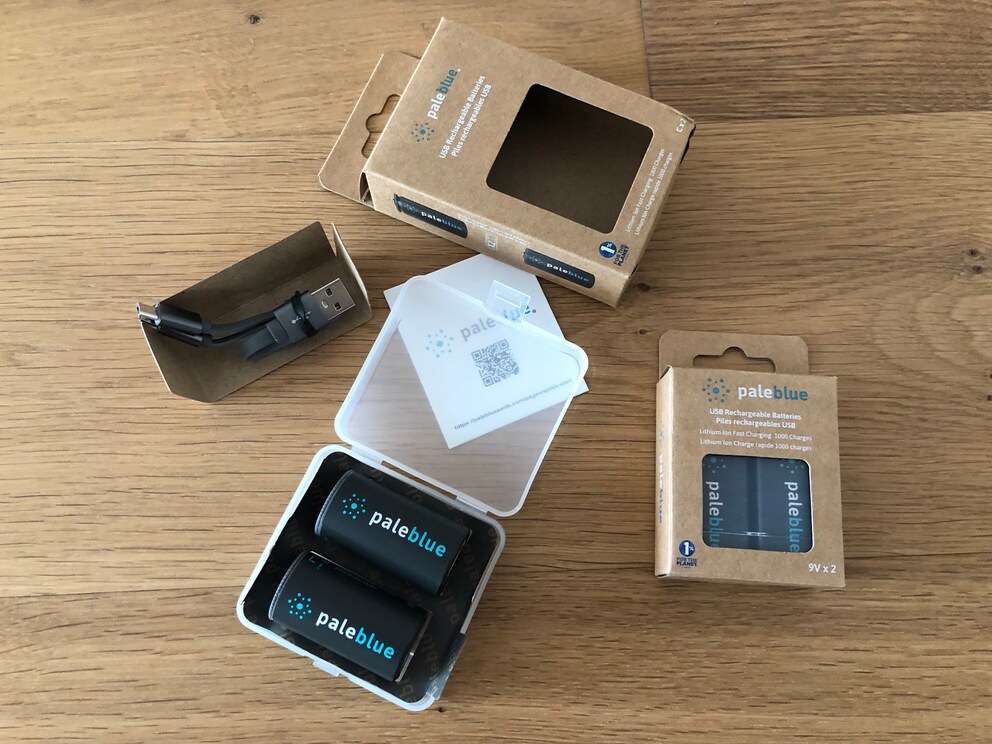 Also, there's a USB charging cable in each battery pack. Two or four micro-USB ports are installed on the other end of the cable, depending on your set. They're inserted into the battery for charging. The typical micro USB problem is present: plugging it in the wrong way.
I was positively surprised in this regard by the thick C batteries that I also got for testing. They have the expected USB Type-C option, but there's also a USB-C plug on the other side. Now if only I had devices that required such batteries…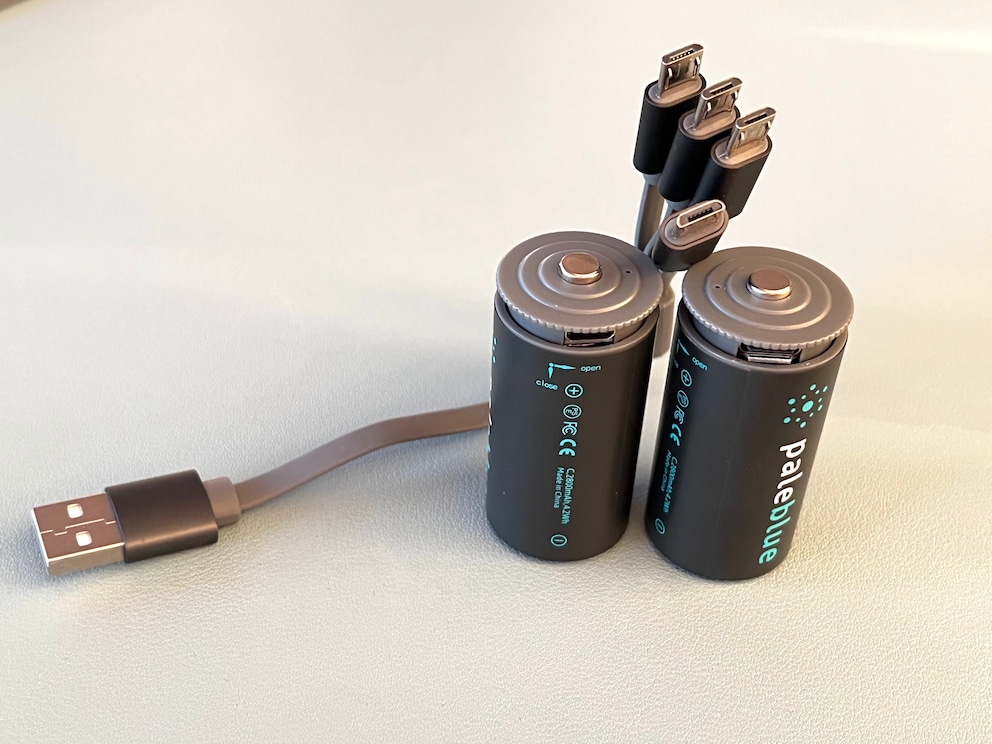 Lightweight with fast charging
After freeing the Pale Blues from their prison and picking them up, the first thing I noticed was how light they were. An AA model weighs only about 16 grams. In contrast, an Alkaline M Power, which I used as a reference battery, weighs 23 grams. That's a difference of 30 per cent, and in gadgets that require four AA batteries, just under 30 grams of weight can certainly be a relevant factor.
The Pale Blue battery owes its light weight to its design. In contrast to conventional rechargeable batteries, you don't need an extra charger. You load them with the cable you plug in at the top. Of course, there's no room for battery space where the cable goes. About one in five centimetres of battery length is thus lost in capacity.
Pale Blue's aesthetics are a nice gimmick. A red LED ring in the AA battery indicates that it's charging, a green one that it is full. The smaller AAA batteries have a glowing dot instead of a ring. The charging process takes about two hours on a USB power supply, provided you have squeezed the batteries to the last drop. Conventional rechargeable batteries easily need four times as long until they're full again.
This is where Pale Blue's technology proves its worth, technology very similar to batteries installed in smartphones. In technical terms, a lithium polymer accumulator is used, along with a Battery Management System (BMS) for each battery. This is to prevent deep discharge and overheating.
A question of performance
But what good is high speed charging if the battery doesn't provide enough juice? I measured what voltage the Pale Blue AA battery delivers compared to a Migros alkaline battery. My Varta digital display tester measured 1.55 volts. More than promised on the package, but still less than a disposable battery with 1.62 volts.
At least the voltage of the Pale Blues is higher than that of a couple of Amazon Basic batteries, which I also fully charged once for comparison. Those produced 1.43 volts right at the end.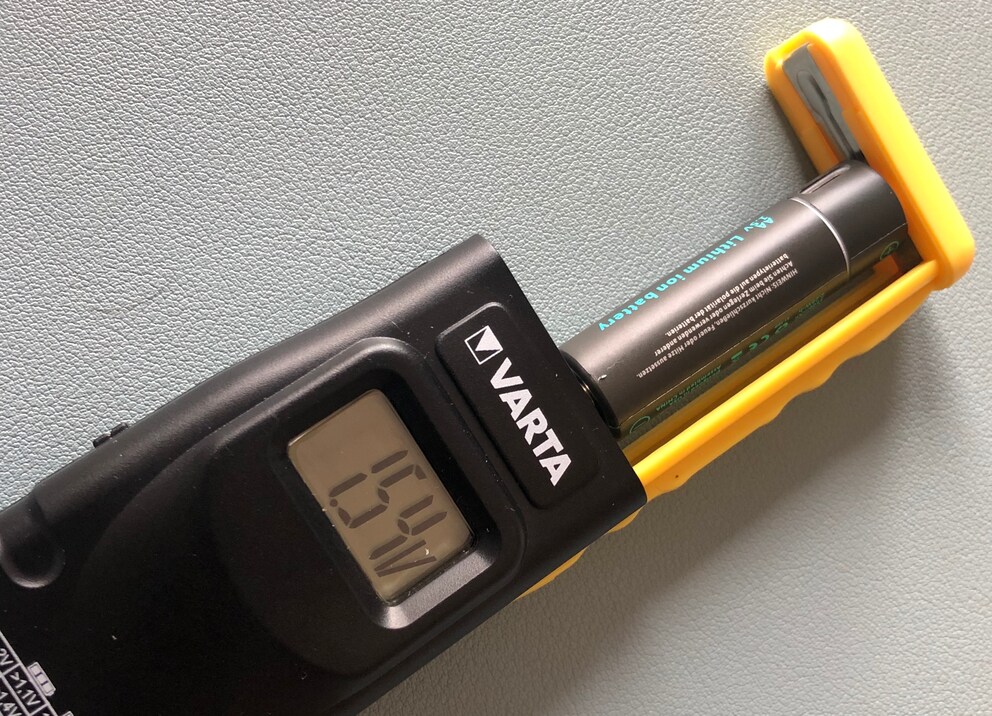 The output voltage of a battery is especially important when the device in which it is housed requires a high nominal voltage. Unfortunately, this can't easily be found out. In fact, manufacturers of battery-powered devices don't specify their required voltage. For example, colleague Kevin Hofer recently had to learn in a self-experiment that a wooden railroad probably requires quite a high voltage for some RFID functions.
Background informationToys

This train is a battery-eating machine
He also used Pale Blue batteries – without success. As a result, he needed batteries that deliver high voltage over a long period of time.
These disposable batteries promise high nominal voltages over a longer runtime – higher than the 1.2 volts in standard «normal» batteries.
At some point, any battery, whether disposable or rechargeable, will have reached its so-called final discharge voltage. It's around one volt. Some devices such as a wall clock with quartz movement could still get by with it. For most devices, however, this is too little. The battery is considered «empty».
Pale Blue sent me a comparison at my request, showing the curves for performance over time between their own Lithium Ion, Alkaline and Ni-Mh batteries.
This is also in line with my experience, such as in a bicycle light or a remote-controlled car. Pale Blue batteries still carry around the same voltage after a few hours of use as they did initially. But they don't last as long as disposable batteries. Which is probably due to the lower capacity described above.
I tried to always measure and compare approximately by similar usage time. Naturally, this won't replace a laboratory test. But at least I didn't get any results that contradicted what Pale Blue said.
Verdict: Pale Blue batteries aren't cheap, but good
Behind all of Pale Blue's marketing, there really is a new kind of battery. This dark grey and turquoise model may be revolutionary from a technical point of view, but for me as a user, it's more of an evolution.
Its most important plus point is the fast charging. Pale Blue's batteries are therefore at their best when you need them ready again quickly after use. This could be in a child's room, where portable music players or squawking dolls demand electricity, their owners requiring constant use. Or for aircraft pilots whose controllers run on batteries. On the road and outdoors, you can even recharge Pale Blue's batteries with a powerbank by cable.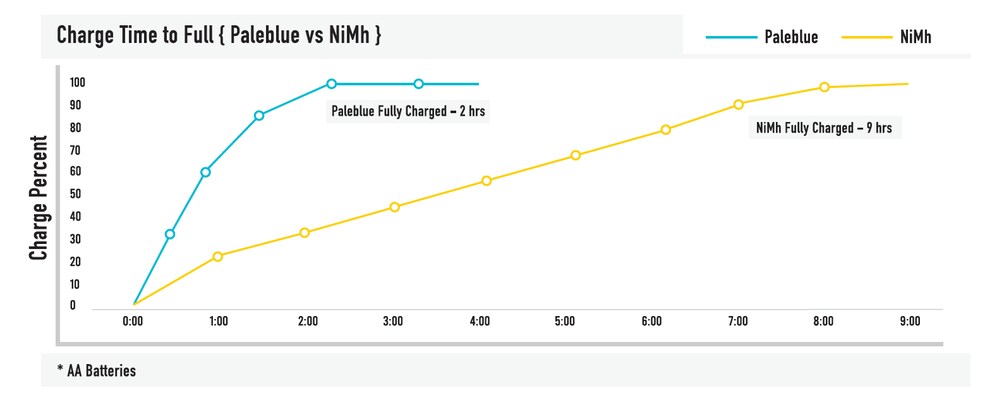 But this comfort comes at a price: four AAs from Pale Blue cost more than twice as much as «normal» rechargeable models. But if Pale Blue batteries can actually be recharged and used up to 1000 times without any loss of performance, they will still be cheaper – and better for the environment.
---



Journalist since 1997. Stopovers in Franconia (or the Franken region), Lake Constance, Obwalden, Nidwalden and Zurich. Father since 2014. Expert in editorial organisation and motivation. Focus on sustainability, home office tools, beautiful things for the home, creative toys and sports equipment. 
---
---
---
These articles might also interest you
Skeleton Loader

Skeleton Loader

Skeleton Loader

Skeleton Loader

Skeleton Loader

Skeleton Loader