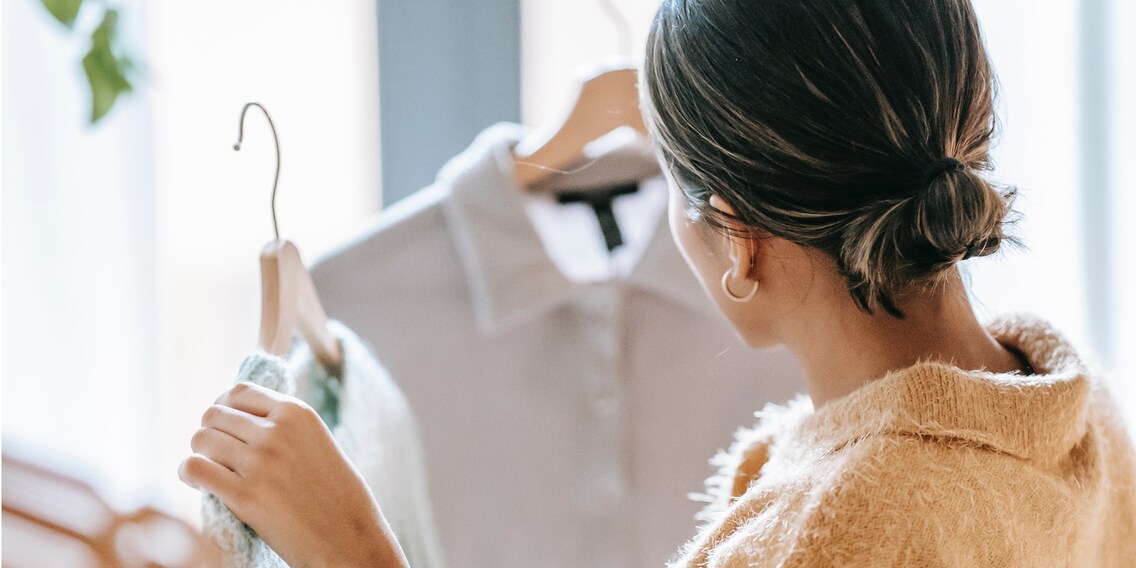 5 simple shopping rules to avoid bad buys

A rigorous wardrobe clear-out brutally exposed my questionable fashion choices. Since then, I've been a bit savvier in the shopping mall – which, for a shopaholic like me, isn't exactly easy. With these basic principles, however, you can't go wrong.
It fits? Check. You like it? Check. Deciding to buy something is supposedly that simple. However, it took an eye-opening wardrobe clear-out last year before I could admit to myself that these two guiding principles are absolutely not enough to stop me from making dodgy purchases.
The sight of my wardrobe ignited a fashion-related existential crisis within me. What lay in wait behind its doors wasn't inspiration, but a graveyard full of fabrics: beautiful things waiting in vain for me to put them on, things I wore three times before getting tired of them, things that made me doubt my own taste. So, there I was, the voice of Marie Kondo in my ear telling me to throw away anything that didn't spark joy, spurred on by the question: why on earth have I been shopping so carelessly for all these years?
Five hours later, I had 25 per cent fewer clothes, and 40 times more shame about my shopping habits. It became clear to me that I needed to be more discerning when I next hit the shops. And thanks to these five rules, which I now follow before (almost) every purchase, it's going surprisingly well.
**1. Sit out the honeymoon phase
Before I invite my shopping mall conquests into my wardrobe, I keep them waiting for two to three weeks in their packaging or shopping bag. Yes, that takes patience, but it's worth it. Afterwards, I often notice that I was possessed by greed when buying a particular item of clothing and am actually perfectly capable of living without it. In cases like these, the rule of thumb is return it!
2. Looks aren't everything
One of my biggest shopping faux pas was buying stuff purely because I thought it was pretty. In fact, it's more important to buy clothes that suit you and your style. After all, when we pick out new furniture, we consider whether it'll match the decor we already have. So, before I buy anything, I ask myself: does this piece complement my wardrobe? Will it help me choose an outfit in the morning? Will there be enough occasions for me to wear it? If I answer the majority of these questions with «no», the case is closed.
3. Give yourself enough time to try things on
In-store fitting rooms are my personal nightmare. Hot and dusty, with aggressive artificial lighting, tight spaces and time pressure created by the people queuing outside, it's not the kind of environment I enjoy making purchasing decisions in. That's why I prefer ordering clothes online. When I do go to a brick-and-mortar store, however, I do a quick fitting to see if the size is right, then take the garment home to put it through its paces more thoroughly. In other words, I wear the item for about ten minutes, walk around a bit, then sit down in order to figure out if I'd be happy to spend the whole day wearing it. I also look at my existing wardrobe to see if the potential new addition would be a good fit.
4. Take some snaps
Have you ever felt amazing in an outfit only for a photo of you wearing it to bring you crashing back down to earth? This has happened to me a couple of times. I no longer buy anything without taking a photo – or, even better, a video – of it first, because I'm convinced that mirrors can lie.
5. Don't compromise
I find this rule the most difficult to follow. I'm often tempted to overlook little niggles because I've already fallen in love with the idea of wearing something. Case in point being the practically perfect leather trousers which I'm not sure I'll get the wear of. Or the dreamy purple blazer with its not-so-dreamy fabric. My wardrobe could potentially be their final resting place. Once the euphoria of buying such things subsides, their shortcomings will bug you even more. Trust me. So if you're unsure about any aspect of a new outfit, even if it's just a small detail, leave it on the rack.
Header image: Liza Summer via Pexels
---



Has endless love for shoulder pads, Stratocasters and sashimi, but a limited tolerance for bad impressions of her Eastern Swiss dialect.
---
---
These articles might also interest you
Skeleton Loader

Skeleton Loader

Skeleton Loader

Skeleton Loader

Skeleton Loader

Skeleton Loader