Best products in the Network cables category
Here's a ranking of the best products in this category. To give you a quick overview, we've also added some key information about the products.
1. digitec Ethernet Patch Cable RJ45
These uncrossed (straight) category 6a digitec Ethernet patch cables made from copper comply with international ISO/IEC 11801 standards and are CE, RoHS and EN50173 certified. The practical jack protection prevents damage to the RJ45 plug connections located at both ends during assembly. This makes the network cable ideal for connecting switches, routers, servers and other network products in both private and business environments.

Ethernet patch cable DG-Cat. 6A S/FTP 4Pair AWG26
GHMT valuation standard(s):
ISO/IEC 11801-1 Ed.1.0 (2017-11)
IEC 61935-2 Ed.3.0 (2010-07)

Available lengths: 30cm, 50cm, 1m, 2m, 3m, 5m, 10m, 15m, 20m.
Available colours: red, black, blue, white, grey.
Available cable categories: 6, 6a 
Network cables
10.90
per piece for 2 units
10.90/1m
digitec Ethernet Patch Cable RJ45
2. InLine Network cable
Telecommunications companies such as Vodafone, Deutsche Glasfaser and Telekom are increasingly enabling fiber optic connections for private households in Germany. Fiber to the home (FTTH) cables from InLine connect the house transfer point (HÜP) with the fiber optic modem and ensure a reliable fiber connection in your home. Unfortunately, pre-installed cables from providers are often of poor quality and sometimes only 1.6mm thin. If the cable breaks, even the fastest fiber connection will not help. InLine FTTH cables are 3mm thick and have a particularly stable structure. An additional reinforcement in the form of a stainless steel spiral tube ensures a long-term, reliable fiber optic connection in private homes. The neutral jacket colour white is suitable for an inconspicuous installation in visible living areas. Due to different lengths up to 50m you remain flexible even if the position of the modem changes.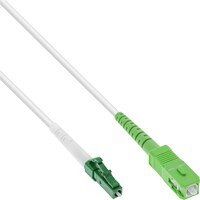 3. Lindy Network cable
Patch cables are extremely flexible and thin cables for special applications. Due to the extremely thin construction these cables can be laid under carpets, laminate / parquet or between skirting board and wall. Even doors and windows are still fully functional even if the cable is laid. Please note: These cables use Cat.7 raw cables (600Mhz) and Cat.6A connectors. For legal reasons, the cable label must therefore read "Cat.6A S/FTP patch cords with 600MHz raw cable".