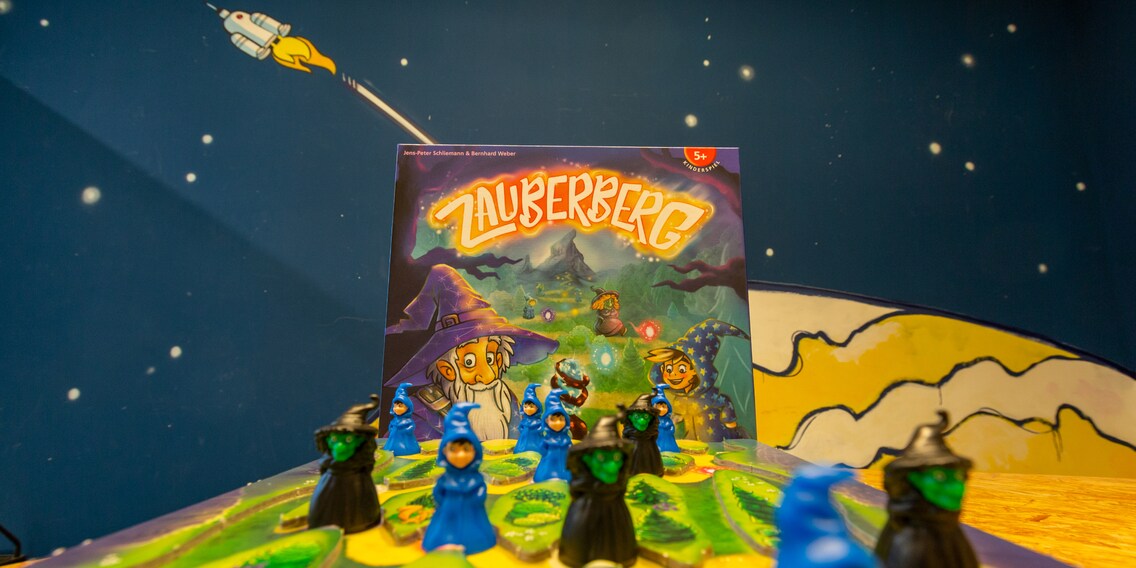 This article was translated automatically.
"Zauberberg" is Children's Game of the Year 2022
The Children's Game of the Year has been chosen for over 20 years. This year, the marble run game "Zauberberg" from Amigo is in the running for the coveted award.
"Zauberberg" has convinced the jury. The game by authors Jens-Peter Schliemann and Bernhard Weber beat out the other two nominees "Auch schon clever" and "Mit Quacks und Co. nach Quedlinburg" to be named Children's Game of the Year 2022.
The game is suitable for one to four children aged five and over and lasts about 15 minutes. The aim of the game is for the sorcerer's apprentices to get down the mountain to the sorcerer Balduin before the evil witches do. The marbles decide whether the apprentices or the witches win the race. The players drop a marble one after the other down the marble run. Depending on whether the marble touches an apprentice or a witch, they are allowed to run downhill a bit further. The first player to reach the wizard wins.
What does the jury say about the game?
Why did "Zauberberg" from Amigo-Verlag prevail over the other nominees? The jury gave the following reason: "In 'Zauberberg', the popular marble run is used in a new way. It becomes the setting for a magical race - cooperatively, in teams or even alone. The attractive game structure draws children to the game table and the innovative marble mechanism won't let them go in a hurry. Excited discussions about the placement of the marbles are followed by spellbound glances at the marble run. It's a total package that enchants all children again and again."
In addition to the Children's Game of the Year, the jury also presents the "Game of the Year" and "Connoisseur's Game of the Year" awards. The nominations are already through. The winners will be announced on July 20, 2022 at 10:30 am.
---



Riding my motorbike makes me feel free, fishing brings out my inner hunter, using my camera gets me creative. I make my money messing around with toys all day.
---
---
These articles might also interest you
Skeleton Loader

Skeleton Loader

Skeleton Loader

Skeleton Loader

Skeleton Loader

Skeleton Loader