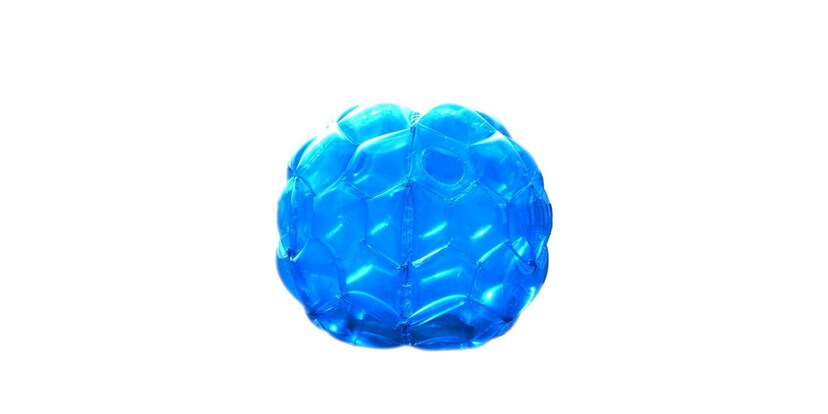 What the hell is that?
Our range is growing constantly. However, some products will have you guessing what it is that you're looking at. Today's example: a blue brain.
Yes, Galaxus is conquering the organ trafficking market. And we're beginning by trading the human think tank. Do you feel mentally drained? Are trivial questions and tasks giving you a headache? If even the simplest of brain teasers drive you to the brink of a nervous breakdown, you've come to the right place. In your dreams. But hey, hope dies last. Don't we all know at least someone who could need a brain update? But no, it's not a brain. Could be a high-tech beehive? No. A beehive-shaped ice cube tray? Nope.
You inflate it, slip it on and play with it. No, it's not a sex toy – although the name «Bumper Ball» is a bit suggestive. What's it for? Good question. Some say you wear it to play an aggressive version of soccer. Others say you give it to your kids and hope they won't drown. This thing has two openings for the arms, one for the head and another for the lower body. Yeaz, the manufacturer, claims: «Inflatable, portable bumper balls are perfect for young and old at any leisure event». I seriously doubt that. Or would you want those balls at your party?
From climbing ropes to red wine to hammer drills – we've got just about everything. In line with this, we've been browsing our range for unusual products that prompt a: What the hell is that? Follow me and you'll never miss any of my articles. Find something in our range that's downright weird? Let us know by commenting below this page.
---

When I'm not stuffing my face with sweets, you'll catch me running around in the gym hall. I'm a passionate floorball player and coach. On rainy days, I tinker with my homebuilt PCs, robots or other gadgets. Music is always my trusted companion. I also enjoy tackling hilly terrain on my road bike and criss-crossing the country on my cross-country skis.
---
---