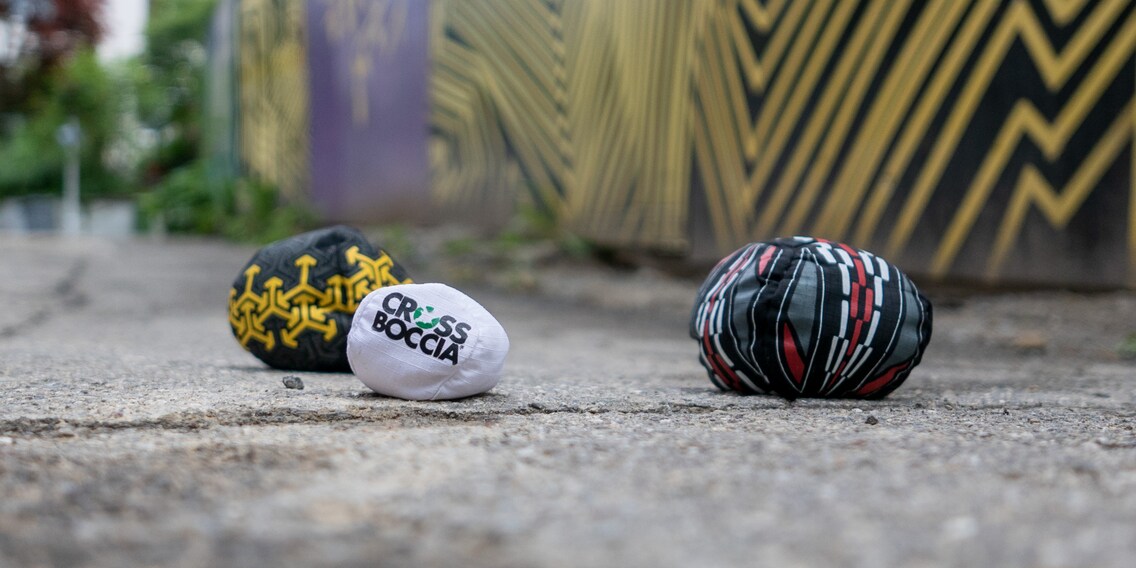 Twelve fun-packed sacks

I totally spaced on the trendy sport Crossboccia that took off a good decade ago. I'm only just discovering this urban remake of classic Boccia now. And you know what? Throwing flat balls is right up my alley.
Boccia reminds me of my childhood. Colourful plastic balls sitting in Italian sand. A game that nobody ever needs to buy because it's just there. Part of the inventory, if you like. Every family has at least one cheap set in their cellar or garden shed. Whether you're a five-year-old hurling your blue plastic ball into a bush or a 75-year-old enjoying the clank of the metal balls on the shady village square – everyone gets the idea. Everyone can take part and get something out of the game. The only thing that counts is skill.
Everything about Boccia, boules and Pétanque is good – provided you're in good company and have time to spare. The only thing that might change over the years is the quality of the material you'll go for. I was toying with the idea of getting high-end steel boules balls. Instead, on a whim, I bought Crossboccia on our last family holiday. Twelve soft little sacks that cause zero pain if you drop them on your toes and don't roll away for miles.
At first, I'm convinced I've made a discovery. Then I realise I've simply been living under a rock for a decade. Turns out these granule-filled throwing balls, which are similar to juggling balls, were already hailed as a new trend sport back in the early 2010s. Trends will come and go. What remains in this case is a fun pastime. When I tell our toy specialist Ramon Schneider about my enthusiasm for the game when I see him at the office, he nods knowingly and pulls out a set from under the desk.
We speak about throws over railings, onto benches or stairs. About the enthusiasm that's sparked, when two immature minds play against each other and look for increasingly creative targets to chuck their balls at. The appeal lies in incorporating obstacles and viewing the whole environment as a playing field. Playing uphill or downhill isn't a problem. Quite the opposite. It spices up the game. The possibilities are endless with these throwing, erm, balls? Sacks?
These granule-filled bags remind me of juggling balls They're neither flat nor plump, roll for a tiny bit when you throw them at a shallow angle or when they hit a slope. If you throw them in a high arc, they're pretty easy to place quite precisely. Weighing in at 115 grammes, they have a pleasant weight and a sturdy cover. If you prefer lighter balls, there's a less densely filled type available for beginners. Because of its loosely packed filling, it's even less prone to roll.
Old game, new rules
While the aim of the game is clear to me instantly, I have to learn the official rules (in German). While you can't really knock your opponent's balls out of the game as in classic Boccia, you can still stop them from making any points. This happens if you manage to chuck your ball on top of your opponent's ball and at least half of it is covered.
Otherwise, the following applies: whoever throws the marker starts the game. Then, everyone takes turns throwing their ball. After that, it's the player who threw their first ball the furthest that gets to throw the remaining two. At the end of the game, points are awarded for each ball closer to the marker than the opponents' balls.
If the ball you're getting points for is touching another one of yours, this is referred to as a «combo» and will earn you 3 points. If three are touching, you even get 6 points. Once you've reached 13 points (and at least two points ahead of the rest) you win a set. Winning two sets means you've won the match. I've never played the game like this so far. But hey, rules are made to be broken. Especially in Crossboccia
---



Sports scientist, high-performance dad and remote worker in the service of Her Majesty the Turtle.
---
---
---
These articles might also interest you
Skeleton Loader

Skeleton Loader

Skeleton Loader

Skeleton Loader

Skeleton Loader

Skeleton Loader