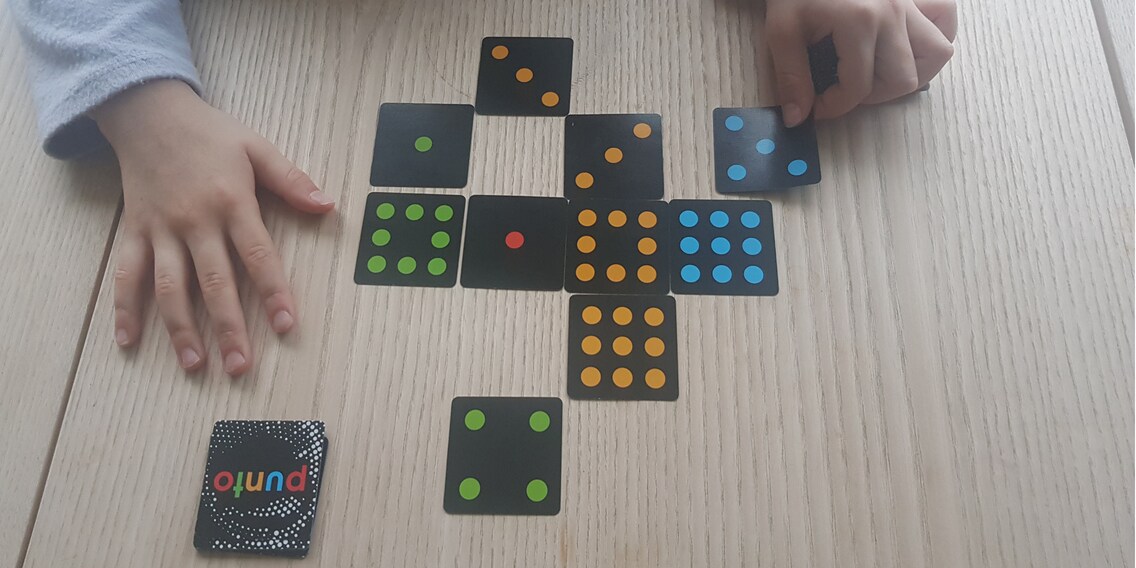 This point clearly goes to my daughter

I played the game «Punto» for you – with my daughter. At first, I felt that I had to give her tactical tips, but I ended up getting a dose of cold, hard reality. Despite or because of my defeat, I can recommend the game.
I'm always a bit sceptical when it comes to the recommended ages for games. I assume that the minimum age specification is too low (in order to be able to sell the games more quickly), but the game is still too demanding for children of the suggested minimum age.
That's the attitude I brought to the game «Punto» by Game Factory. The game claims to be playable and understandable from the age of seven. A quick look at the fairly lengthy instructions increases my doubts about the age statement still further. But hey, if not my eight-year-old daughter, who else could prove otherwise?
Similarities to «Connect Four»
I always want to understand everything, so I read the game instructions carefully and am relieved. It doesn't seem as complicated as it looks at first glance. In summary, it can be said that the game has similarities with «Connect Four». You have to form a row with a certain number of cards of the same colour while preventing your opponent from doing the same.
But first things first: there are a total of 72 cards in four different suits. Red, blue, green and orange. «Daddy, that's yellow,» my daughter corrects me, once again painfully reminding me that I'm obviously colour blind to yellow. Each card has a score from 1 to 9. There are two of each colour with the same number of points, i.e. 18 of each colour.
My daughter picks blue and orange (er, yellow). I play with the green and red cards. But there is a difference to «Connect Four». The first player to get a row of five cards with their suit wins, rather than four. What remains the same is that it doesn't matter whether the row is laid horizontally, vertically or diagonally.
We shuffle our cards and place them face down on the table. Taking turns, one player can turn over a card from his or her stack, and of course I let my daughter play first. When it's your turn, you always have two options: either place the card next to one on the table (edge to edge or corner to corner), or place the card on top of another, where the card placed on top must have more points than the card to be covered. The colour is irrelevant.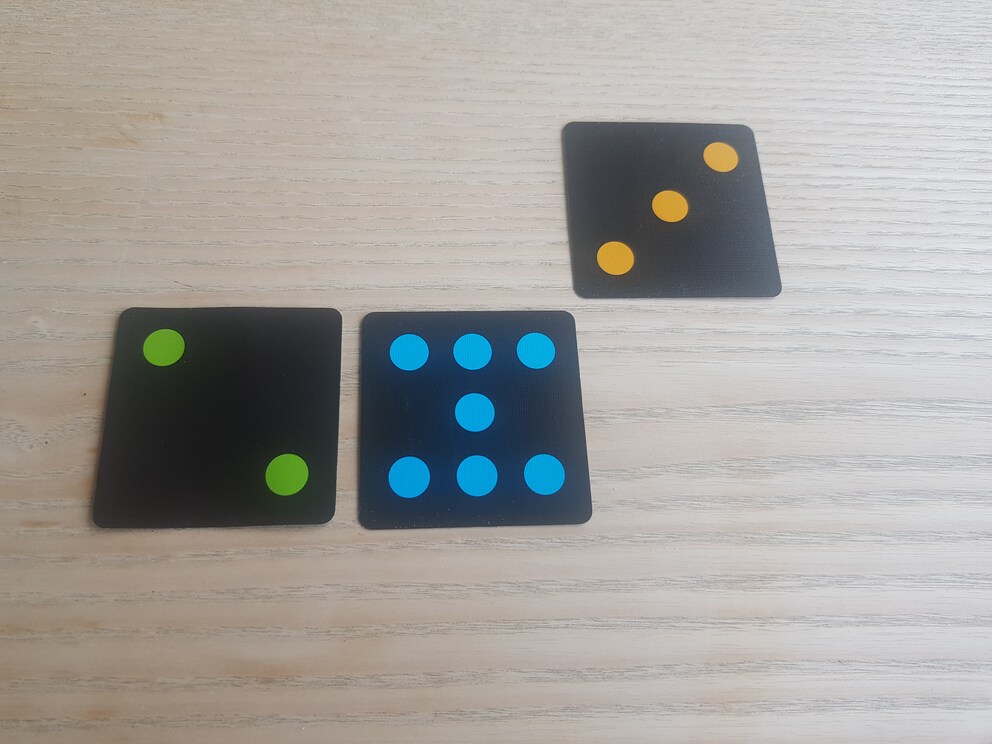 My daughter (thankfully) ignores my tactical input
The game picks up speed quickly. There's just one more important rule to keep in mind. All cards may only be placed within the grid of six by six cards.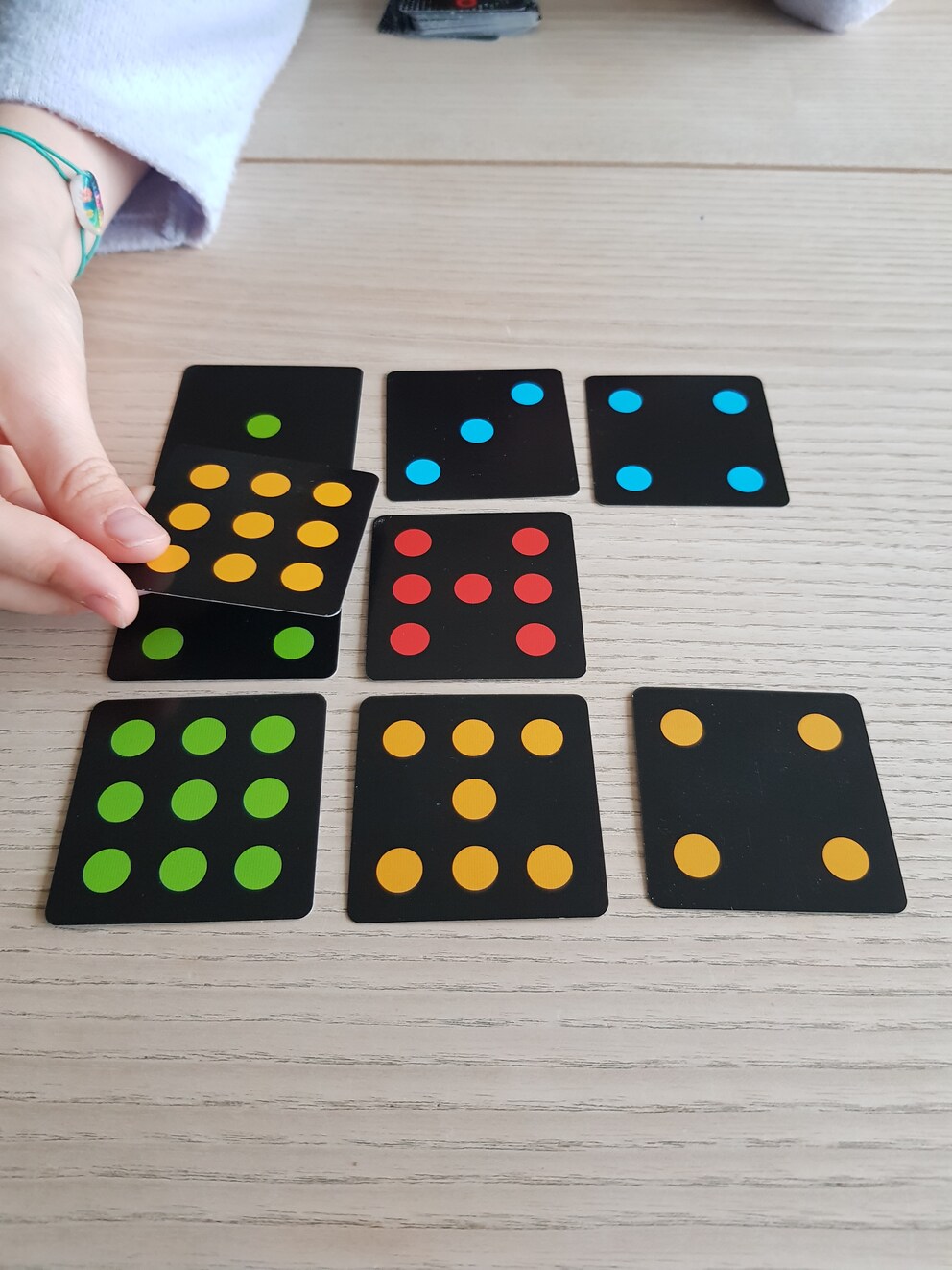 My initial scepticism about the age limit quickly disappeared. My daughter got the hang of it straight away. Worse still, she rightly ignores my tactical input in order to decide on an even better strategy.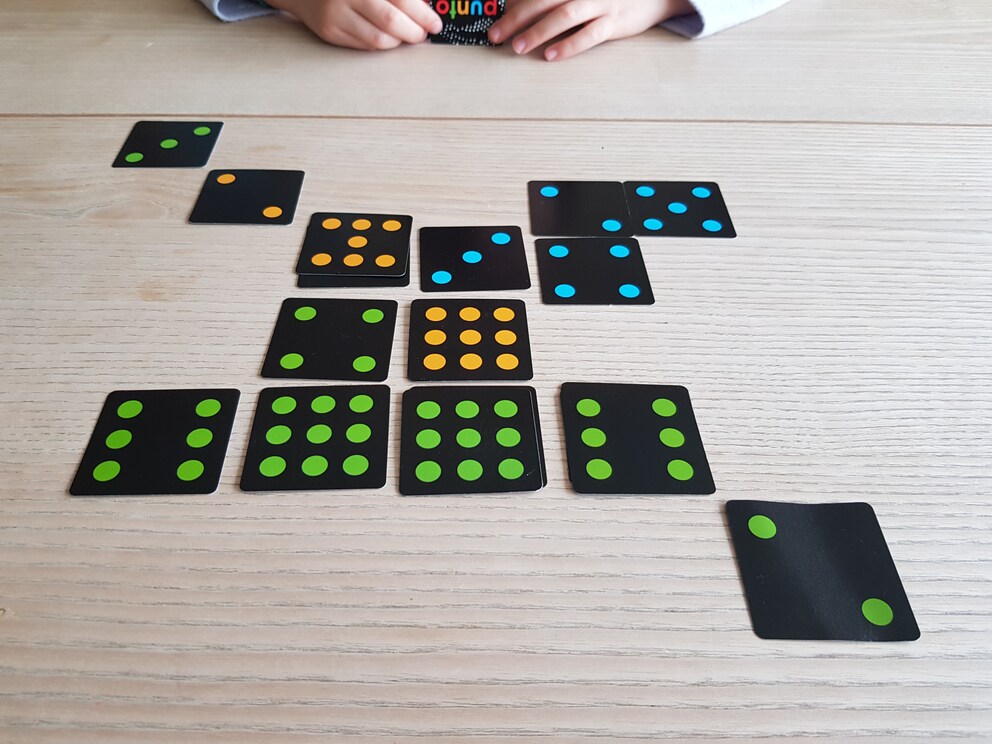 As a result, it was similar to «Connect Four». You see if you can soon complete a row of five yourself, or if you try to make it impossible for your opponent to do so. It quickly turns out that the most efficient way to do it is to split an opponent's row by placing your card on top.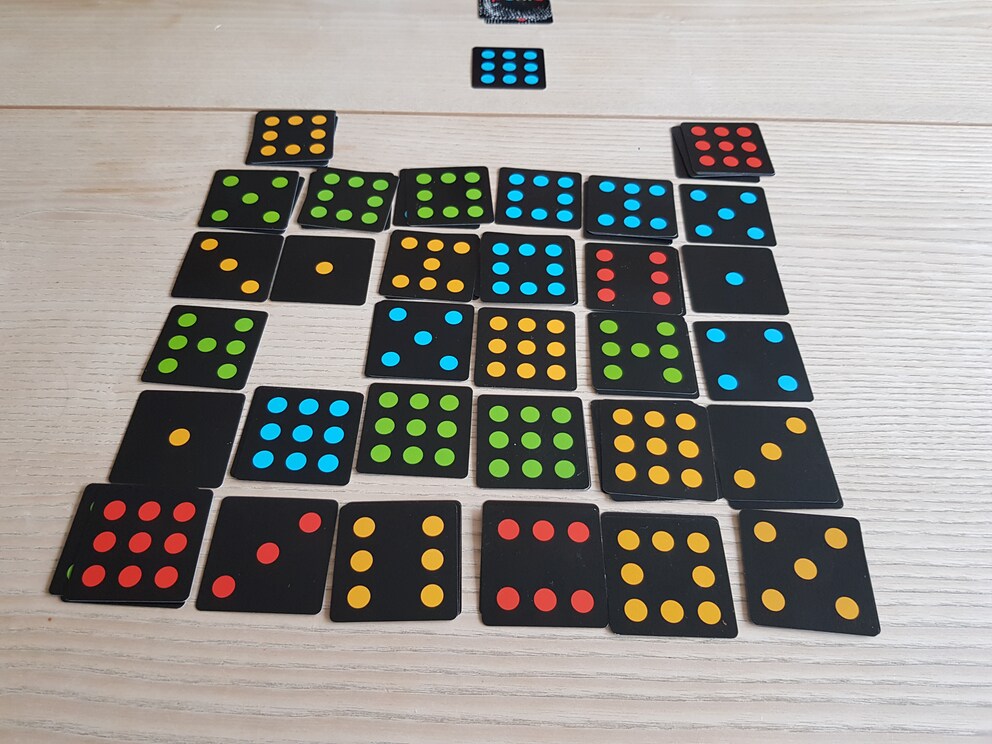 This is how we lay and lay and lay our cards until all of our 36 cards are on the table. Since none of us managed to get five in a row, the one who was able to get more fours or threes in a row wins. Lo and behold: my daughter actually won with an orange, sorry, yellow row of four.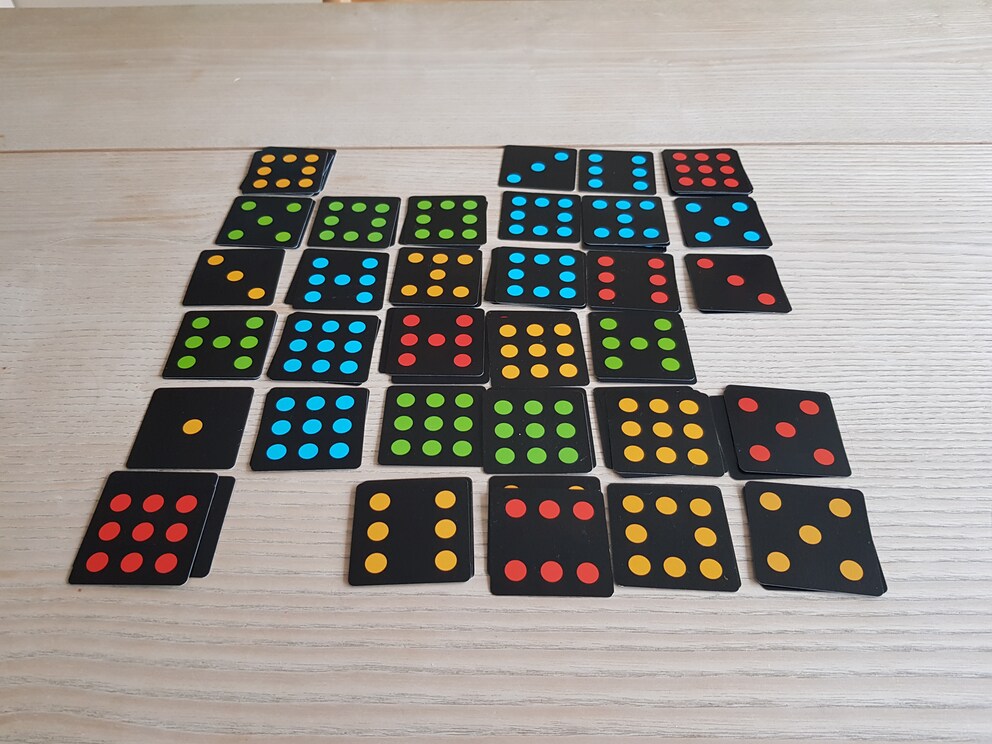 If we'd each had a row of four, we'd have counted the score. The player whose row has fewer points would then win.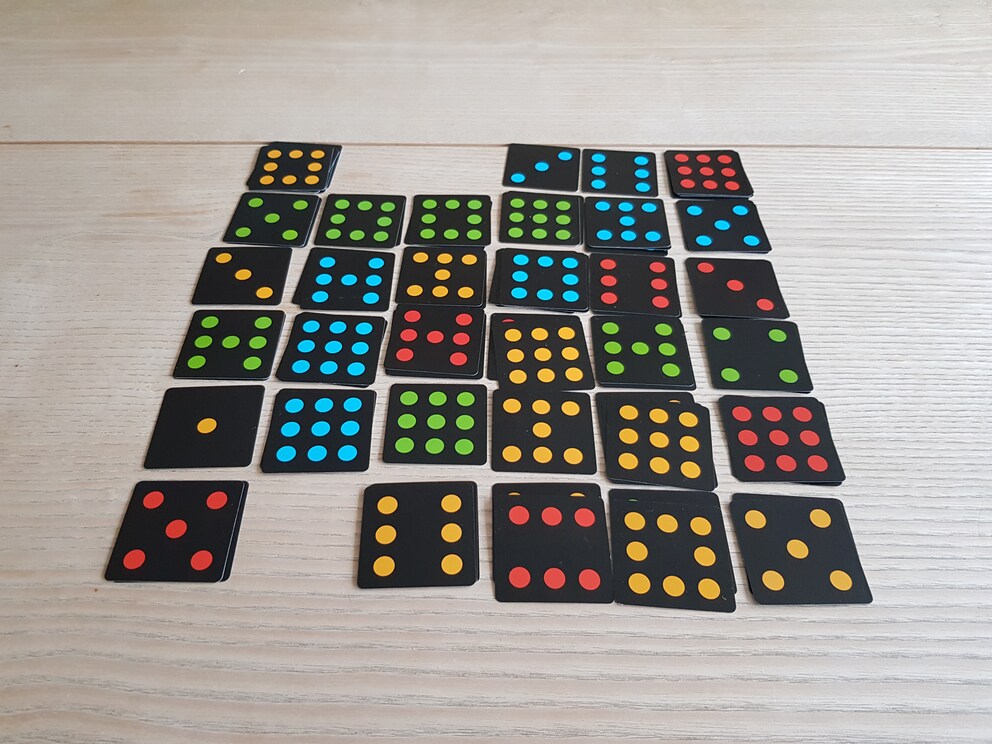 The game can also be played in teams of two
I and especially my daughter really enjoyed the game. So much so that that same evening she insisted that the four of us play on the bed before she went to sleep. The game can also be played with three or four people (you can find the rules for this in the game instructions). And, of course, you can also play the game in teams of two.
«Punto» is ideal for children from the age of seven and encourages logical (forward) thinking and sharpens tactical finesse. And it's a way for younger children in particular to become familiar with numbers in a playful way.
In every game, I always ask myself how much is down to luck and tactics. After a few rounds, I'd argue that the tactical element is a bit smaller than the luck element. Well, I almost have to say that now after losing to my eight-year-old daughter.
Header image: Martin Rupf
---



Half-Danish dad of two and third child of the family, mushroom picker, angler, dedicated public viewer and world champion of putting my foot in it.
---
---
---