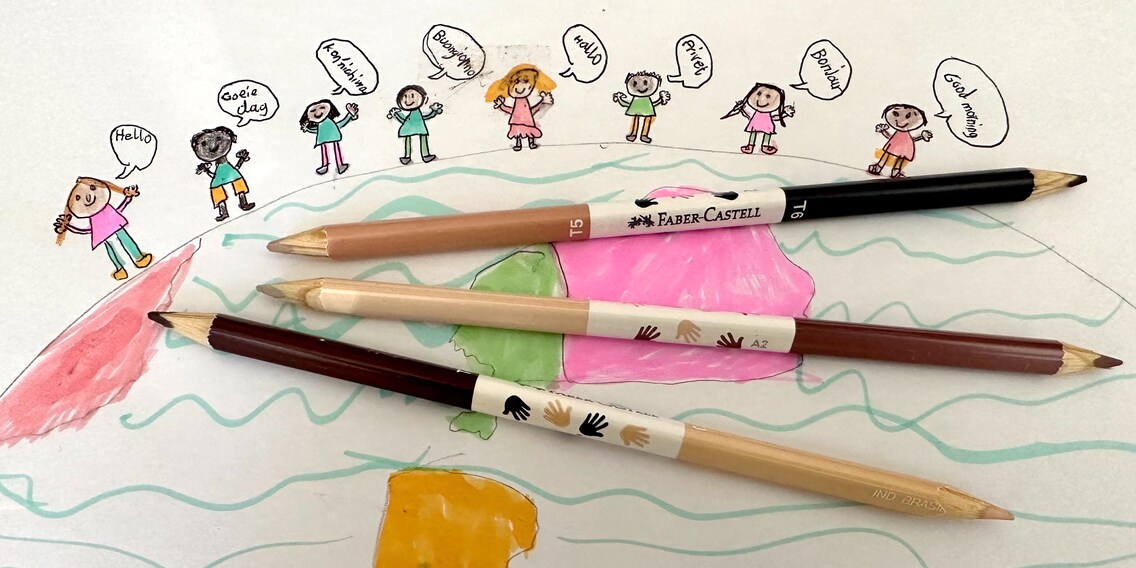 The right skin colour – no problem with these pencils
Coloured pencils for kids can do more today than when I was a child. This goes well with a world that has become more colourful.
When I was a child – sometime in the 1980s – and went from drawing stick figures to drawing more realistic-looking people, it wasn't easy. While I don't actively remember it, my mum and peers tell me the tricky thing was getting the skin colour right. The people I drew would either end up with faces as yellow as a sunflower or as pink as a piglet. The sets of pencils in twelve colours that were available at the time offered a limited selection.
A tree could have light-green and dark green leaves. The sky could be light-blue or dark blue. But the faces of the people I drew in these lovely landscapes looked either as if they were suffering from a damaged liver or elevated blood pressure.
That's unimaginable for my seven-year-old daughter. She doesn't have to make do with twelve colours like her father did back then, but can choose from a wide range of pencil sets – thanks to societal affluence, progress and the generosity of friends and relatives. One particular set with only three pencils is her favourite:
Crayons
3.20
per piece for 4 units
Faber-Castell Children of the World
Beige, Pink, Brown, Black
The «Children of the World» set offers six skin colours. This doesn't cover every tone, but is enough to represent most people. The colour of our skin, by the way, is determined by the proportion of melanin in the skin. This hasn't prevented skin colour from being used as a characteristic to racially classify people throughout history.
With effects and consequences that last until today. The fact that Disney's mermaid «Arielle» isn't a white woman in the live-action film adaptation is creating quite a stir. Why? Because for decades, people of colour played virtually no role in Western pop culture.
Coloured pencils in skin tones have, of course, been around longer than a version of Arielle who isn't white. Artists' coloured pencils in skin tones have been available for quite some time. However, pencil producer Faber-Castell only launched the children's set in 2019, as Alessandro de Pasquale tells me. He represents the German-based company, the world's largest manufacturer of colour and lead pencils in Switzerland.«In order to strengthen children's understanding of their identity and self-image, it's important for them to be able to represent themselves and their individual skin colour as accurately as possible,» he says about the idea behind the pencil set. He adds that it's aimed at children in the important self-discovery phase – the phase during which parents and teachers have the task of strengthening children's identity and self-esteem through play. These pencils are Faber-Castell's contribution, as Pasquale explains.
Have there been any negative reactions? Pasquale denies and adds that the message behind the pencils is met with appreciation and support.
My daughter – who drew the cover picture exclusively for this article – also thinks the pencils are «great». That's all I could get out of her. But she put the three skin tone pencils in the pencil case with the other important pencils; the ones with glitter, the rainbow pencil and the highlighter. Looks like they are «great» indeed.
---



Journalist since 1997. Stopovers in Franconia (or the Franken region), Lake Constance, Obwalden, Nidwalden and Zurich. Father since 2014. Expert in editorial organisation and motivation. Focus on sustainability, home office tools, beautiful things for the home, creative toys and sports equipment. 
---
---
---
These articles might also interest you