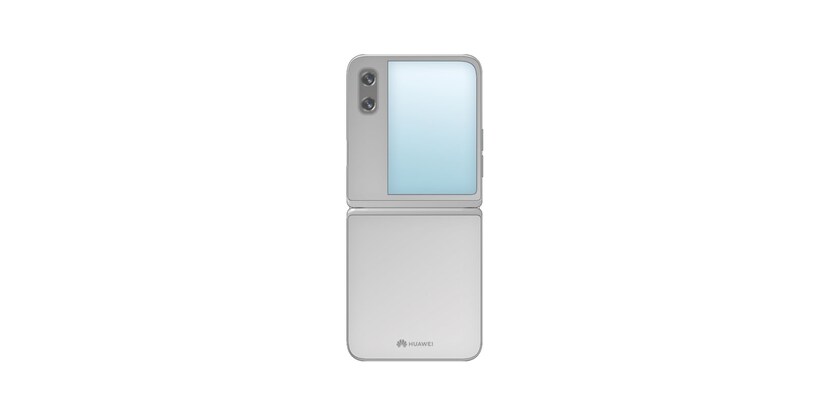 The Huawei flip phone: smartphones are going old-school
Huawei recently patented their very own flip phone model. We don't know much about it aside from the form factor and the fact that it's been announced in times of great concern.
Despite the Google ban and the rather mediocre foldable Huawei Mate XS, Huawei still believes in the concept of foldable phones. A recent patent has revealed a phone in the style of a Motorola Razr or a communicator from Star Trek. It unfolds vertically over the narrow top edge.
Still in the dark
Little is known about the specs. However, the industry magazine LetsGoDigital has drawn up sketches based on the four-page patent application. These reveal a phone similar to the Samsung Z Flip. Aside from a much larger outside screen, that is.
The mysterious model will also have two cameras, arranged as on the Huawei P30 Pro, i.e. vertically.
The inside screen has a border.
But: patents don't mean that a phone will be released anytime soon. So to answer any questions regarding a tentative release date: absolutely no idea. A patent is nothing more than a declaration of intent. In essence, it proclaims «We reserve the rights to this design, so don't even think about stealing it». This was probably done to block out Samsung, whose Z Flip, while not revolutionary, still sold enough units to make a follow-up model a reality.
What's under the hood?
Here's the thing with the Samsung Communicator (I'm a Star Trek fan, sue me): it becomes significantly more noteworthy when keeping in mind the current situation surrounding the USA. Since May last year, US companies are no longer allowed to do business with Huawei. This concerns hardware as well as software, with the exception of Android. Since Android is by definition an open operating system, every programmer in the world is allowed to create their own Android distro. But Google Services, owned by the US company of the same name – a subsidiary of Alphabet – may not be used.
When inspecting the highly simplified Android architecture, you'll quickly notice there's something missing below the app layer.
Not only apps, but also important program interfaces are absent. Huawei has decided to replace these with its own services.
Since Google has a ten-year lead with its mobile services, Huawei really has to catch up quickly. But at least they're offering functional software, even if it still looks rather Chinese at the moment.
Speaking of which, Huawei is working on its own operating system called HarmonyOS. The recently introduced Huawei Mate 40 series still runs Android, but HarmonyOS is rumoured to be installed on any 2021 smartphones. This will almost certainly also affect the Huawei Communicator.
According to unconfirmed reports, Huawei's second concern regards manufacturing of its proprietary systems-on-a-chip. The Kirin platforms use US software and/or services in their production. As this is now highly illegal, the Kirin 9000 installed in the Mate 40 is the last of its kind. Huawei hasn't yet made a public statement on the situation.
A small note to end on: if something is installed on your phone, be it Android or Google Mobile Services, it can't just disappear overnight. So if you own a Huawei with Google Services, you won't wake up one morning without an App Store. Or with HarmonyOS in its place.
---
Journalist. Author. Hacker. A storyteller searching for boundaries, secrets and taboos – putting the world to paper. Not because I can but because I can't not.
---
---
---