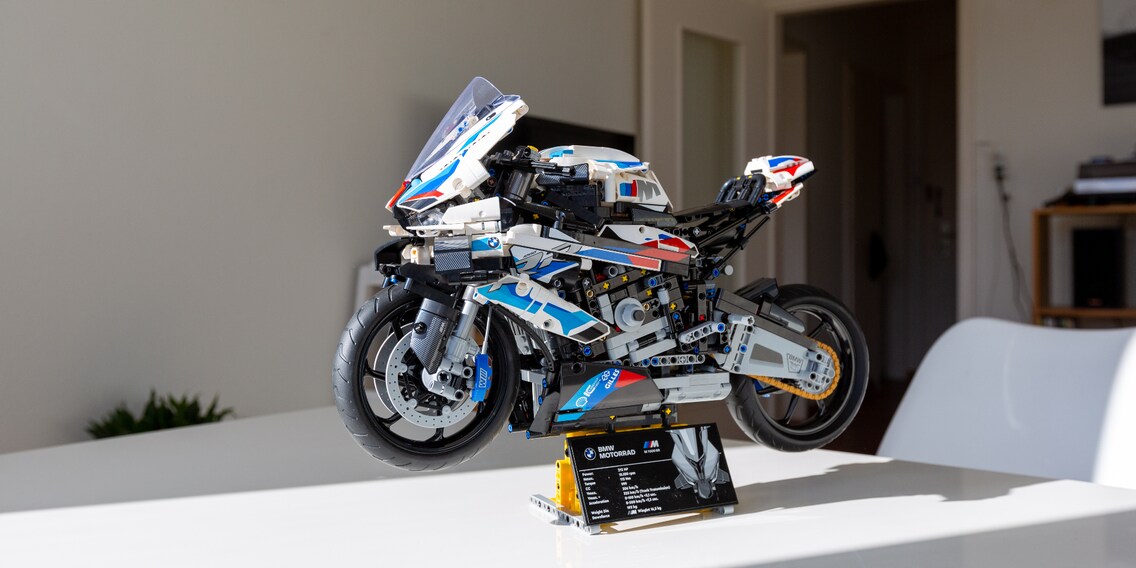 The first Lego motorbike in 1:5 scale

Translation:
Julia Graham
Lego's BMW motorbike isn't just big, it's also expensive. Although it's a lot of fun to put it together, it's certainly an investment and something you'll want to consider carefully.
It's been about 20 years since I first went for a spin on a motorbike. You can have just as much of a breakneck ride with a strongly tuned Puch Maxi S as with a BMW M 1000 RR. You'll hardly find any other road-approved motorbikes as close to racing as this 212 hp monster, which accelerates from 0 to 100 in 3.1 seconds. If you find that too brutal or if you don't have 33,400 francs for a new motorcycle burning a hole in your pocket, Lego's got you covered with a smaller version for your living room.
Having said that, «small» doesn't seem to be the right word for this model. For the first time in the history of Lego, the company has launched a motorbike in 1:5 scale. In fact, it's Lego's largest motorbike ever. If we're getting precise, without the stand, the bike is 27 cm tall, 45 cm long, 17 cm wide and comes in at just under 1.5 kg. According to Lego, these dimensions mean the complexity and attention to detail are «taken to a new level». I'm curious to see if that's really the case.
Assembly
When I open the box, I'm met with instructions and 1,920 individual parts spread across several bags. The first few pages of the instructions tell me more about how the model was created by Lego designer Samuel Tacchi, and a few comparisons are made with the BMW original. Beautifully illustrated, these pages put me in the right frame of mind and make me want to get stuck into the building. But there's something else that also catches my eye. And that worries me a bit as well. I'm drawn to two sheets full of stickers. 79 pieces, to be exact. I've never seen so many stickers on a construction set in my life.
Staying true to the instructions, I start by constructing the engine and transmission. I have to give Lego a pat on the back here, because I absolutely loved building this section. The small space accommodates complex gear combinations. What makes this step so special is that you'll hardly be aware of any of this on the finished model. Only the person who built it will know what's inside. But installing the gears isn't quite as simple. Lego provides a fully functional three-speed transmission including idling. I wasn't expecting that.
Another highlight is the rear suspension. The whole part is free to move and is only supported by one big shock absorber, which was designed specially for the bike. Technical designer Samuel Tacchi said: «With the suspension, the crucial thing was finding a strength that would stop our elements from reaching their maximum load. The model weighs more than a kilo, with most of the weight on the rear shock absorber. That's why when it came to the suspension, we had to pay attention to how much pressure it could absorb. Developing the shock absorber took a lot of time and dedication. But without it, we couldn't have built the bike.»
When you're assembling, everything is always on a stand. There isn't anything on the table apart from all the individual pieces you still have to mount. Bit by bit, the motorbike transforms into the finished model. This almost makes me feel like a real BMW technician building bikes on an assembly line. It's a nice feeling. As you're putting all the parts together in a fairly confined space, it can be a bit fiddly now and again. But I didn't have any difficulties over the course of the whole eight hours I was putting it together. Lego claims that it should be easy for anyone over the age of 18.
Aesthetics
Visually, the finished model is really quite impressive. Given the size of the bike, even small details are easy to spot – just as Lego promised. The two «carbon» winglets are particularly eye-catching. They deliver the necessary contact pressure to the front wheel, which is advantageous for acceleration.
I don't usually like the coloured pins on Lego Technic that you can see from the outside of the model. But they're hardly noticeable here. Of course, I can see them and they still bother me. But the prominent stickers help to disguise them and direct your attention elsewhere. The red and blue parts in particular seem to merge with the overall look of the bike. That being said, Lego could have made the yellow elements red or blue so it looked even better.
Unfortunately, there's something that's been missed off this model entirely, namely the registration plate holder and rear light. I've no idea what Lego was thinking. I mean, without this the model just isn't complete. The BMW M 1000 RR is all about having a motorbike with road approval. But if it didn't have a rear light or registration, you wouldn't be allowed to drive it on the road. While the rest of the bike looks great in aesthetic terms and the details come into their own, this missing piece will hit hard for motorbike enthusiasts.
Verdict
Lego Technic's BMW M 1000 RR is a well-made set. However, the lack of rear light and registration would stop the bike being roadworthy, unlike the original model. The way you have to assemble the bike made me feel like I was a mechanic at the BMW factory. Even though the piles of stickers are tedious to attach, the set is still a lot of fun to put together. On an aesthetic level, the model looks very similar to the original and could act as an ornamental piece in your flat. The only aspects that cloud the overall very positive picture are the coloured pins that are visible and the aforementioned lack of registration plate holder.
One thing to mention is you can't actually play with the bike. It doesn't have any power features and is only intended to be displayed in a case. As with the original, this Lego model requires you to shell out a fair bit if you want to get your hands on one of your own. This Technic set is very expensive when you take into consideration the number of parts it has. That's why I'd only recommend this bike if you're a BMW fan or a biker rather than a standard Lego enthusiast. And if I were you, I'd hold off until the price drops a bit in the next few months. More than 200 francs is definitely too expensive. With that kind of money, I'd rather buy the entire racing set for a Puch Maxi S.
Lego gave me this product to test out. In the editorial office, our articles aren't influenced by the interests of the manufacturers, and we aren't responsible for sales targets.
---



Riding my motorbike makes me feel free, fishing brings out my inner hunter, using my camera gets me creative. I make my money messing around with toys all day.
---
---
These articles might also interest you
Skeleton Loader

Skeleton Loader

Skeleton Loader

Skeleton Loader

Skeleton Loader

Skeleton Loader