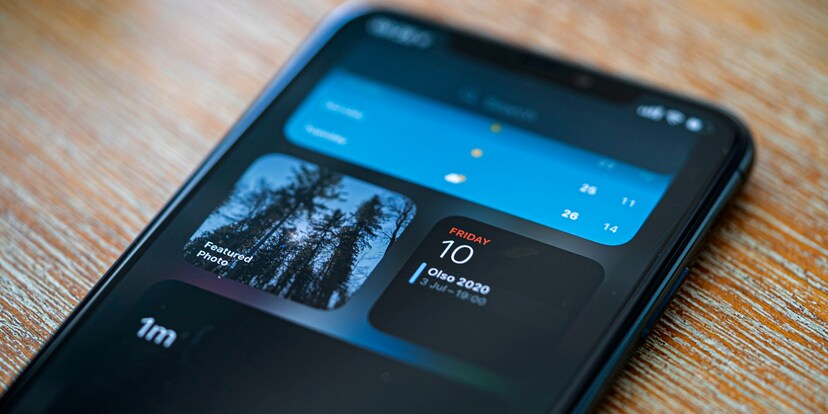 The Apple iOS 14 Beta is out: my experiences after one week with its Widgets and App Library
Apple's new operating system iOS 14 is public. The consensus after one week with the developer's version is mixed. And caution is advised with the iPhone SE.
The Beta is upon us. Apple released the latest version of its operating system iOS to the public last night. You can already get the iOS 14 pre-release. If you want to risk some small bugs, that is.
iPhone SE users: be careful
Before I start my little review about everyday life with the new features, a few comments about what you're getting into. Or what you shouldn't get involved with.
If you've got the new iPhone SE, think twice before installing the beta version of iOS 14. Just yesterday, my iPhone 11 Pro Max and my iPhone SE were updated. The update came Over the Air (OTA). Consequently, most of my experiences have been made with the features in the Developer's Beta.
While the iPhone 11 Pro Max update went off cleanly, something horrible happened with the iPhone SE background. As a result, the phone was in recovery mode for a while when it restarted. I can't determine exactly what went wrong or whether data loss occurred, but I still advise the utmost caution with the SE.
It's not perfect. Apple is generally obsessed with the idea of user experience and stability, which makes the small bugs in its system even more irritating than with Android. Apps sometimes freeze for a few seconds. WhatsApp momentarily does nothing, Youtube shows a still picture for a short time. Nothing dramatic, but still irritating.
But the worst Developer Beta bug has the camera showing a black image in irregular intervals. To fix this, quickly close the task and restart the camera.
Otherwise, the beta's really stable, feeling ready and solid.
Smart Stack is stupid
Apple iOS 14 is taking a page out of Android's book, there's some new widgets. The interactive app elements on the home screen are somewhere between controversial and useless when compared to Android, which essentially raises the question: why?
The question remains, even after a week of living with the widgets. After using the home screen gallery, the widget disappeared into Today View again – also known as «the screen left of the home screen». There it remains, scrolling through pictures from my photo stream. Sometimes Stephanie Tresch pops up, sometimes it's one of my brother's seven cats, sometimes it's even cars or burgers. As nonsensical as it is, I like it. They're small memories from meaningless moments in my life, which I like to look back on again and again. I find myself at the Coop cash register simply swiping to the Today View, just to see the widget reminding me of something. But I won't give the widget that space on my home screen. That's where my apps are.
The weather widget is slow. Sometimes it can't find my current location. Sometimes it takes about a minute until the weather data updates to the current day. But when the current and correct data is displayed, you'll have a reliable weather report with data from The Weather Channel. There's little to say about the widget, it doesn't reinvent anything and doesn't look spectacular. But it's a good, reliable and beautiful weather report. Nice.
Apple made a big thing out of the Smart Stack at the WWDC. It's a widget that shows you what you want based on your activity. With me, it's obviously podcasts. Always. I listen to podcasts while cooking and cleaning up. Either True Crime or movie podcasts. In theory, Smart Stack should show me Spotify or Apple Music around 5:00 p.m. when my shift ends. News should pop up in the morning. Nope. Podcasts. Or on rare occasions since the update, the weather. It's not that Apple doesn't know what I like to do with my phone. When I scroll through Smart Stack, I see various options from my daily life. Turning the lights on and off, news with topics that interest me, a map with an option to search for restaurants. And an «On This Day» view, greyed out. After clicking on it, a picture of my colleague Leslie Haeny appears.
Somehow, Smart Stack isn't really smart or useful. The data is there. Apple knows me. All Apple has to do is show me the data when I need it. Smart Stack has the potential to make widgets really useful and give them a home screen presence.
Or does Smart Stack simply need more than a week to get to know my daily rhythm?
The new Control Center is great
One of the best decisions I made in my adult life was to change all my light bulbs to Smart Lights. As the Philips Hue system integrates with Apple's Homekit, the lamps appear in the Control Center. Just like purchasing Smart Lights, this is quality of life I never knew I missed.
The virtual light switches in the Control Centre can be seen as an indicator for the future iOS. Your iPhone should become more integrated into your life. The marketing blurb could go something like this: a device that maps and fits into your life. An operating system that adapts to you, not you to the system. Information appears where you need it and when you need it. Unsolicited, mind you.
Essentially, the whole thing has you fiddling around with your phone less and still getting the full benefit. Or at least it should. So far, the system is still in its infancy and Apple is taking small but radical steps towards an adaptive operating system.
This is also reflected in the App Library, where the system curates apps so that the important and often used apps appear where you want and need them. That's the new screen on the far right next to all the other screens. But using the App Library will probably become a learned skill, unless Apple decides to implement the feature more prominently.
As exciting and functional as it is: I'm not used to working with the feature. Home screen, swipe, app, it all just works. So far, every app has its fixed place in iOS. I get confused when an app keeps shifting around. Curated and dynamically sorted app folders are new. They're currently a curiosity, a funny feature that I observe but don't really use.
If you want to install the beta on your iPhone yourself, you can register at Apple's Beta Program and get the update. But again, I advise caution when using the iPhone SE.
That's it. Apple's iOS 14 is a quantum leap in terms of design, but little changes in usage. Partly for technological reasons, partly out of habit.
---
Journalist. Author. Hacker. A storyteller searching for boundaries, secrets and taboos – putting the world to paper. Not because I can but because I can't not.
---
---
---