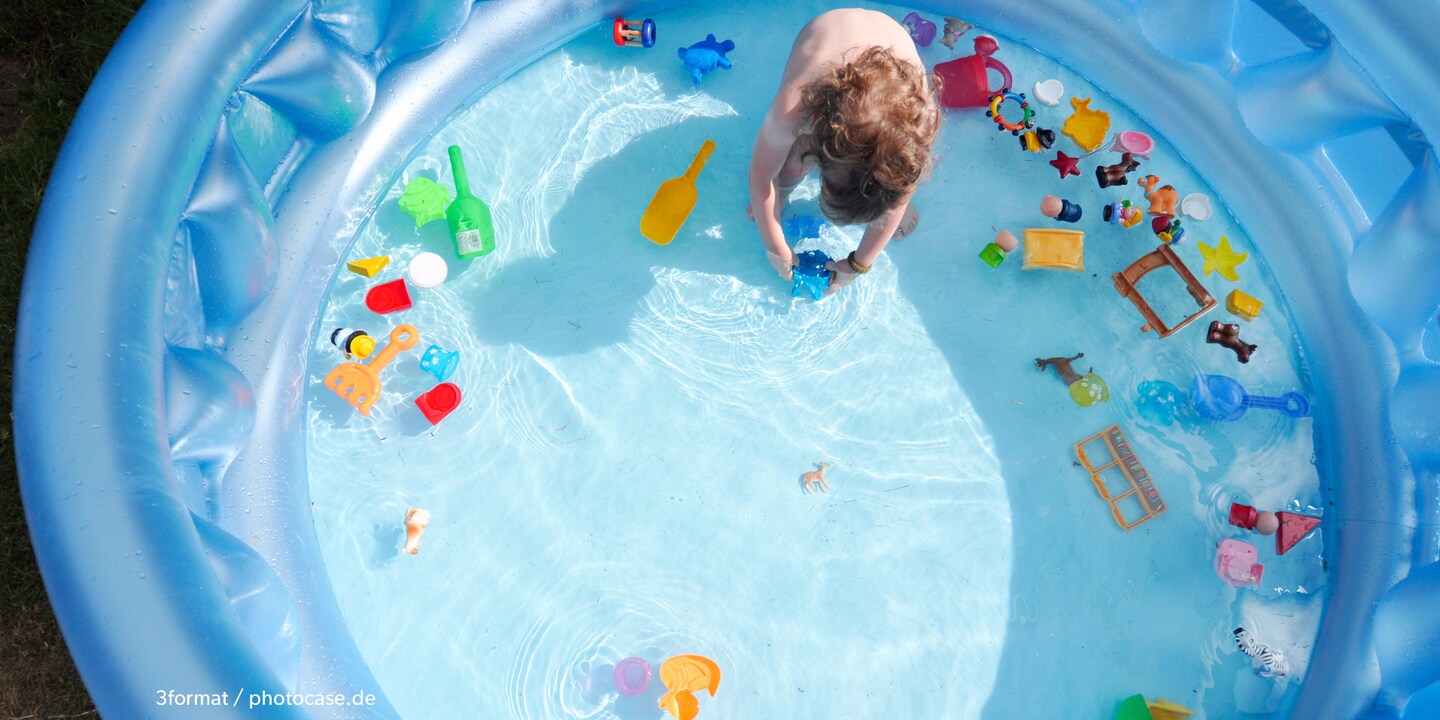 The 10 coolest paddling pools

Paddling pools for babies and kids are brightly coloured and keep the little ones cool on sweltering summer days. Some have an additional feature such as 3D goggles or a whale fountain. I've put together my ten personal favourites of the season. Which one do you like best?
1. An adventure in 3D
Put on 3D goggles, dive and watch Nemo and his friends in 3D in their natural habitat. Two 3D goggles included.
2. Glow in the dark
Complete with two LED flashlights, kids can use the stencil or go freehand and doodle to their heart's content on the pool floor. They will love watching the fluorescent floor light up with their creative designs!
3. A whale of a time
Watch out! The whale's blowhole sprays water and gives you a cold shower. Simply connect the garden hose and start splashing!
4. Crazy colourful
Make a splash this summer with this cheerful play centre. The colourful dinosaurs, a rain shower arch and fun fin balls keep the water fun going on and on!
5. For the budding artist
This pool sports a cool alphabet design and makes learning your ABC fun! It comes with five erasable crayons and a board for kids' drawing pleasure.
6. On the go
If your baby's still too small to have a splash in the lake or the sea, just dig a shallow hole and place the pool inside it. The cute water toys are included.
7. Ahoy pint-sized pirates!
You'll have mini Jack Sparrows splashing about in no time! This pirate boat has everything the adventurer's heart desires. The little ones will be exploring the seven seas in the back yard, defending treasure islands and scaring off sea monsters.
8. Equipped with a roof
A roofed paddling pool is ideal for babies as it keeps them protected from the sun. Adults will also enjoy cooling their feet in this palm tree-protected pool.
9. Minions!
Enough said! Probably one of the coolest designs out there.
10. The 2-in1 model
This 2-in-1 pool consists of two individual sections: A large, high area for adults and older children and a shallow area for the wee ones. The whole family will be making a big splash.
You might also like this article (in German):
---

I love the strategy game "The Settlers of Catan", the Ravensburger puzzle "Colourful Cupcakes" and the pink fluffy unicorn that sits on my desk (a birthday present from my workmates). Not only do I have a weakness for toys, I also get excited about good food and comedy TV shows.
---
These articles might also interest you
Skeleton Loader

Skeleton Loader

Skeleton Loader

Skeleton Loader

Skeleton Loader

Skeleton Loader