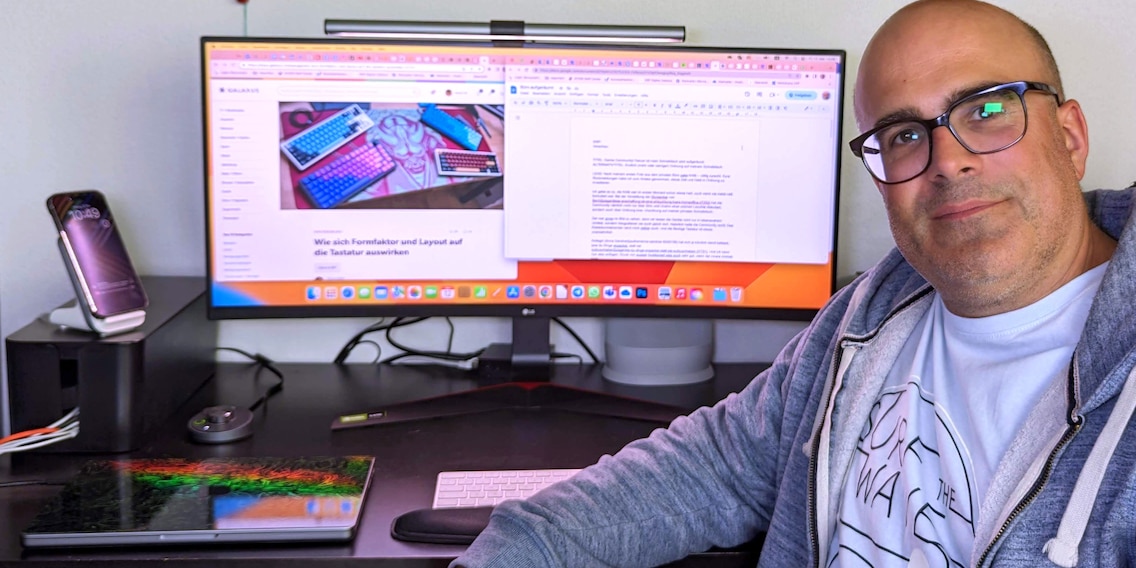 Thank you, Community! How you helped me tidy my desk

I was heavily – and rightfully – criticised for the state of my home desk. I've taken your feedback as an opportunity to invest some time and money into tidying up.
I admit, the intensity of the criticism was surprising at first, even if it was mostly nicely worded. In my introduction to BenQ's Screenbar, the Community wasn't just discussing the point of such a light. Many users were dismayed at the disorder on my desk at home.
It was very visible in my review, as we don't just test devices in a real-life environment, but also photograph them there. Naturally, you were all right. The disgustingly visible mess of cables is an eyesore – it annoys me too. And the stained keyboard also isn't something I like to show off.
My colleague Anna Sandner recently addressed how to tackle things instead of putting them off. One thing I'll add to that: external pressure also works very well when you're lacking inner drive.
I can't stand these tangled cables any more
Let's start with the first problem, the cables. This already poses several challenges. While the keyboard and mouse can be connected wirelessly, the monitor and power supply need a cable. Thanks to a docking station, the MacBook can at least be connected with only one USB cable. Alas, the hub is yet another device that needs space on my desk. And a power cable.
By the way, the Targus docking station is only recommended to MacBook users. It's quite expensive, but really reliable. It always connects to the screen quickly – even if you only wake up the laptop with the keyboard or mouse, for example, and don't even open it. In addition, the box doesn't get too hot, which can be especially problematic on compact (and portable) docking stations. This aspect will become important in a moment.
But that's not the end of the cable saga. After all, my job consists of testing devices as well as photographing and filming them. In other words, I've usually got several gadgets connected to the power supply. Smartphones, headphones, tablets, cameras, but also microphones and video lights.
I require a veritable collection of charging cables. Two USB-Cs is the minimum for me – I regularly need Lightning as well. Every now and then, I'll also need the awful micro-USB, such as for Sony's otherwise excellent wireless microphones.
I could mount the power strip with power adapters as well as the docking station under the tabletop. But I decide to use a cable box. That way, I'm flexible and don't have to fix anything in place. Of course, you could also optimise the chargers a bit more. But I don't want to produce additional electronic waste and throw away well-functioning chargers just because there are more compact and uniform variants with more ports.
Finally, order
In the end, I get myself a really big cable box. In black, so that it blends nicely with the dark desk. The «LogiLink cable box big» is nice and cheap, but not really high quality. The plastic reminds me of stackable document trays, the concept is simple.
The box has a lid and two slots on the short sides, which work well enough as I place it lengthwise at the edge of the table. Power comes in the back, cables come out the front to charge gadgets and connect the MacBook. Other boxes offer more flexibility, but for my purpose this is good enough.
Its size made me go for it. There's room for a switchable power strip with five connections, plus an angled triple connector that makes better use of the width and leaves enough room for the clunky charger as well as the docking station including the large power supply unit.
As mentioned, the docking station doesn't generate much heat, so the two vents are sufficient for ventilation. Despite my love for order, it's important to keep in mind that heat impairs the performance of many devices. Hiding them under or in something therefore isn't always a good idea.
My solution is both quick and cheap. And things already look much neater in a box. In addition, I have room to place the wireless charger on it. Of course, this is another great advantage of a cable box. I don't lose any space on my rather small desk – the top of the box works great as a surface.
Shame and guilt while replacing my keyboard
I've written well over 1,000 articles on my inexpensive LMP keyboard in the last five years. I like its quite short strokes – quiet too. There's even a cheap armrest for my wrists.
Despite more or less regular cleaning, the keys eventually develop a patina, which is hard to hide especially on white surfaces. To put it bluntly, it looks a bit disgusting after all these years. Now that my desk is neater, it's even more noticeable.
And that's where my dilemma lies. Should I throw away the keyboard and replace it even though it still works fine? I decide to go for a compromise. The old keyboard gets to rest and retire in a drawer, but is ready for a comeback in an emergency.
Before buying a new keyboard, I, of course, talked to our expert Kevin Hofer. He's written countless reviews and guides on the subject of keyboards.
At home, however, I opt for a very simple solution that covers my basic needs. A quiet, pleasant typing noise, for example, since I'm not always alone in my home office.
Good typing goes far
But keyboards are a very individual matter. Everyone should use what suits their own office routine best. It's definitely worth trying out or looking at something different.
At least I took the opportunity and got rid of a cable. My new Magic Keyboard connects wirelessly to the MacBook. Price-wise it's OK too. The fact that I have to charge it via Lightning cable isn't a problem in my case. Even better, this doesn't happen regularly, and I've got the right plug at my desk anyway. The new version would've given me a fingerprint scanner – but this feature wasn't worth the extra charge for me.
So now, thanks to the Community, my home office looks a little neater. Thanks for the kick in the butt! And I have to admit: starting up the computer every morning at a tidy desk feels much better than when I first had to dig through the mess of cables.
Still, I'll be careful not to post another photo of my rack of test equipment, packing materials and so on here. Otherwise, I'll have to start another cleanup right away and buy new cabinets.
How have you optimised your office? What tips and tricks do you have for organising your desk? Let me know in the comments!
Header image: Lorenz Keller
---



Gadgets are my passion - whether you need them for the home office, for the household, for sport and pleasure or for the smart home. Or, of course, for the big hobby next to the family, namely fishing.
---
---
---