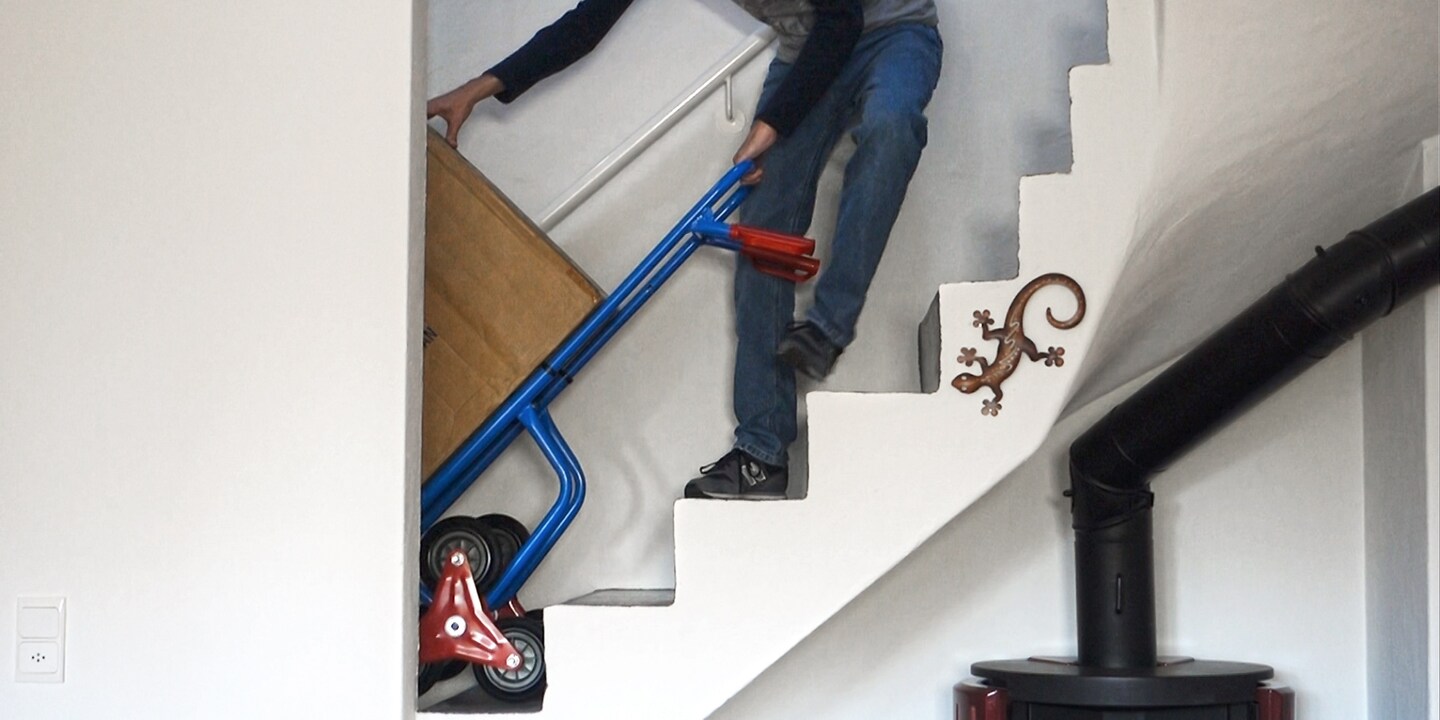 TecTake review: is a cheap hand truck any good?

A hand truck is supposed to make it possible for me to drag large or heavy packages up four flights of stairs all alone with no elevator. As it turns out, a simple, moderately priced hand truck with no motor is only somewhat useful.
I'm definitely doing something wrong in life – no house I've ever lived in has had a lift. I'm currently hoping to transport a monitor packaged in a huge box from the basement to the top floor. But the 55-inch monster proves difficult to lift with two hands.
In situations like these, I'd normally turn to a kind neighbour, friend or my lovely wife for help. I really am grateful to them, but it would be even better if I could get large packages up the many steps without any help. So I put my thinking cap on and found the solution: a stair-climbing hand truck.
Here are the specifications of the three-wheel hand truck I'm working with:
Size (H x W x D): 115 x 49 x 66 cm
Usable surface of the base plate (W x D): 31 x 24.5 cm
Weight: 12.5 kg.
Wheels: Hard rubber wheels, 16 x 3 cm (Ø x W)
Loading capacity: 100 kg
Material: Steel, plastic
Miscellaneous: retractable to 82 cm height
Originally, I wanted to buy an electric stair-climbing hand truck. But upon seeing the prices, I decided to rely on my physical strength, after all. The desire to spend thousands of francs is just not there.
My new bling: setting up this hand truck thing
«Sweet, the road will be steep but at least this thing is quite cheap!» I think to myself as I click «Buy now.» Two days later, the packaged hand truck arrives at my doorstep. I carry the roughly 14-kilogram parcel all the way to my floor. Why, again, do I not carry my pocket knife with me like a good Swiss citizen? I could have unpacked the hand truck on the ground floor and tried it out right away...
The TecTake stair climbing hand truck is delivered almost fully assembled. After unpacking it, I just need to slide the wheels onto either side, add a washer each and fix everything in place with a wire that looks kind of like a hairpin. And voilà – I can take it with me to the basement to pick up the 55-inch monitor.
Hand truck cruisin'
One thing I already notice on the way down is that the hand truck is damn loud. It clanks and clashes with every step.
Cool. I guess I'm providing free entertainment for the neighbours.
Oh well, at least the stair climber is stable, thanks to some high-quality welding on the steel tubes. Only the hairpin fixation feels a bit cheap. I can imagine that after some enthusiastic use of the hand truck, you'd eventually have to replace that piece.
I only notice how small the base plate actually is after shovelling up the box. Still, the just 31 x 24.5-centimetre plate easily holds the 139 x 37 x 99-centimetre carton weighing 38 kilograms. At least if I'm picking it up horizontally at an angle.
The fact that the stair climber itself also weighs something becomes clear to me after the first few steps. I'm pulling a total of 50.5 kilograms with each step. The thudding in the stairwell reaches a new climax. I gather all my strength and admit to myself after just one floor that it would be a hell of a lot easier to carry the monitor up with a partner, instead of using this cart.
Sorry, dear neighbours.
Two floors in, I can feel the beads of sweat pouring down my forehead. I need at least a half-hour break before I can even begin to think about tackling the third floor. Out of the corner of my eye, I catch a glimpse of a neighbour briefly peering out from behind his door. He disappears again just as quickly.
Thanks, neighbour.
Finally, the box is in my apartment. There is one last staircase to conquer, but it's too narrow to fit the box. Since the steps also happen to be very steep, I can't get away with forking up the box longest side up, either. I tried, but the box kept almost flipping over and plummeting down the staircase. What a shame. I have to wait for a helping hand after all. I'm also annoyed, because I had planned a whole photoshoot of the hand truck in action on this staircase. My plans shall not be foiled! I decide to go forward with the shoot, swapping in a box that houses an 18-kilogram computer case from the 1990s.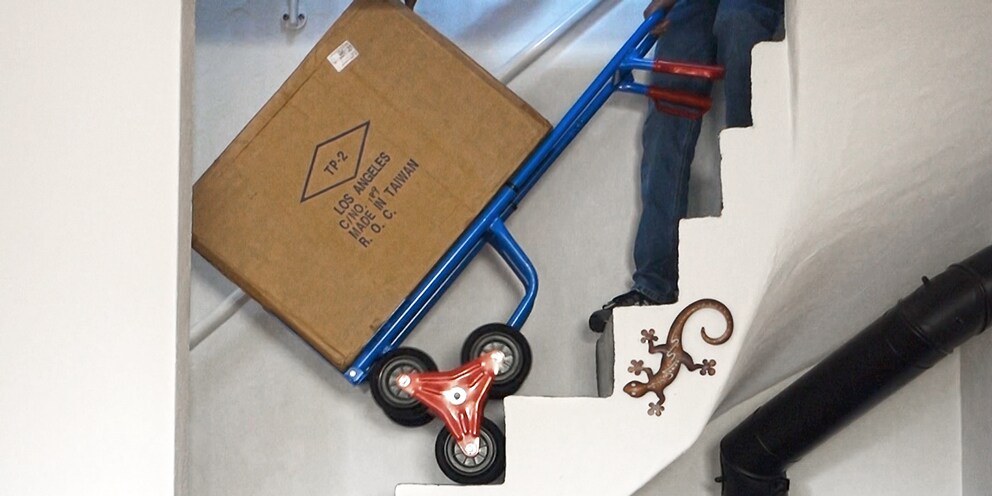 The steep stairs really aren't making things easy. Carrying up the box normally would be quieter, faster and probably healthier for my back.
The verdict: this hand truck just isn't it
Huff and puff! Why, again, did I order this thing?
I have to admit that after testing it out, this hand truck is really... driving me up a wall. Sure, I can now transport large packages up and down the stairs with no help. But the effort involved would make a body builder sweat. In the end, the stair climber simply doesn't cut it. You can't just effortlessly glide over stairs. Plus, it's damn loud, teetering right on the edge of noise disturbance.
All in all, this hand truck leaves me with a classic case of buyer's regret. If only I had researched it more beforehand.
---
I find my muse in everything. When I don't, I draw inspiration from daydreaming. After all, if you dream, you don't sleep through life.
---
---
---
---
These articles might also interest you
Skeleton Loader

Skeleton Loader

Skeleton Loader

Skeleton Loader

Skeleton Loader

Skeleton Loader