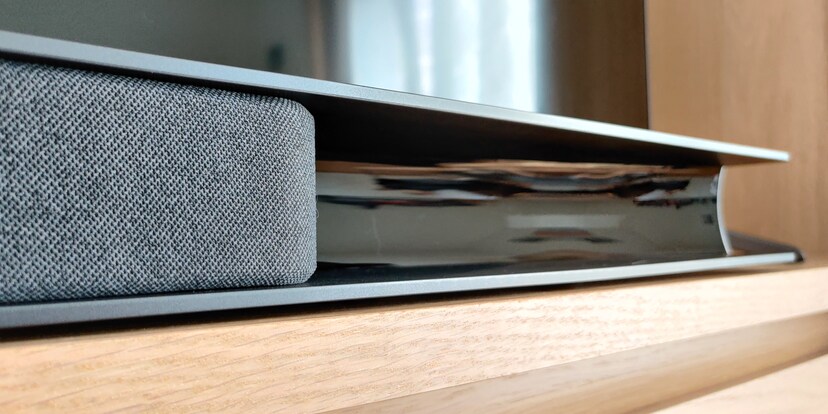 TCL's Ray Danz soundbar: Dolby Atmos at a fair price
The Chinese tech giant TCL wants to make its mark in Europe with soundbars. Their planned flagship: the Ray Danz, a successful balancing act between price and performance – in no small part thanks to Dolby Atmos, as my test will show.
Yelling. Jane's screams. Somewhere deep in the jungle. Tarzan hears them. He's standing at the precipice of a gorge far above said jungle. The wild man takes off.
Sound cuts out completely. Tarzan goes into a nosedive.
Then, as he breaks through the treeline and grabs a vine, the music resumes. Powerful. I feel the bass in my chest. Tarzan swings from branch to branch. Heavy rain smashes onto the large leaves. Or is it my face? The air hisses past our hero. The wails of monkeys and gunshots thunder menacingly in the distance. Tarzan must hurry.
Goose bumps.
My test of the Ray Danz soundbar has begun.
An honest, winged soundbar
The design is striking. Wow. TCL's Ray Danz isn't just a wide beam covered in fabric; the speaker is flanked on either side by a curved piece of plastic, bordered by two plastic sheets. Weird. I've never seen anything like it. They look like wings. Either way, they make the soundbar sound wonderful. Dolby Atmos might also have something to do with that.
Dolby Atmos in a soundbar that costs less than 500 francs or 400 euros? That's rare. Get it in our shop. It even has 540 watts of output power and a 3.1 channel system; the bass comes from a separate subwoofer.
Yes, the Chinese tech company TCL itself has released something very fine indeed: a declaration of war on the competition. Samsung and LG, for example. And the Ray Danz isn't messing around. It's 105 centimetres wide. This makes it slightly broader than a 48-inch TV. That's fine.
Here are its dimensions:
Width: 105 cm
Height: 5.5 cm
Depth: 11 cm
Visually, the two curved plastic edges – the wings – are particularly interesting. The plastic itself might seem cheap to some people. But the design appears futuristic to me. Kinda cool. The wings serve a very specific purpose: the loudspeakers don't radiate forward, but onto the wings. From there, the sound waves are reflected into the room. This ensures a broad, room-filling sound. Broad and room-filling in the sense that sound doesn't appear as if it's coming out of the slim beam in front of your television. Instead, it feels as if there was a whole orchestra surrounding you.
Okay, now please don't picture a real orchestra. The soundbar isn't that good. But if you get the idea behind «broad» und «room-filling», I'm satisfied.
Sure, soundbar manufacturers constantly promise large, wide sound stages – hence the orchestral analogy. Sound stages with sophisticated 3D effects that don't require additional speakers to be placed to the side of or behind the listener. So-called satellites. This only works if the sound coming from a soundbar is manipulated. This technology has a name:
Digital Signal Processing. In short: DSP.
DSP technology is everywhere. Not only in soundbars. Even in ordinary speakers, headphones or earbuds. Put simply, they manipulate digital audio signals in terms of mathematical functions such as adding, subtracting, multiplying and dividing. Of course the whole thing is much more complex. In the example of a soundbar, complicated calculations and algorithms are supposed to make sure that you hear a sound behind you even though there are no speakers; the soundbar in front of you remains the only source.
Is that even possible?
This DSP technology is used well and efficiently, especially in headphones, to create surround sound. In reality there are usually only one or two loudspeakers per ear. Soundbars work a bit differently. It's a bit trickier. And the intrinsically complex calculations degenerate into marketing buzz whenever terms such as «Vertical Surround Engine» or «S-Force Pro Front Surround» promise you «realistic, multidimensional sound» with no actual surround-sound system present.
The Ray Danz isn't a soundbar that promises surround sound. It deserves high praise for this. In fact, it refrains from simply grabbing customers at the expense of its credibility, which few would question in any case. They don't not know any better. TCLs promise, though not entirely free of marketing, is much more honest:
This changes my whole approach to testing. If TCL talked as much game as other manufacturers, I'd challenge their marketing promises accordingly and sum up by saying that the Ray Danz can't do surround sound and isn't worth your money.
Instead, I'll test the soundbar according to what it effectively promises: high-quality sound at a low cost.
Movies: no bloated digital features
So. What exactly are we dealing with?
The Ray Danz is a 3.1-channel soundbar. This means that there's one speaker for each sound source from the left and from the right. Their drivers don't radiate forward, but onto the curved wings, from where the sound is distributed into the room. Then there's also the central middle speaker. It's main concern is treble, which ensures good clarity during dialogue. Finally, the «0.1» in «3.1» stands for the separately supplied bass.
Speaking of which: the soundbar has two HDMI inputs. One with HDMI-ARC. On the one hand, sound can be sent directly from the TV to the soundbar. On the other hand, I can connect external sound sources directly to the soundbar, from where the HDR image – including Dolby Vision – is sent to the TV via HDMI-ARC. Alternatively, there's also a Toslink input, USB and AUX.
I tested the Ray Danz soundbar in my bedroom. It's a little smaller than my living room. And therefore the ideal place for a sound bar without a surround system. I've used many different examples in the past four weeks. Such as 2016's «The Legend of Tarzan», for example. Definitely not a milestone in cinema history. Still, the film offers beautiful visuals and – much more important – intense music and Dolby Atmos sound.
Yelling. Jane's screams. Somewhere deep in the jungle...
The Ray Danz does a good job. As I said, there's no sound from the ceiling. But the soundscape is wide, filling my bedroom without any problems and never seeming overloaded. That's what's important to me. Which is exactly why I chose this scene: cheap soundbars – or badly set-up ones – often can't correctly display it.
Let me explain: cheap soundbars with less powerful speakers use DSP to make them sound more impressive than they actually are. Or than could even be possible. If sound were a muscle – a digital muscle – then too much DSP acts like an anabolic steroid. «Vertical Surround Engine» and all that, remember? Music and sound are digitally manipulated until they no longer appear organic but artificial. Or overloaded; a cacophony of arbitrary rumble and pomp no longer pleasant to the ear.
I'm sure you've noticed that. At shops, for example. Or at a fair. If you ever heard a soundbar there and thought:
«It's loud, yes, but somehow I don't like the sound of it. It's just... wrong.»
The Ray Danz doesn't sound wrong. It really doesn't. But is it as good as a Sonos Arc? Definitely not. The Arc is even broader in its effect. Warmer. More organic. It unleashes even more entrancing music and a powerful bass, even if you don't buy a separate subwoofer.
Nevertheless, the Ray Danz is fully aware that it isn't in the same league as the Sonos Arc, which is almost twice as expensive. It doesn't even try to compete. It discreetly exploits DSP; the sound dome it creates sounds pleasant and natural. Sure, some form of DSP must be at work. Especially when it comes to reflecting sound waves. Still: there's always the curved plastic wings. They help to reflect sound into the room without too much digital manipulation.
Ray Danz therefore beats out similarly cheap soundbars.
Music: decent but not too powerful
The Ray Danz can also be used as a multi-room speaker thanks to integrated Google Chromecast. Integration into your home network is done via the Google Home App. Alternatively, you can also connect your devices to the soundbar via Bluetooth.
And how does everything sound in the end? Pretty nice. I'll explain it to you using John Powell's «This is Berk» from [«How to Train your Dragon».](/en/s1/product/drachenzaehmen-leicht-gemacht 12-2018-blu-ray- Spielfilm-7851532) I've heard the score dozens of times. Most recently during my Sonos Arc test. That's why I know exactly how each passage should sound. Where the bass must be wild and untamed. And where I want to feel a certain punch.
The song starts with slowly humming brass instruments. They play Berk's theme, representing the Viking village from the film. The Sonos Arc unleashes the trombones – or are they tubas? No matter – they're powerful and spacious. Less so with the Ray Danz. Then the strings begin. Somewhere I think I hear a clarinet. But compared to the Arc, it doesn't stand out as clearly from the drums in the background, which gently set the rhythm.
Now we're at 1:10. The action begins. Powerful and spacious. The percussion starts going crazy. The Ray Danz bass as well. In the film, the camera soars over the village of the wild, soon to be dragon-riding Vikings. The soundbar fills the room well. Reminds me of why I love this part so much.
Only the high strings sound a bit too evenly centred. When watching movies and series I have no problems with this. Quite the opposite. But when listening to music, I'm aware at all times that the sound comes from the soundbar in front of me and isn't being performed by a live orchestra in my bedroom. I think the bass should be a bit more powerful without having to adjust it myself with the included remote control.
There. The Ray Danz is reaching its limits. A complex, difficult transition. Challenging for many soundbars. This is exactly why the Berk theme is so perfect for tests like this one.
This is how a mid-range soundbar should be
All in all, I'm satisfied with what the Ray Danz does with music and sound. The curved sound technology developed in-house by TCL is largely responsible for this. Thanks to it, the soundbar achieves a pleasantly wide range of sound, even vertically, without having to resort to exaggerated digital tricks. This pays off: similarly expensive soundbars rarely sound as good.
Music is also nice, even if the gap in quality to a soundbar such as the Sonos Arc is more obvious. No wonder Sonos is one of the leaders in multi-room speaker systems. And why the Sonos Arc, its flagship, is about twice as expensive as the Ray Danz. This more than excuses a certain dip in quality.
One final thing: TCL doesn't allow any marketing buzz to confuse its customers into buying its products. This includes promises such as imitating satellite speakers through the mere use of DSP technologies. But you know what? Other soundbars in TCL's price range can't do that either. So thank you, TCL, for not trying to trick people.
---

I'm an outdoorsy guy and enjoy sports that push me to the limit – now that's what I call comfort zone! But I'm also about curling up in an armchair with books about ugly intrigue and sinister kingkillers. Being an avid cinema-goer, I've been known to rave about film scores for hours on end. I've always wanted to say: «I am Groot.»
---
---
---