Stroke of genius or just plain stupid? A 30-kilometre commute by e-scooter

I'm about to brave the journey from Winterthur to Zurich on the Xiaomi 4 Ultra. But will the e-scooter's battery hold out? Will the commute have me feeling ready for a holiday? Here's what I learned from my 30-kilometre commute.
I've just taken on a mission that's as good as crazy: riding an e-scooter to work. Spanning almost 30 kilometres, the journey will take me from Winterthur to Digitec Galaxus HQ in Zurich. And I'll be tackling it on the Xiaomi 4 Ultra. So how will this two-wheeler, equipped with an electric motor, fare in this hands-on test?
The preparations don't take long. I need to:
Allow enough time: With a maximum speed of 20 km/h, it'll take me at least an hour and a half of driving time alone. My journey, however, will probably take longer as I'll occasionally be filming or taking photos.
Buy a phone holder: I ticked this off the to-do list by finding a cheap, sturdy solution in our range: the Nc-17 3D Universal Holder. This way, I'll be able to use my phone to navigate.
Install the Komoot app: When you're on two wheels, this bike app does a better job of planning routes than, say, Google Maps. You can also use it for free.
Smooth suspension – even on cobbles
The app recommends a nice back-road route. Fairly happy with that choice, I put on my helmet, start up the satnav and head off. For the first few kilometres, I zip through the city of Winterthur. Komoot takes me through the old town, over cobblestones. Thanks to the Xiaomi 4 Ultra's good suspension, however, neither the phone (nor the driver!) wobble off. I'm surprised at how comfortable it is.
The stretch next to the slip road and dual carriageway, however, don't feel quite so enjoyable. Cars whoosh past me. Thanks to the powerful motor, I'm able to maintain a speed of 20 km/h. Under Swiss law, scooters are banned from going any faster than that. The cars pass by me at 60-80 km/h. But when other bikes overtake me, too, I definitey feel like I'm obstructing the traffic.
Mind you, a few years ago you'd still get dirty looks and even car horns blaring at you when riding an e-scooter on the road. These days, people have evidently realised that scooter drivers have exactly the same rights and responsibilities as cyclists. Basically, I don't get any unusual reactions – people simply ignore me in that classic Swiss way.
A comfortable ride turns into a workout
Ten kilometres in, I get my first nasty surprise. Although the route has led me away from the traffic, it's now presented me with a forest trail on a 15-per-cent incline. The Xiaomi 4 Ultra can't cope. I've got to get off and push. If I'd been cycling, I could've pedalled my way up. Today, I need to push the almost-25-kilogramme scooter uphill.
Luckily, it's downhill from here. I speed off, occasionally hitting 30 km/h with gravity's help. The speed doesn't give me any trouble – the Xiaomi's broad footboard and pleasantly wide handlebars allow me to get into a stable position. This gives me good control and makes me feel safe.
After another ten kilometres of travelling through the lowlands of Zurich, things start to get more urban again. This means buses, trams, cars, trucks, bicycles and pedestrians. I'm grateful for my indicators, which I can switch on and off via two buttons, just like on a motorcycle. It also means I don't need to use hand signals. These often lead to little wobbles when I'm on a scooter, as the small wheels and narrow handlebars give me less stability than when riding a bike one-handed.
1:42 hours for 29.9 kilometres to work
Two and a half hours later, I've made it to my destination. According to Komoot, the 29.9 kilometre route took one hour and 42 minutes of driving time. I spent the rest of the time taking photos and videos, and of course, pushing the scooter uphill. My average speed was 17.5 km/h, travelling 290 metres uphill, 340 metres downhill.
Even though my scooter experiment was time-consuming, I feel very relaxed. But it's this very time factor that'll stop me from regularly commuting by scooter. After all, if I travel by train, I can get to the office in 40 minutes. And if I were to go back to two wheels, an e-bike would be better suited to the route. That'd probably be quicker – and it'd be good for my health. Nevertheless, my journey gave me some interesting insights.
Range: The manufacturer says the Xiaomi 4 Ultra can hold out for up to 70 kilometres with one battery charge. After 30 kilometres, my scooter had 25 per cent battery left. So if you're really ramping up the power, you'll make it about 40 kilometres. In my experience, the following rule of thumb applies to other e-scooters too: 60-70 per cent of the range listed in the specs is realistic for heavy everyday use. If you only weigh 60 kilogrammes and don't need to scale any hills, you might get up to 80 per cent of the specified range.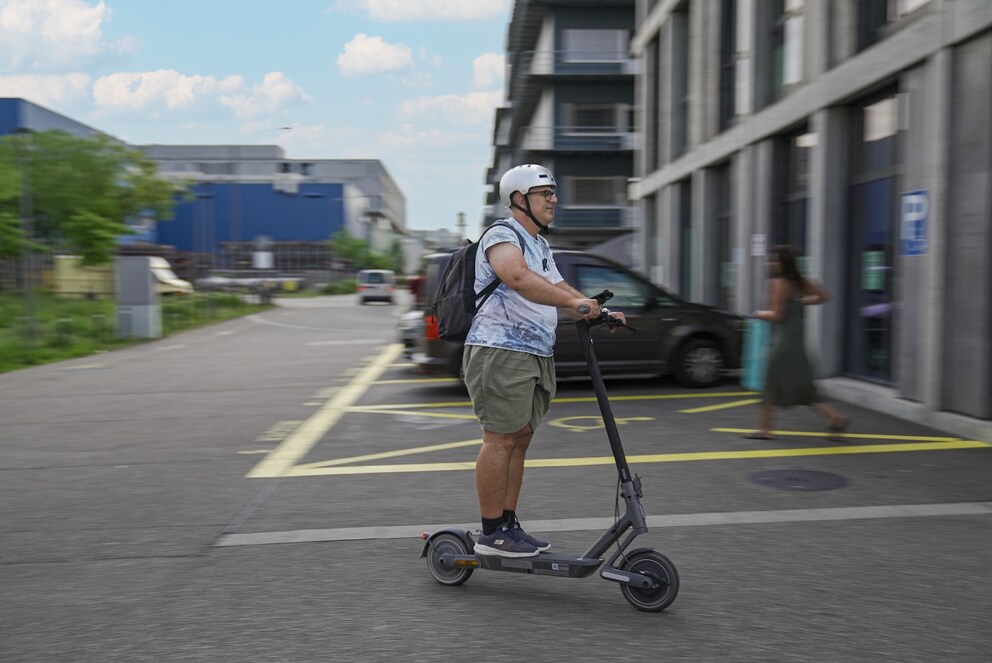 Long-distance capability: E-scooters are good for more than just that last stretch of your commute. Even five kilometre journeys across the city can be covered comfortably and quickly. The advantage over a bike? Scooters are more compact and often lighter. Plus, you won't turn up at your destination looking all sweaty.
Comfort: The further you ride the scooter, the more important the suspension. The Xiaomi 4 Ultra is very comfortable thanks to its suspension system on both axles. You barely even feel cobblestones.
Compromise: The Xiaomi's large battery, powerful 500-watt motor, wide handlebars, generous footboard and suspension system may boost comfort, but they also make the scooter bulky and heavy. If you regularly want to charge your scooter in the car or take it on public transport, the Xiaomi 4 Ultra isn't the right choice.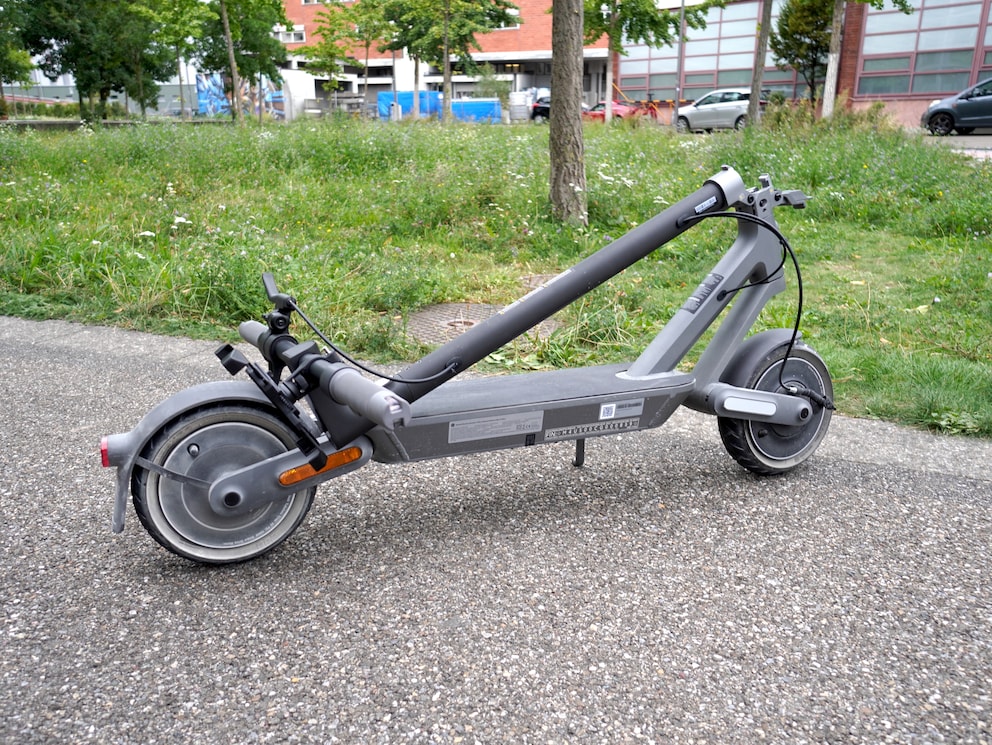 Verdict: going the distance with the Xiaomi? Anything's possible
The Xiaomi 4 Ultra is a good example of a long-range scooter. Riding it, you can comfortably whiz through kilometre after kilometre. And you can do so at a very reasonable price.
The manufacturer has also kitted the scooter out with a number of practical details. There's the indicators I mentioned before, plus the IP55-standard waterproof technology and tubeless tyres that automatically seal small punctures.
The scooter gets some minus points for its minimalistic screen, which isn't always particularly easy to read. Plus, you can only activate the scooter by connecting it to the app; otherwise, it'll be limited to 10 km/h and beep regularly.
Speaking of tedious processes, the lack of spokes on the tyres makes the scooter tricky to lock up. You need to thread your lock through the rear axle between the wheel and the fork. Still, you can use the app to deactivate the scooter and turn on an alarm, although it's not especially loud. However, you won't be able to lock the wheels completely.
When it was time to commute home, I took the Xiaomi on the train. While the device might be fairly hefty, it's still much more portable than a bicycle. Even so, I'm glad I can just roll the 25-kilogramme scooter onto the platform and then the train.
Which e-scooter do you ride? What kind of routes do you cover? Let me know in the comments.
Header image: Manuel Wenk
---



Gadgets are my passion - whether you need them for the home office, for the household, for sport and pleasure or for the smart home. Or, of course, for the big hobby next to the family, namely fishing.
---
---
---