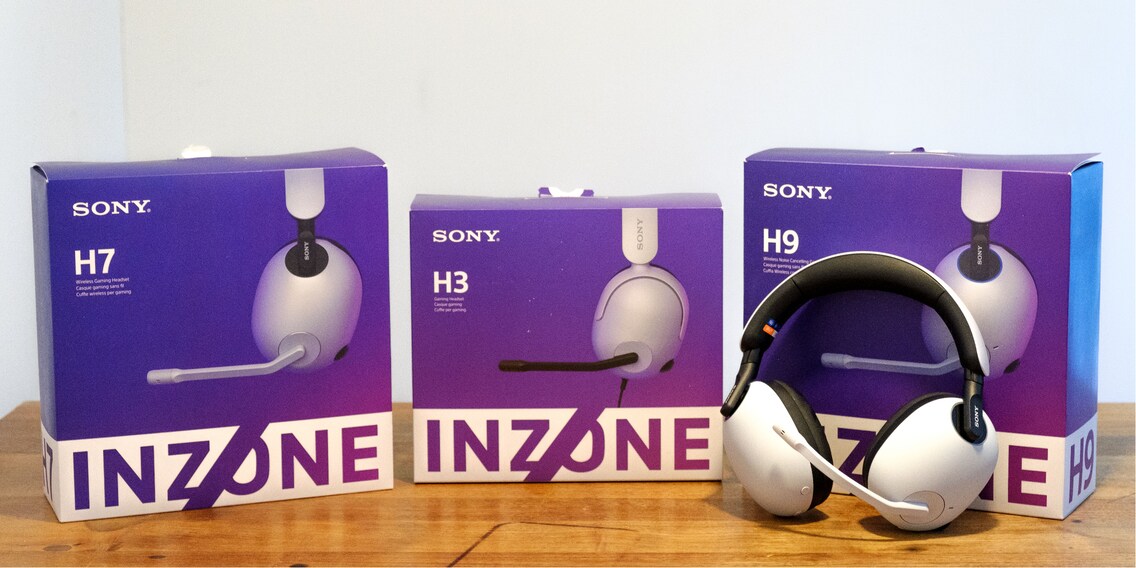 Sony is pushing into the PC market: testing the Inzone H9 gaming headset
Sony and gaming; used to be PlayStation and nothing else. But with three own-brand «Inzone» headsets, the Japanese company now wants to address PC gamers with the necessary small change. I was able to test them in advance.
Driving PlayStation fans up the wall yet delighting the PC gaming community: an ever-increasing PlayStation range on PC. «God of War,» «Uncharted» or «Horizon Zero Dawn» are already there, with more titles will follow. Now Sony is taking the next step and trying its hand at gaming hardware for the PC. Three gaming headsets in three price ranges were introduced by Sony today: the wired Inzone H3 as well as the wireless H7 and H9, with the latter being the only one to offer «Active Noise Cancelling» (ANC).
In my test, I was particularly impressed by the flagship model H9. Sony almost succeeds in making me switch from hi-fi headphones to the gaming headset.
PS chic for your PC kick
Sony obviously doesn't want to completely say goodbye to the PlayStation aesthetic. The three headphones also work with the PlayStation 5, though the wireless H7 and H9 require a USB dongle. This branding is also clear in terms of colour; the headphones feature the same black and white style as the coveted Sony console. Importantly setting it apart from the competition, as most gaming headsets are rather dark. There's currently no other colour option. The headband's design is reminiscent of the new WH-1000XM5 Over Ears, and for good reason. These gaming headsets come from the same department at Sony. A novelty; until now, the gaming and audio divisions were strictly separated. Sony wants to combine its audio experience with its gaming know-how.
All three headsets are lightweights at 299 g (H3), 325 g (H7) and 330 g (H9), resting very comfortably even on my giant skull. Even during longer gaming sessions they don't bother me. Especially the expensive H9 is particularly comfortable thanks to synthetic leather pads. On the cheaper models, the pads are covered in a synthetic fabric that makes me sweat a little faster. The two wireless headsets can be charged via USB-C and also work during the process. Aside from the dongle connection, they also work via Bluetooth. So you can also use them on the go with your phone.
Sony doesn't save on buttons with the H9. A rotary dial controls the volume, noise cancellation can be activated via other switches and Bluetooth can be connected. In addition, you can select and mix between game and voice sound with two buttons.
As if Sony had never done anything else
Bravo Sony. After a week of gaming, listening to music and making calls with the H9, I'm positively surprised. I didn't think the first PC headset would be this good. The sound is crystal clear and the trebles extremely audible (sometimes even too much so). Above all, the bass is set very pleasantly by default and not overdriven. Cheaper gaming headsets like to disguise a lack of audio quality by turning up the bass. No trace of this on the H9. If you need more bass, you can set it up in the app.
The software deserves specific praise too, it works flawlessly. Unfortunately, this isn't always the case with gaming accessories. In addition to predefined EQ profiles, you can also set your own if you want to take out some of the crisp highs or add more bass. Besides that, all sorts of things can be configured. Things such as noise cancellation, whether you want to enable spatial sound, or the balance between game audio and voice chat. Which brings me to the three features that Sony touts as special.
1. «Noise Cancelling», Sony's speciality
Anyone who's ever worn WH series «Active Noise Cancelling» headphones knows that Sony has the technology down pat. Two microphones in each ear cup register ambient noise, and the headphones then compensate for it. I no longer hear the quiet hum of my PC, even the train passing by outside remains silent. The H9 completely seals me off when I want it to. Alternatively, I can also amplify the ambient noise, for example when I'm waiting for a parcel and don't want to miss the doorbell. Or turn off the «Noise Cancelling» completely… The headphones also shield well passively. I turned «Noise Cancelling» on when I needed to listen closely to the footsteps of my opponents. This is half the battle in shooters. You're able to hear just a bit clearer thanks to the noise cancellation. Doesn't mean I play better, though. A noob remains a noob.
2. «Spatial Sound» sounds great, in theory
Sony calls 3D audio «Spatial Sound», but this lacks basic logic as well: how are sounds supposed to be three-dimensional when the source is directly at the ear? The software does place sounds in a virtual space, but true 3D audio simply isn't possible with headphones. As a special feature, Sony lets you photograph your ear shape to then create a 3D sound profile customised for you. I didn't notice any differences between enabled and disabled «Spatial Sound» when gaming on PC. Even compared to my Sennheiser HD-25, the sound doesn't seem more three-dimensional. The situation is different on PlayStation, but more about that later.
3. Mixing «Game» and «Voice» is a game changer
A killer feature for me is the ability to adjust the balance between gameplay and voice chat on the headset with two buttons. Be careful with the configuration: the H7 and H9 install two drivers. They're called «Inzone Game» and «Inzone Voice». Configure your normal PC output to «Game» and your Discord or Teamspeak to «Voice» to mix game and voice chat at will on your headset. Until now, only certain sound cards and preamps could do this. Sony conveniently delivers the function within its headset. Nevertheless, I have two suggestions for improvement: I'd prefer a knob instead of buttons, and I'd also like to have equalisers on the voice channel as icing on the cake. This could be added later with a software update.
On the PS5, the headsets really get to flex
While I hardly noticed any differences to my Sennheiser headphones on the PC, I was thrilled with the sound on my PS5. I play the PS5 exclusively with headphones, so connected them directly to the controller. With the H7 and H9, I had to plug the dongle into my PS5 to deliver audio wirelessly. The PlayStation recognised my 3D audio compatible headphones and flexed its muscles. Its software then calculated 3D sound for me, a process worth listening to.
As I explained above, this is a software solution that provides believable 3D audio. In principle, it also runs on my Sennheiser. But somehow I hear the «3D sound» more clearly with Sony headphones. Especially «Returnal» – by far the best PS5 exclusive title – is a blast with the headphones! Monsters seem to come from the side and behind, you can orient yourself better using the sounds. However, this may also be due to the headphones, which are trimmed a bit more for high tones.
A mediocre microphone that suffices
The microphone isn't this headset's strong point. But you won't really record podcasts or produce music with it anyway. Given that audio is worth a thousand words, listen for yourself how the mics sound.
The quality of both wireless microphones drops a bit, which might be due to the connection and not the microphone. Again, a later software update could remedy this.
Surprisingly good and expensive to match
Most gaming headsets aren't my thing. Too much bass, too many LEDs and no advantages over normal hi-fi headphones. Sony almost closes this gap with its first headsets for PC gaming. The sound is balanced, even if it favours higher frequencies. Its white design may take a bit of getting used to for some, but I like it better than the futuristic designs from the competition. The H9's noise cancelling is really great. A killer feature is the ability to switch between «Voice» and «Game» on the H7 and H9. The entry-level H3 model doesn't offer this option. For a headset with a cable, it's rather expensive at 99 francs (as of the 28.6.2022 release). The wireless models are also in the upper price segment. In return, you get the best noise cancellation and sound from the audio professionals at Sony. PlayStation fans may be annoyed about hardware for the PC. But I, a simple gamer, am happy.
---
When I flew the family nest over 15 years ago, I suddenly had to cook for myself. But it wasn't long until this necessity became a virtue. Today, rattling those pots and pans is a fundamental part of my life. I'm a true foodie and devour everything from junk food to star-awarded cuisine. Literally. I eat way too fast. 
---
---
These articles might also interest you
Skeleton Loader

Skeleton Loader

Skeleton Loader

Skeleton Loader

Skeleton Loader

Skeleton Loader