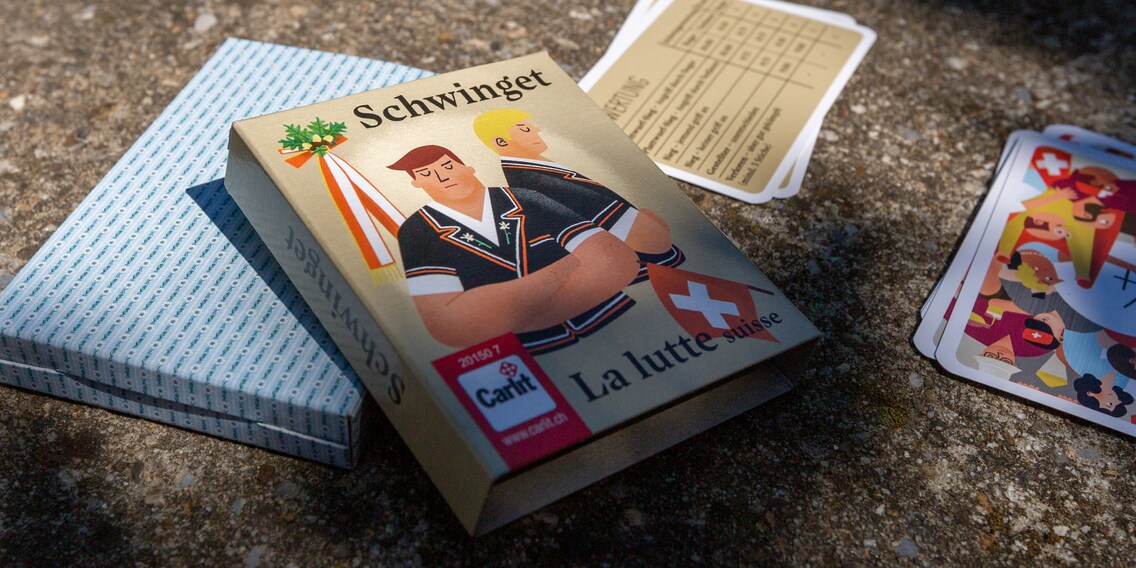 Schwinget – Swiss wrestling is on the cards

You're not cutting it in the sawdust but still want to floor your opponent? Then the trick-taking game «Schwinget» is just what you need.
Only a few days to go until the big event. 50,000 people equipped with cow belts, edelweiss shirts and snuff loudly cheering on the «bad guys» of this country and looking forward to a spectacle beyond compare. The Swiss federal wrestling and alpine festival ESAF in Pratteln. 280 wrestlers take to the sawdust in the arena like gladiators. Weight classes? They don't do those. There's only one winner. Only one wrestling king. And only one who'll win the prize bull.
Haven't had years of training in the run up to this event and only know the moves Brienzer, Gammen and Wyberhaagge in theory? Don't worry. In the trick-taking game «Schwinget», you get to pat the sawdust off your opponents back.
Simple und quick
The game hardly needs any explanation, it's a classic trick-taking game. There are four different colour cards numbered one to six. The higher number wins the trick, the colour must be specified and there's also trump. It's as simple as that. If this explanation was a little too fast, feel free to delve into the instructions here (available in German and French).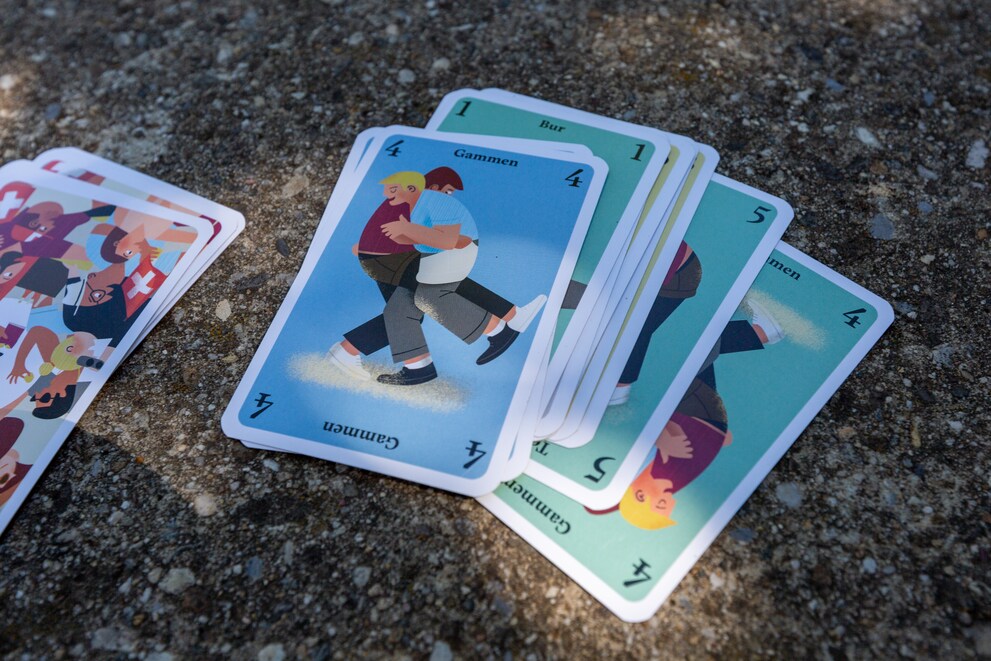 Once all cards have been played, or when no more cards may be drawn, you add up the tricks you've made. If you have more points than your opponent, this round goes to you. Depending on the time available, you can play over four or six rounds. Whoever scores more points across all rounds wins.
In-between or on-the-go playing
Even if you don't know the first thing about Swiss wrestling and have never played a trick-taking game, you'll get the rules of «Schwinget» in a few minutes. The quality of the cards is comparable to conventional Jass cards and I really enjoyed the design. The simplicity of the game makes it ideal to be played on the go, in between other activities or at a games night over a few beers at your local pub. However, «Schwinget» won't keep you busy all evening. You'll have to go to the wrestling festival in Pratteln for that.
---



Riding my motorbike makes me feel free, fishing brings out my inner hunter, using my camera gets me creative. I make my money messing around with toys all day.
---
---
These articles might also interest you
Skeleton Loader

Skeleton Loader

Skeleton Loader

Skeleton Loader

Skeleton Loader

Skeleton Loader