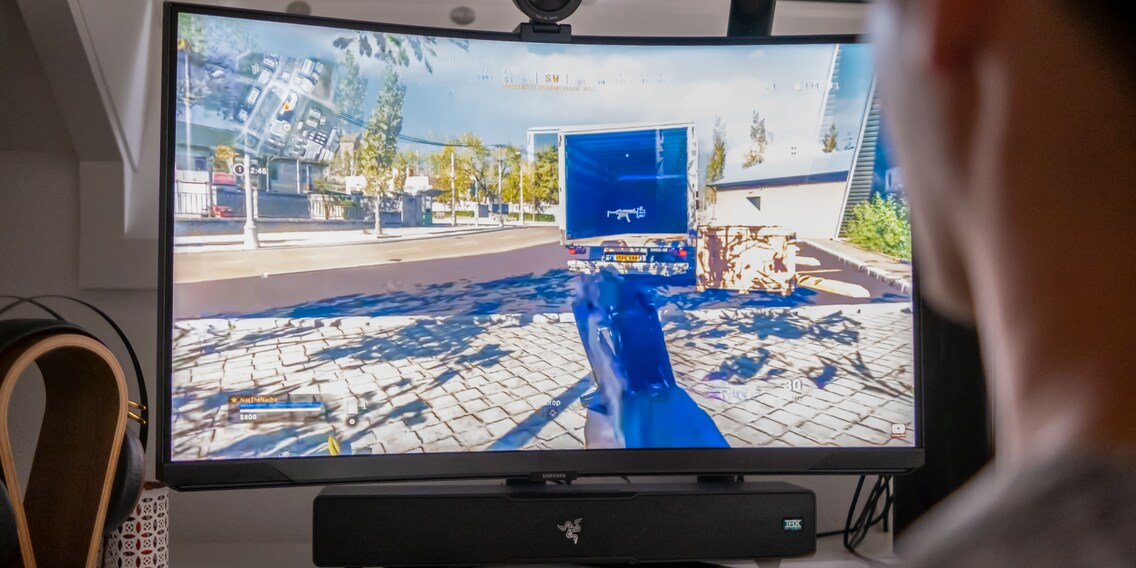 Samsung Odyssey Neo G8 review: looks good, but on shaky ground
Translation:
Julia Graham
With a 240 Hertz refresh rate and 3840 × 2160 pixel resolution, the Samsung Odyssey Neo G8 should, by rights, be an excellent gaming monitor. Sadly, black crush and a wobbly base tarnish my experience.
I sit in the flickering light of the camp fire. It's pitch-black around me. And I hear a noise. With a sinking feeling in my stomach, I head off to find out where it's coming from. As though out of nowhere, an opponent emerges from the darkness and assails me. I don't have time to react. I'm a goner.
This scene perfectly describes my experience with the Samsung Odyssey Neo G8. Thanks to its mini LED backlight, black parts of the monitor do indeed look black. But sometimes that means important details evade me – such as opponents, who then ram their weapons into my head – because they get swallowed up by the black. The Neo G8 has Black Crush.
On paper, the Neo G8 is the perfect monitor for me. Games look fantastic and thanks to the high brightness and good colour reproduction, it's also suitable for office tasks and image editing. If only it weren't for the shaky stand, fiddly controls and Black Crush.
Here are the monitor's key specs:
Panel: VA with 3840 × 2160 pixel resolution (16:9 aspect ratio)
Curvature: 1000R
Refresh rate: 240 Hertz
Brightness (normal): 350 nits
Brightness (maximum): 1000 nits
Static contrast: 1,000,000:1
HDR10+
Mini LED local dimming in 1196 zones
Response time: 1 ms (grey to grey)
Connections: 1 × DisplayPort 1.4, 2 × HDMI 2.1, headphone jack, 2 × USB 3.0
Freesync Premium Pro
My monitor jiggle jiggles
The Neo G8 is like a nodding dog. If I hammer into the keyboard, the monitor bobs along in time. Even when I press the keys to control the monitor's menu, it ends up swaying sharply. It comes as a surprise, as the stand takes up a lot of space underneath it. So you'd think it would keep the thing stable. As it happens, a large part of the jiggling comes from the juncture between the monitor and stand. The rocking motion gets worse the higher you set the monitor.
That apart, the monitor is very well made. Even though the large amount of plastic in it makes it look cheap. From a design perspective, the Neo G8 appeals to gamers in particular. The back of the monitor is shiny white, while the edges are matt black. In terms of curvature, the 1000R is quite intense and might not suit everyone.
As with the Odyssey monitors, on the Neo G8 the highlight is usually the infinity core lighting on the back, which gives the monitor an extra futuristic touch.
Ergonomically speaking, there's nothing bad to say about this monitor. You can turn and swivel it and alter the height. Meanwhile, the stand features an elastic clip to guide cables and there's an aperture at the ports. But I do have one criticism. The power supply is external, which doesn't bother me personally.
I operate the monitor using a D-pad in the middle, underneath the screen. The keys feel squishy, and I have to press them so hard that the monitor always ends up shaking. But it'd still jiggle about anyway.
The on-screen display is clearly laid out and leaves nothing to be desired. But the gamer sci-fi look seems a bit outdated to me. This is something Samsung could perhaps think about overhauling.
Performance in games
The colours on the Neo G8 look crisp and rich in games – whether you're in HDR or SDR. As for the best feature about image quality on the Neo G8, it has to be the contrast ratio. Thanks to the mini LED local dimming feature with 1196 zones, blacks look like true black and still seem black when next to bright sections of the image.
You can choose from different local dimming levels: «auto», «high» and «low». But when it's set to «high», lots of fine details can get lost in the black if a dimming zone doesn't go on. That's called Black Crush. On «low», this doesn't happen as often, but it also means there isn't as much distinction between bright and black areas.
Thanks to the large number of dimming zones, blooming isn't an issue. This happens when light from the backlight shines onto surrounding zones. You can only detect slight blooming on subtitles or if you're not sitting directly in front of the monitor. The former doesn't interfere with watching and the latter is a given with a curved monitor.
This segues well into the angle of view. Even if you just look at the screen from a slight angle, the image appears washed out. The angles of view are only stable when I sit in the middle of the screen. But that's the case with all curved monitors I've tested.
The Neo G8 boasts the variable refresh rate technology (VRR) AMD FreeSync Premium Pro. According to my tests, the monitor is also compatible with G-Sync, even though that's not specifically listed. But G-Sync only works via DisplayPort. Screen tearing therefore isn't an issue – which is, as the name suggests, when an image looks like it's been torn. However, when there's a significant drop in the refresh rate, that manifests itself in flickering.
At 2160p resolution, this monitor supports up to a 240 Hertz refresh rate. Some users report seeing scan lines, which are visible pixel lines when the monitor runs at 240 Hertz. That's not something I detected in my tests.
If you don't turn on VRR, you can get inverse ghosting. That's when it looks like there are white lights behind moving objects. I can reduce this by adjusting the overdrive settings to standard. It's the faster settings that lead to inverse ghosting.
Measured image quality
Using the i1Display Pro Plus, I measure how evenly the panel lights in SDR. The device gives me the following values:
With an average of 402 nits, the display is 52 nits lighter than Samsung. Illumination should be more uniform. The difference is no more than 42 nits or about 10%. With the naked eye, I can only see this difference on a white background when I'm looking closely.
Bright illumination means the monitor is also suitable for gaming and working in well-lit rooms, such as my home office space under the loft window. A special coating reduces reflections, which lets me work undisturbed on sunny days or butcher opponents no matter what the weather.
I can't measure the 1000 nits required for an HDR10+ label using the materials I have because I can only reach this for a fraction of a second. In normal use, I get the following values with HDR:
The difference in HDR is no more than 31 nits or about 10%, making it similar to SDR.
I also measured the display's colour space coverage in SDR. Coverage is very good for a gaming monitor:
sRGB: 99.8%
Adobe RGB: 83.2%
DCI P3: 90%
sRGB is represented accurately. However, coverage of the Adobe RGB colour space is insufficient for anyone who works with it, for instance, graphic designers preparing material for printing. At 90%, the DCI-P3 coverage that's important for digital film production is good. However, I don't get the 95% that Samsung promises when I carry out my own measurements.
In HDR, the values aren't quite as good as in SDR, but for a gaming monitor, they're not to be sneezed at:
sRGB: 99.2%
Adobe RGB: 79.3
DCI P3: 86.5%
Verdict: for the price tag, it doesn't meet my expectations
The Samsung Neo G8 is actually a very good gaming monitor. Thanks to the 240 Hertz refresh rate at a resolution of 2160p, it's well equipped for the future. Apart from the Black Crush issue, which swallows details in dark areas, the image quality is very good. With regard to quality finishing, the wobbly stand is a no-go for me.
If it weren't for this criticism, the Neo G8 would be the perfect monitor for me. However, given the hefty price tag, these issues are just too much to swallow. A monitor that comes in at about 1,400 francs (1,500 euro) shouldn't have faults like this. That being said, if these points don't bother you and if you're prepared to dig that deep in your pocket for a monitor, I can recommend the Neo G8.
---



From big data to big brother, Cyborgs to Sci-Fi. All aspects of technology and society fascinate me.
---
---
---
These articles might also interest you
Skeleton Loader

Skeleton Loader

Skeleton Loader

Skeleton Loader

Skeleton Loader

Skeleton Loader