Razer Iskur: testing the ergonomic gaming chair featuring full lumbar support
Seems this week's chair has a beer belly. I'm kidding, of course. It's actually lumbar support for your lower back. But aside from this novelty, Razer's Iskur is a gaming chair like almost any other – albeit a particularly well-made one.
If you're looking to lay down in your gaming chair, I'm afraid the Razer Iskur will disappoint. Its backrest can only be angled up to 139 degrees. In return, the chair offers freely adjustable lumbar support, standing by my wife during her occasional evening gaming sessions and helping me while I worked for the past four weeks. Lordosis is the natural forward curvature of the spine. Too much of it will result in a bad back.
The specs:
Max. Load capacity: 136 kg
Upholstering: imitation leather
Other materials: high density moulded foam, metal, plywood and plastic
Dimensions (length, width, height, weight): 66.5 × 74.5 × 137 cm, 30.3 kg
Seat (width, depth): 39 × 45 cm
Backrest (width, height): 53 × 86 cm
Maximum backrest angle: 139°
Tilt function: stepless, can be secured
Minimal height: 44.5 cm
Maximal height: 54.5 cm
Armrest size: 27 × 10.5 cm
Armrest adjustability: 4D
Pillows available: neck
Special features: infinitely adjustable and fully moulded lumbar support
The manufacturer recommends this chair to anyone between 170 and 190 cm in height. At this point I do have to mention: I'd say it's closer to 150 and 180 cm. Why? My wife snatched the chair away from me before I could test it. At 152 cm in height, she seems to be quite happy given her small frame. I'm 181 cm tall and fit just fine. What's more: due to its rather narrow seat at just 39 cm, slim users should feel particularly accommodated.
Razer also offers the following XL model for taller and/or heavier users, but it won't be discussed in this review:
Assembly and material check
A huge A0-size instruction manual will assist you during assembly. I've never seen anything like it. I only messed up once during construction: I forgot to lead the cable for the lumbar support out the back when screwing on the seat rest. Apart from that, the whole process is easy as pie. After about 15 minutes, the chair is all ready in front of me.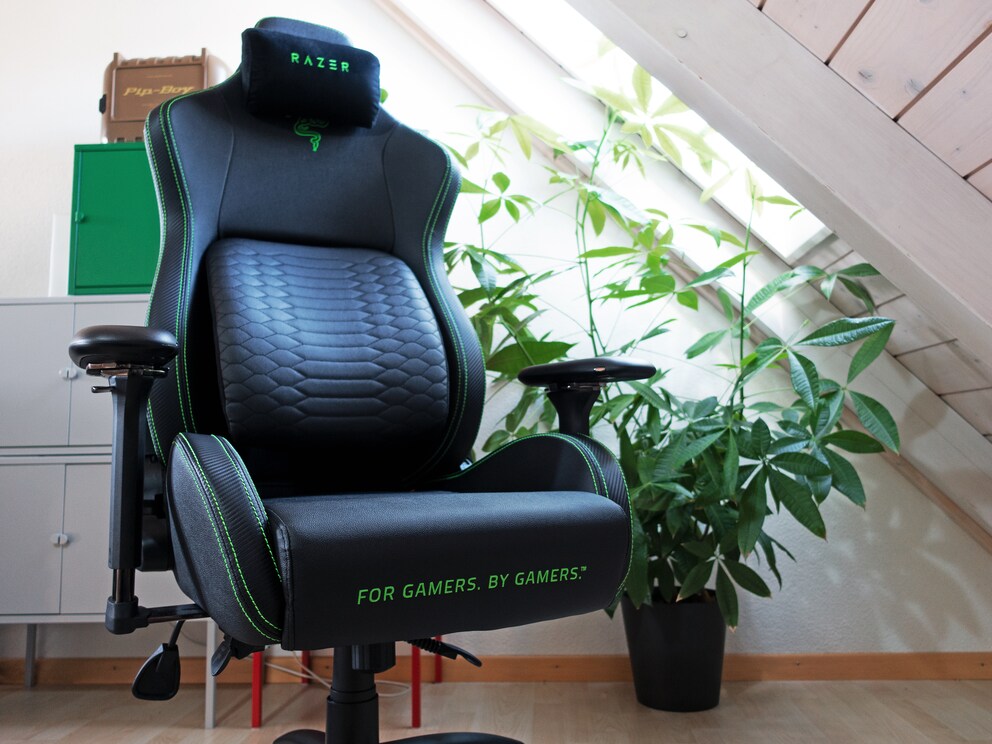 I like the black faux leather and green stitching right off the bat. It looks impeccably finished. It almost reminds me of a nobelchairs Hero. It's somehow closer to real leather than, say, chairs from Corsair or DXRacer.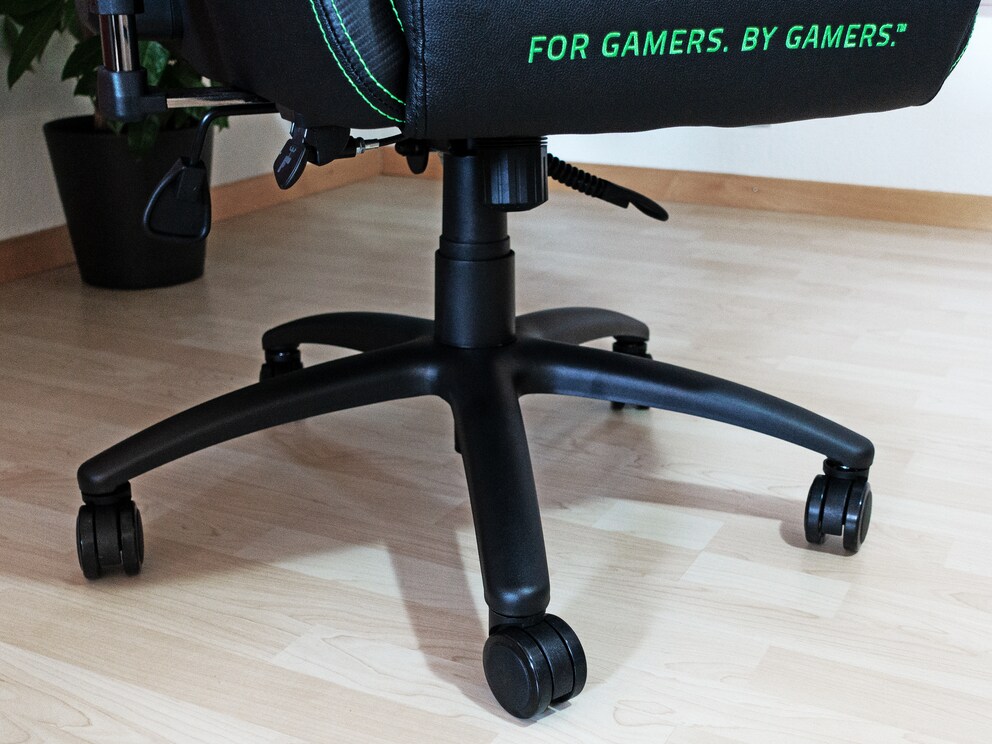 The classic office chair wheels do prevent you from racing with the Iskur. On the other hand, you won't roll away at the slightest movement, as can be the case with chairs that use skate wheels. In any case, it has enough grip, even on slippery floors. The base is made of metal, which should help with longevity.
As with all gaming chairs, the controls and armrests are made of plastic. The backrest surface is pleasantly rubberised. Its backrests can be adjusted in four directions – up/down, left/right, forward/back or swivel.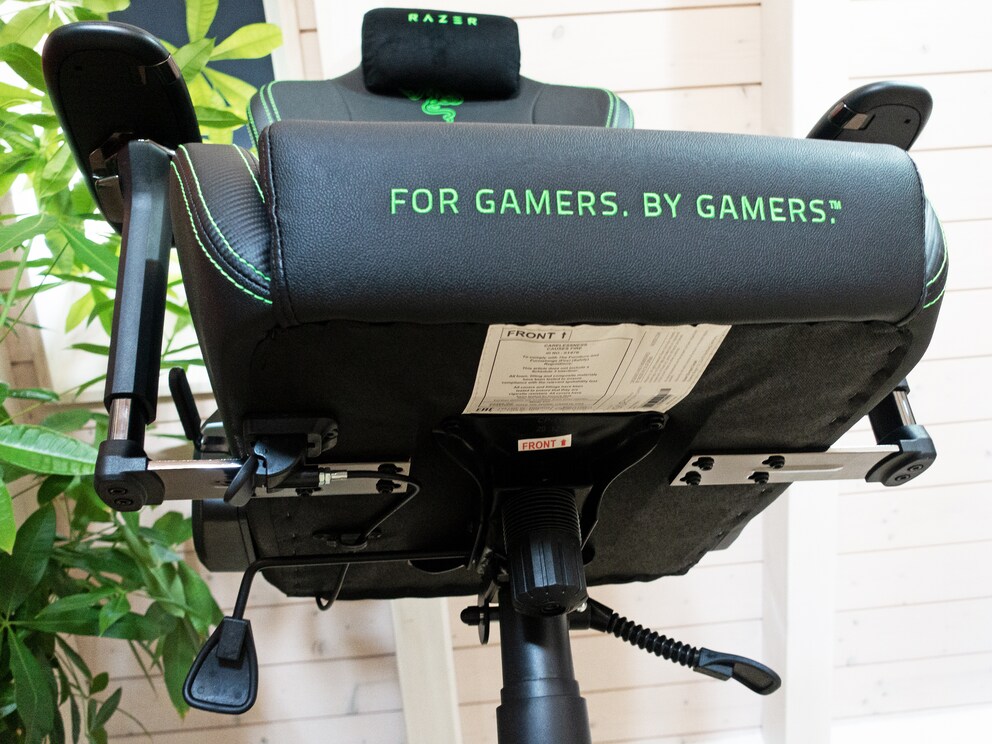 Aside from the lumbar support lever, the same controls are installed as in every gaming chair. Under the chair, the rocking intensity can be adjusted on a rotary knob. The lock for this is located on the left side of the chair. On the right, I can change the seat height and the angle of the backrest. As well as how far the lumbar support is extended. However, this lever is somewhat awkward to reach, as it's located directly in front of the armrest.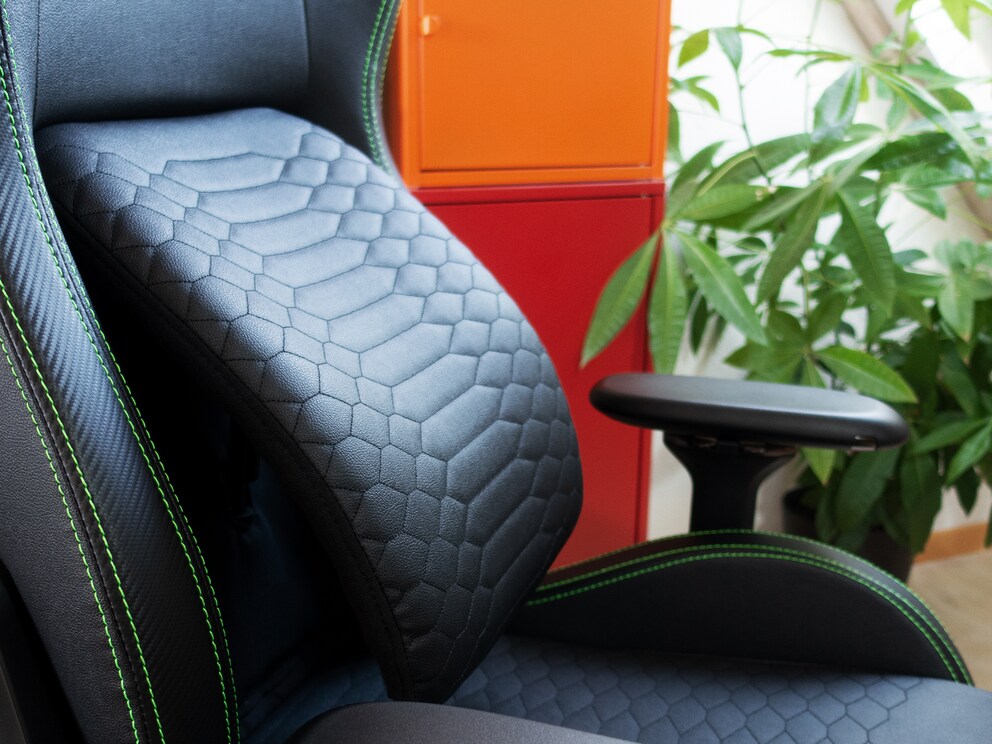 In addition, the lever only works with some force when first operated. However, this does settle down after a few uses. In return, the actual utility works flawlessly from the start. Like a beer belly, the support extends outwards up to 15 cm from the chair. To retract, simply push against it forcefully with your back while pulling the lever. The support is sturdy and robust.
If you're tall enough, you'll have a Razer pillow supporting your neck in addition to the beer belly behind you.
Four weeks of use: the perks in having a beer belly
I always get a second opinion from my wife when trying out gaming chairs. Most of the time, she gives it a short try before immediately switching back to her usual noblechair with a fat cushion at the back. Being only 152 cm, it's quite a necessary addition. However, the Razer Iskur works perfectly even without one. I'd guess she extends the lumbar support by about two thirds. I've lost my chair for the time being – at least in the evening.
In order to still enjoy my beer belly, I henceforth used the gaming chair during the day while working. I only extended the lumbar support by about one centimetre. Perfect for my back. It's really neat, neither too hard nor soft, and adapting somewhat to the shape of my lower back when I lean on it. My back and behind both benefit from the chair's hardness as well.
Now I understand my wife's on about. The chair isn't too big for her, nor too small for me. If you're taller than 181 cm or shorter than 152 cm, the lumbar support won't work for you and your feet may not reach the floor. Naturally, your body shape also plays a role – as a reminder; this chair works best if you're skinny.
Here's what I liked after four weeks of testing: when using the chair, I'm in the zone. Once I'm deeply immersed, my whole back is in a healthy, upright position. The lumbar support really helps with that. When not working at home, my office desk is kitted out with a Giroflex chair, a top-notch model offering similarly great support. Given this, I'm not surprised. However, I would like to have one of these for my home office. Still, a large cushion will also do the job on other gaming chairs in this regard, even if not at exactly the same standard.
My verdict: once you have lumbar support, you can never let it go
Razer's Iskur offers my wife and me plenty of lumbar and general back support. There's no aches or pain, even after hours of work and gaming sessions. Wonderful. I like chairs that not only look cool, but are also comfortable.
Assembly is simple, provided that the lumbar support cable is routed correctly. At first, its leaver is a bit stiff, but that's taken care of soon. The only thing I don't like about this beer belly racing chair is that it can't be used for the occasional nap. With its maximum tilt angle of 139 degrees, I wouldn't recommend it. If you can't go without it, you should get a Corsair chair. Those can usually be adjusted horizontally, up to 180 degrees.
But if you like the Razer Iskur and its lumbar support, and you're sure you wouldn't rather have a chair from Giroflex (yes, I love Giroflex), I can recommend it. My wife does too.
---

I find my muse in everything. When I don't, I draw inspiration from daydreaming. After all, if you dream, you don't sleep through life.
---
---
---
---