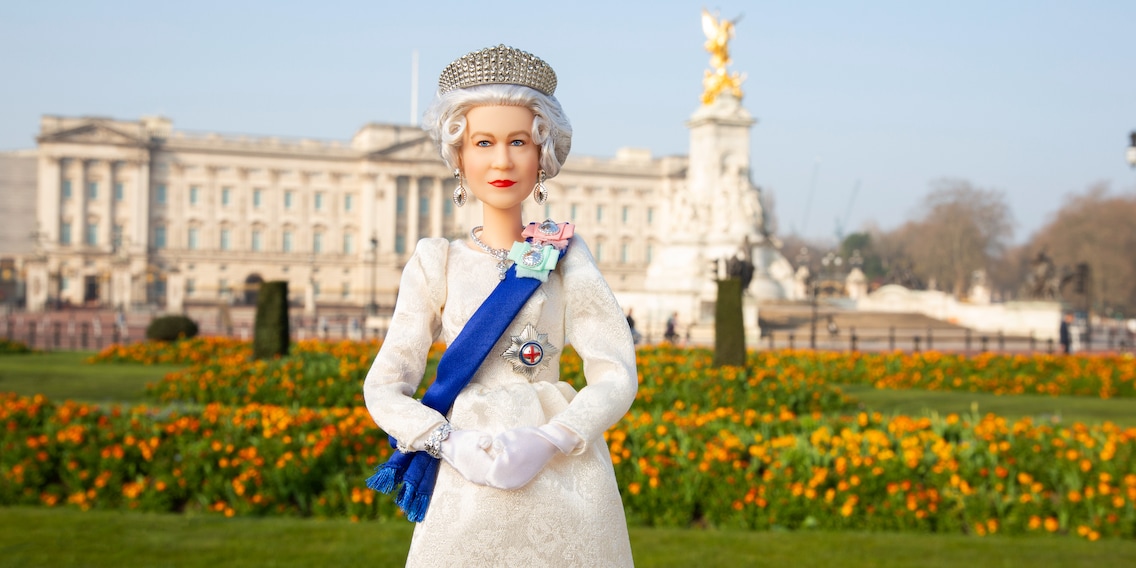 This article was translated automatically.
Queen Elizabeth II now has her own Barbie
To mark the 70th anniversary of the British monarch's throne, toy manufacturer Mattel has released a Queen Barbie. Royal fans had to hurry: After a few hours, the doll was sold out.
Just in time for Queen Elizabeth II's 96th birthday on April 21, she has come onto the market: the limited edition Queen Barbie. However, it is not a birthday present - the occasion is the Queen's anniversary on the throne, as the toy manufacturer Mattel writes in a press release. Elizabeth II has been on the British throne for 70 years. The miniature edition of the Queen celebrates the historic platinum jubilee of Her Majesty, it says.
Royal fans have also been celebrating: a few hours after the announcement, Mattel announced in its online store that the Barbie was already sold out.
Queen wears tiara on wedding day
The mini queen wears a floor-length ivory robe, a royal blue sash and a sparkling crown. The tiara is based on Queen Mary's fringe tiara that Queen Elizabeth wore on her wedding day. The medals on the sash are inspired by family medals: The Queen got the pink ribbon from her father George VI, and the light blue one from her grandfather George V. The silver brooch attached at waist level represents the Garter Star Brooch - the badge of the highest order of knighthood in the United Kingdom. According to British newspaper Dailymail, a portrait of the Queen created to mark the 60th anniversary of her service in 2012 was the basis for the Barbie.
Red carpet rolled out
Even the packaging comes across as regal: the box consists of an ornate and die-cut 3D border that frames the doll. Behind the Barbie, a red carpet leads to the monarch's throne. The box is inspired by Buckingham Palace, the manufacturer informs.
The doll is part of the Barbie Tribute series, introduced last year to honor visionary women. Already released is an imitation of actress Lucille Ball. The dolls are each available in limited editions and are not exactly cheap: in Mattel's online store, the Queen Barbie costs $75, or about 71 francs. Three pieces were allowed to be ordered per person, how many in total were for sale is not known.
Anyone who still wants a mini queen now is already too late anyway. Soon, however, some collector's items are likely to reappear on the net - probably at a much prouder price.
Here you can find royal alternatives for a smaller wallet:
---
Mom of Anna and Elsa, aperitif expert, group fitness fanatic, aspiring dancer and gossip lover. Often a multitasker and a person who wants it all, sometimes a chocolate chef and queen of the couch.
---
---
These articles might also interest you
Skeleton Loader

Skeleton Loader

Skeleton Loader

Skeleton Loader

Skeleton Loader

Skeleton Loader