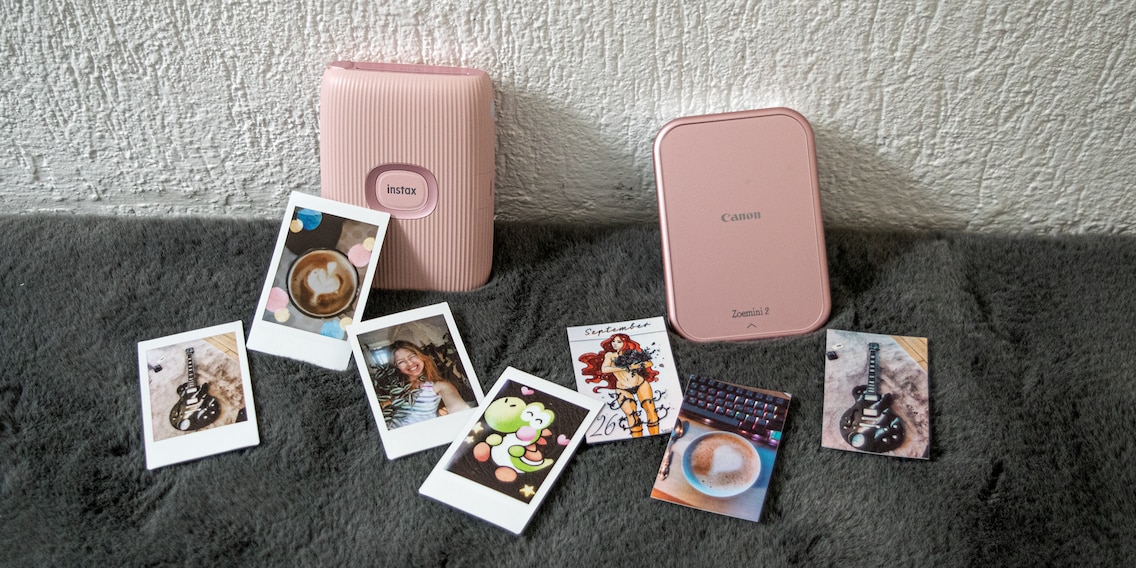 Portable printers – because photos you snap on your phone deserve a moment in the spotlight

The Zoemini 2 is Canon's new portable printer for your phone snapshots. As an alternative, there's also the Fujifilm Instax Mini Link 2 that'll deliver quick prints. Both have their particularities.
With so many photos on my phone, the best ones quickly end up lost in the crowd. Portable printers like the ones Canon and Fujifilm make would allow me to create a picture gallery for my living room. But are the results indeed a sight to see?
There are quite a few portable printers out there that allow you to get the photos from your smartphone onto paper. What I want to know is if the printers are also convenient and offer good quality. So, I pitted two portable, inkless printers against each other: the Fujifilm Instax Mini Link 2 and the Canon Zoemini 2.
The Canon Zoemini 2
This little printer is available in white, blue or pink. It includes a small 10-pack of photo paper and a USB-C charging cable.
Facts and figures
The Zoemini 2 measures 120 × 84 × 21.5 millimetres and weighs just under 180 grammes. It fits nicely in my rather small hand. The device can print 5 × 7.6 centimetre photos. The photo paper has a sticky back, so it doubles as a sticker. There's also round paper available. Charging the printer takes about an hour.
The Zoemini can print a photo in under a minute, ideally images between 300 and 500 dpi. To print pictures, you'll need the freely available Canon Mini Print app and at least iOS 12.0 or Android 6.0.
The colour is in the paper
What's handy about the printer is that it doesn't require ink. The underlying technology is called ZINK. Since the colour pigments are already in the paper, no ink is needed. The colours are revealed through heat impulses.
ZINK paper is quite cheap; one photo will cost you 57 rappen or 70 euro cents.
Thanks to the adhesive back, you can use the photo as a sticker. The colours on the printout aren't as bright, are a bit cooler and have less contrast than the original. But it's a nice result otherwise.
Playing around in the app
The app offers you options besides printing. For example, you can edit the photo – you can adjust brightness, contrast and choose from a handful of filters.
There are also stickers from numerous categories that you can place on your photo. If you rely on a handwritten agenda, a (so-called bullet journal), the monthly calendars may come in handy, for instance. You also have the option to use your finger to doodle on your photo before printing. Mind you, I couldn't get a decent result. In addition, you can create collages and photo spreads. Just keep in mind that the small format means the collection of photos comes out tiny.
You can also use the printer to edit and print premade labels – practical for quickly labelling homemade jams. The round stickers Canon sells are also suitable for this.
All the options you have in addition to simply printing photos are fun to try out, though not all of them are actually useful due to the small size.
The Fujifilm Instax Mini Link 2
This Fujifilm printer prints photos in the format known from its instant cameras. That is, with the typical white Polaroid border that makes for a certain retro flair.
Facts and figures
The Instax Mini Link 2 measures 92 × 125 × 36.4 millimetres and weighs 210 grammes. Printing takes about one minute plus a development time of about 90 seconds. The result is a 6 × 4.5 centimetre photo. With the border, the printout measures 8.5 × 5.4 centimetres – the size of a credit card. For a good printout, the Instax requires a resolution of 300 dpi. Anything below that, and the image becomes blurry. Charging the battery takes about two to three hours with the included micro-USB cable (yes, you read that right), and it lasts twice as long as the Zoemini's.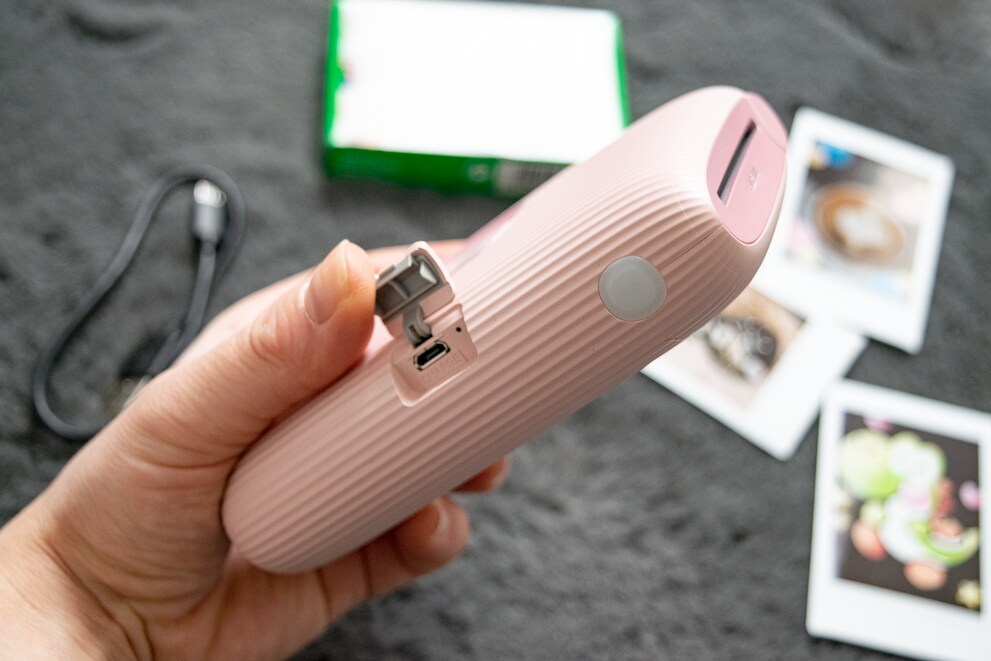 Printing technology
Fujifilm's printer works without printer cartridges and relies on the same technology as its instant cameras. That is, chemicals are embedded under the white border of the photo paper. After the image comes out of the printer, it begins to develop. If you have a Fujifilm X-S10 camera, you can connect the printer directly to it.
Oh, and contrary to popular belief, the printout doesn't have to be shaken around or tucked under your arm to develop. At temperatures between 4 and 40 degrees Celsius, you just have to wait 90 seconds and the image will appear. A first print shows me photos turn out relatively bright. I'm not a huge fan, so I change the brightness and contrast in the editing options. The retro look remains, but the colours come out better.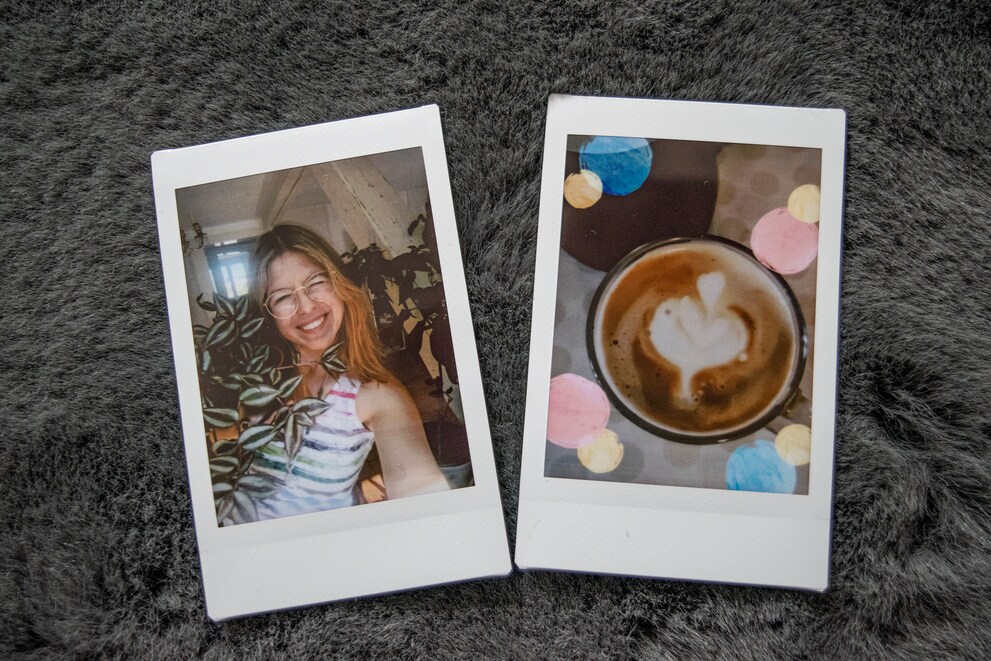 Instax photos are sensitive to direct sunlight and fade over time. However, for a longer shelf life, you should let the images dry completely for a few months before storing them in a box someplace cool. Given the paper is relatively delicate, it's quite expensive: one photo will cost you a little over a franc or euro.
Instax app with Fun Mode
The Instax Mini Link App quickly connects to your smartphone via Bluetooth and offers a fair few options. There are four filter modes, you can rotate the image and add stickers.
Additionally, the app has a Fun Mode. In said mode, you can add frames and stickers to your photos and create collages. You can actually create custom stickers in the app, but it's a bit tedious because the app only extracts the contours of the motifs. On the other hand, it works well for text.
The match test is also a hoot; it tells you how well you and your friends or partner match based on a photo and additional quiz. It's such a throwback to primary school, when we'd calculate how good a match people are based on their names (link in German).
Last but not least, you can draw bright, glittery lines on your pictures. You can either doodle them directly onto the selected photo using your finger or turn on the printer's motion sensor and draw by moving the printer through the air.
Fun Mode offers goofy gimmicks, but not more. Either way, the printer certainly allows you to capture your most beautiful memories in physical form, with or without colourful stickers and filters.
Verdict: Canon is practical, Fujifilm has a retro flair
Both printers easily fit into your bag, load quickly, and don't require cumbersome ink cartridges. Given smartphones produce such good photos, print quality could be improved on both models.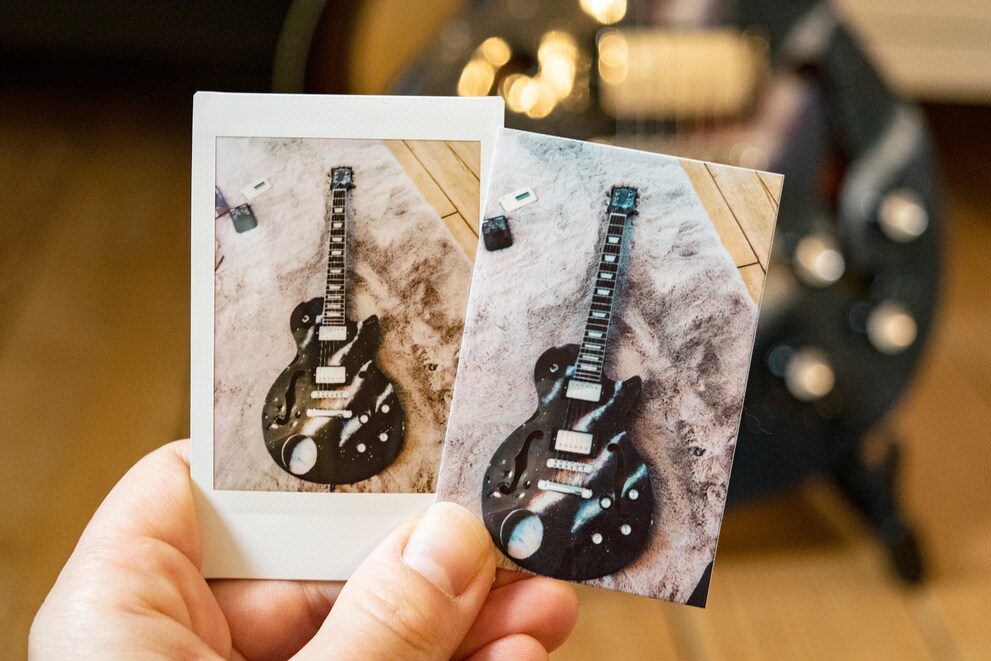 At around 120 Swiss francs or euros, the printers also cost about the same. The price difference kicks in when you take into account the photo paper: at just under one franc or euro, an Instax instant photo costs almost double the 57 rappen or 65 euro cents for a Canon photo.
If you're a fan of the retro look and love playing with little gimmicks to enhance your photos, I recommend the Instax Mini Link, though, you may want to think twice about each photo you print due to the price. In any case, it offers decent results if you tone down the brightness.
Then there's the Canon, which also offers a few gimmicks and image editing options in its app. If you're hoping to stick a few memories directly into an album or even create labels of good quality and at a good price, the Canon Zoemini 2 is a great product.
Header image: Michelle Brändle
---



In my world, Super Mario chases Stormtroopers with a unicorn and Harley Quinn mixes cocktails for Eddie and Peter at the beach bar. Wherever I can live out my creativity, my fingers tingle. Or maybe it's because nothing flows through my veins but chocolate, glitter and coffee. 
---
---
---
---
These articles might also interest you