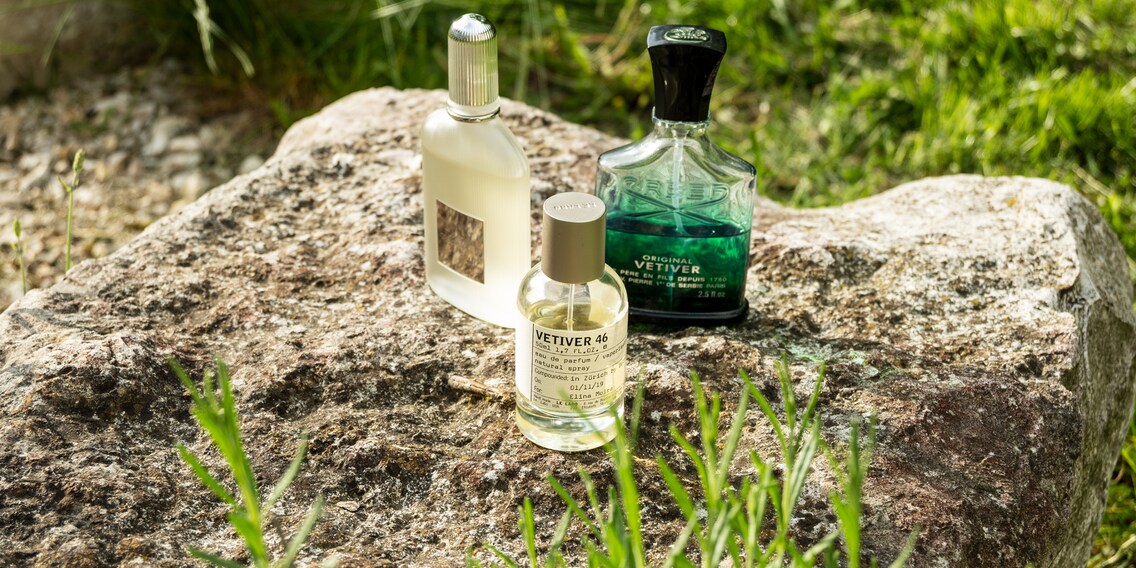 Patrick's Perfumes: Veti what? Veti who? Vetiver – or the men's fragrance that smells like Mother Earth

Perfume is a work of art, perfumers are artists and I'm a collector of their creations. Today, we're taking a closer look at Vetiver. Tom Ford, Creed and Le Labo interpret this classic men's fragrance in their very own way.
Vetiver (Vetiveria zizanioides) is a tropical sweet grass that's characterised by its tall growth above ground and by an extremely dense and deep root network that can reach up to three metres into the ground. The essential vetiver oil is extracted from these roots.
Vetiver: a masculine fragrance that smells like Mother Earth
Vetiver originates from tropical Asia, where it's found in many countries such as Bhutan, India, Sri Lanka, Indonesia, Philippines, Reunion, Haiti and Japan. It's also native to parts of West Africa and South America.
In the fragrance pyramid, vetiver oil belongs to the base notes, as it stays on the skin for a very long time. It's also a fixative, which means that it binds other, volatile substances, resulting in these evaporating more slowly. Despite being a base note, you can often smell vetiver early in perfumes in the top note.
It has an intense, long-lasting woody-balsamic scent with strong earthy, rooty and smoky notes. However, vetiver can be interpreted in very different ways, as these three examples show.
Grey Vetiver by Tom Ford
Grey Vetiver by Tom Ford is the versatile one. Spring, summer, autumn or winter, this fragrance is always fitting. At work or at home; during the day or in the evening. With this masculine eau de parfum, which is now also available as a perfume (higher concentration of fragrance), you're on the safe side of the vetiver universe. Notes of grapefruit and nutmeg give Grey Vetiver a spicy freshness. As I said, this fragrance can be worn anytime, but I think it works best in spring weather.
Original Vetiver by Creed
Original Vetiver reinterprets woody into fruity scent. In my opinion, this fragrance comes into its own best in warm to hot temperatures. Bergamot, orange and tangerine are just as prominent as ginger. What about vetiver? It plays second fiddle in this classic unisex fragrance if you ask my nose.
Vetiver 46 by Le Labo
Last but not least, here's probably the most challenging fragrance. Although – or maybe because – the whole world wears Santal 33, I find the other fragrances by Le Labo more interesting.
Vetiver 46 is one of them. This fragrance has dominant earthy-smoky notes, which, among other things, comes from the olibanum notes – also known as incense. It's a seductive perfume that reveals all its charm in the cool and cold months or on a warm summer evening.
My name is Patrick. Patrick Bardelli. Not Süskind, the author of the book Perfume. Nevertheless, I'm also a great lover of perfumes and I regularly write about good and bad fragrances. Want to enjoy my literary odour? Follow my author profile. Or let's say: follow your nose. And what's important: these are exclusively my subjective impressions.
Header image: Patrick Bardelli
---



From radio journalist to product tester and storyteller. From jogger to gravel bike novice and fitness enthusiast with barbells and dumbbells. I'm excited to see where the journey will take me next.
---
---