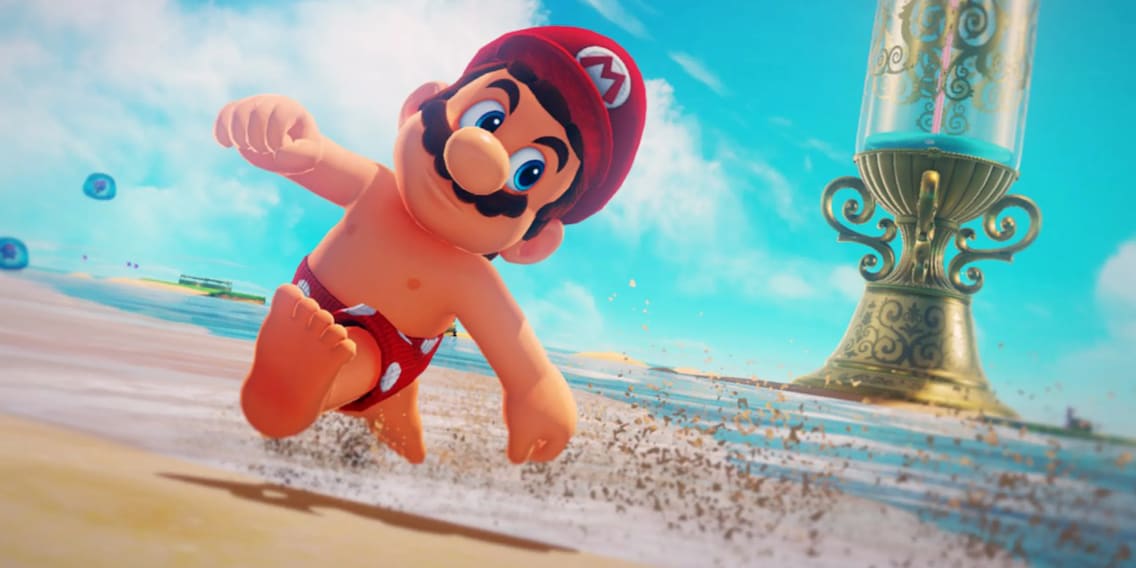 My ten favourite Mario games
I've got Mario fever. The Super Mario Bros. movie has rekindled my passion for the portly plumber. Time to dig through my games library and choose my ten favourite trips through the Mario universe.
The Super Mario Bros. Film is sensational. For Mario fans, it's a dream come true. You can read our review right here. After 92 minutes of Mario action on the big screen, I feel like replaying a lot of the games.
So I did. I played through my Mario collection and chose my top 10. I didn't only consider games with Mario in the title. Games with characters from the Mario universe also count to me. Games that aren't classic jump 'n' runs also make the list.
Let's-a-go!
10. Mario & Luigi: Superstar Saga
In Mario & Luigi: Superstar Saga, the Mario brothers unite their powers to battle evil wizards from Beanbean Kingdom. They stole Princess Peach's voice! Outrageous.
The game isn't a jump 'n' run, but a real role-playing game. You'll explore beautiful, colourful levels from a bird's-eye view. Each character has their own abilities, which they can use to solve puzzles. As befits a Mario RPG, the game contains a good dose of humour and self-mockery.
Battles combine classic Mario gameplay with a turn-based combat system. Using perfect timing, you can up your damage or dodge enemy attacks by jumping. A lot of fun, even for RPG newbies.
I still remember playing the game in the back seat of the car on long trips until I got nauseous. Worth it. To me, it's still one of the best RPGs and Mario games ever.
Mario & Luigi: Superstar Saga was released for the Gameboy Advance in 2003. After four more games in the series, studio Alphadream filed for bankruptcy in 2019. It's unclear whether the series will continue.
You can play the game on your Nintendo Switch. You'll need a Nintendo Switch Online subscription and the Expansion Pack (available directly in the Nintendo eShop).
9. Luigi's Mansion 2
I never played the first Luigi's Mansion on the Gamecube. Scandalous, I know. Accordingly, I was indifferent to Luigi's Mansion 2 on Nintendo 3DS. Out of boredom, I still gave it a chance. And lucky I did, the horror-lite experience is one of the best games on the 3D handheld.
You take on the role of scaredy-cat Luigi. It's his job to suck up all sorts of nasty ghosts in abandoned mansions using his modified vacuum cleaner and solve ingenious puzzles. The game is bursting with clever ideas. Every now and then I pause the game and think about how awesome this or that feature is.
Luigi's Mansion 2 – also known as Luigi's Mansion: Dark Moon – was released for the Nintendo 3DS in 2013. Nintendo has since bought developer Next Level Games. With Luigi's Mansion 3, the studio has since released a sequel for the Nintendo Switch.
8. Wario Ware, Inc.
The concept of Wario Ware, Inc. is simple. You play as Wario and his friends, exploring various microgames and trying to survive as long as possible. Each microgame lasts only a few seconds, then the next one already comes barrelling towards you. Over time, the games become faster and more hectic. All microgames are controlled exclusively with the directional pad and the A button. Which doesn't make things any easier.
One moment you're peeling a banana. Then you help a lady pull her bogie back up her nose. And suddenly you're stomping out goombas as Mario. Some of the humour is so absurd that I can't concentrate on the games through my fits of laughter.
I don't even want to know how many hours I invested in the game. Wario Ware, Inc. has sweetened many a car ride for me and left a lasting impression on my sense of humour.
Wario Ware, Inc was released for the Gameboy Advance in 2003. You can play the game with a Nintendo Switch Online subscription (plus the Expansion Pack). There are now nine games in the series – including a spin-off for the Nintendo Switch:
7. Donkey Kong: Jungle Beat
As a teenager, I used to drum on my bongos until my hands were numb. And no, that's not a euphemism. I'm referring to the DK bongos that Nintendo released for the rhythm game Donkey Konga.
You connect the small plastic instrument to your Gamecube via cable. The drum faces are divided into two halves – so there's a total of four "buttons" for you to bang on. In addition, the bongo controller has a built-in microphone and detects clapping sounds.
However, I was much more interested in Donkey Kong: Jungle Beat than the music game Donkey Konga. That game is a true 2D jump 'n' run, controlled entirely with the DK bongos. Sounds strange, but it works. By hitting the bongos, you make your monkey run and jump. When you clap, Donkey Kong lets loose a shock wave.
Across excellently designed levels, Donkey Kong's moves can be chained into crazy combos. The greater the combo, the more health your gorilla gets. You'll quickly fall into an addictive gameplay loop, motivating you to get better and better. The whole thing is rounded off by – for Nintendo standards – brutal boss fights. With so much drumming, you'll quickly work up a sweat.
Donkey Kong: Jungle Beat was released in 2005 for the Gamecube. It was the first game developed by studio Nintendo EAD Tokyo. They would go on to make both Super Mario Galaxy games, among others, which adopted and perfected many gameplay elements from Donkey Kong: Jungle Beat.
6. Super Mario 64
Super Mario 64 revolutionised the video game landscape and made 3D gaming respectable. Despite its age, it still plays excellently.
The game will always have a special place in my gamer's heart, even though I never had a Nintendo 64. I was on Team PlayStation in the nineties. But at my daycare, I had access to Nintendo's 64-bit console. I spent whole afternoons there playing the game. At home, I was sad that my PlayStation didn't have such a kick-ass 3D game to show off. It's why I switched to Nintendo for the next console generation with the Gamecube.
Super Mario 64 was released in 1997 for the Nintendo 64. You can play the game with a Nintendo Switch Online subscription (plus the Expansion Pack). It's also included in Super Mario 3D Allstars:
5. Mario Kart 8 Deluxe
I love Mario Kart 64. It left me with so many fond memories. Still, I have to admit one thing. Objectively speaking, Mario Kart 8 Deluxe is the best Mario Kart ever. No other game in the series offers as many tracks, characters and wacky ideas, such as antigravity fields.
With its new track pass, new, well, tracks will be released gradually, nearly doubling their number. In total, Mario Kart 8 Deluxe has 96 (!) tracks. Okay, most of the new tracks were ported from the mobile game Mario Kart Tour. But I don't care. They're just as fun as the 48 original tracks.
Mario Kart 8 was originally released for the Wii U in 2014 – three years later, it came to the Nintendo Switch as a Deluxe version. As of today, the game has sold over 60 million copies. Making it the second most successful Nintendo game of all time. Only Wii Sports, bundled with the Wii itself, sold more with 82 million units.
4. Super Mario Odyssey
Besides The Legend of Zelda: Breath of the Wild, Super Mario Odyssey was the game that impressed me the most when the Nintendo Switch launched. I can play a real 3D Mario game on the go. No ifs, buts or coconuts. On the train. In a plane. Or in bed. Crazy!
Today, the portability of Nintendo's hybrid console has become commonplace in gaming. Nevertheless, Super Mario Odyssey still gets me hyped.
The varied and, for Mario games, unconventional levels are excellently designed. Mario can use his hat to control other characters and enemies – bringing a breath of fresh air to the Jump 'n' Run formula. And graphically, the game still looks beautiful six years later.
Super Mario Odyssey was released for the Nintendo Switch in 2017. The team behind it was also responsible for The Legend of Zelda: Breath of the Wild and Animal Crossing: New Horizons.
3. Super Mario Land 2: Six Golden Coins
Super Mario Land 2 is the game of my childhood. I still know all 32 levels inside out. The second Mario spin-off for the Gameboy catapulted me into gaming and ignited my love for the medium.
Mario's enemy and rival, Wario, makes his first appearance in this game. For that reason alone, Super Mario Land 2 belongs in the top three.
In contrast to the first Super Mario Land, part two made a huge leap forward – both graphically and in terms of gameplay. Super Mario Land 2 delivers a full-fledged Mario game on the little Gameboy.
Levels are kept compact, so you can play on the go. There's cool boss fights and exciting power ups – including one that is not found in any other Mario game. What more could you want?
Super Mario Land 2: Six Golden Coins was released for the Gameboy in 1993. You can play the game with a Nintendo Switch Online subscription.
2. Wario Land II
After Wario's appearance in Super Mario Land 2, I was intrigued by the villain. And it seems Nintendo was too, as the next game in the series was called Wario Land: Super Mario Land 3. In part three, Wario is the playable character. Our favourite plumber was bullied from his own game series by the chubby villain.
The following Wario Land II even does without Super Mario Land in the title. For me, the second chapter in Wario's adventure is one of the best Nintendo games ever.
Wario is much slower and more cumbersome than Mario. Wanna jump high? Nope. Instead, he can propel enemies backwards with a body check. Mario's rival cannot die. However, he can turn into fireballs, a zombie and springs. Using these powers, you have to solve puzzles and find secret level exits.
With its absurd enemies and unconventional humour, the game exudes a completely different atmosphere than games starring Mario. And between you and me, I think Wario is much cooler than the good plumber.
Wario Land 2 was released in 1999 for the Gameboy Color. Wario Land: Shake It was the last game in the series and released for Nintendo Wii in 2008. Wario Land II, unlike other Gameboy classics on this list, isn't included in the Nintendo Switch Online subscription.
1. Super Mario Galaxy & Super Mario Galaxy 2
For our winner, I'll cheat and place both Super Mario Galaxy and its sequel on the Mario throne. For me, both Galaxy games are a great, wonderful works of art. The sequel was originally planned as an expansion for the original game.
As the names suggest, the games are set in space. A place where gravity works differently than in normal Mario games. Just take the iconic mini-planets, which Mario can walk partially jump around. Although the whole thing looks very confusing, the controls always work great.
The two games have enough gameplay ideas in them for twenty releases. In each level you'll use Mario's abilities differently. The power-ups are awesome – you can even turn into a bee. In part two, Yoshi is also at your side. Mlem!
The colourful graphics were a dream to jaded Nintendo souls back then. Both Galaxy games are perhaps the prettiest titles ever released on the weak Wii hardware. The graphical splendour is accompanied by an epic orchestral soundtrack that still gives me goosebumps to this day.
Super Mario Galaxy was released for Wii in 2007, followed by Super Mario Galaxy 2 in 2010. You can play the first instalment in Super Mario 3D All Stars for Nintendo Switch.
---
Which games from the Mario universe end up on your top ten list?
Header image: Nintendo
---
My love of video games was unleashed at the tender age of five by the original Gameboy. Over the years, it's grown in leaps and bounds.
---
---