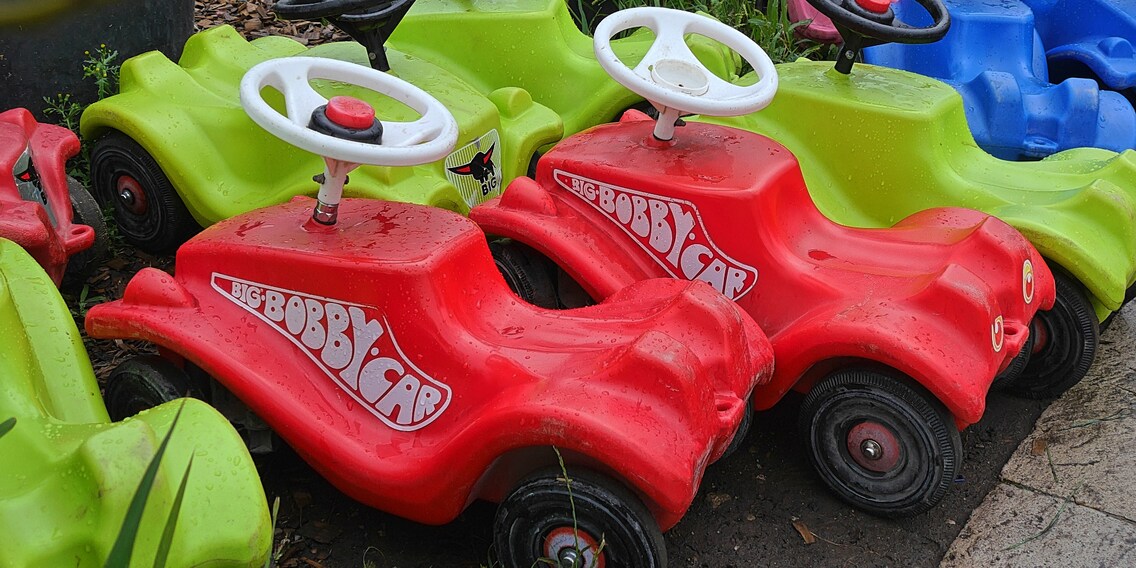 My first ride: the Bobby Car

They inspired, shaped and frustrated me – the toys of my childhood. One of them was a Bobby Car.
It's 60 centimetres long and weighs 3.6 kilogrammes. These aren't newborn measurements but those of the Bobby Car – my very first car. The red speedster shaped my childhood like hardly any other toy. I couldn't have cared less about the orthopaedically beneficial knee recess. What counted was that the car was virtually indestructible. The little red ride had to put up with many a daredevil stunt over the years.
In the neighbourhood I grew up in, there was a steep and winding road. My local route. I was familiar with every bump and manhole cover and could drive the racing line in my sleep. The only uncertainty was anticipating what would be around the bends. Pedestrians, children playing or senior citizens on their way to Migros.
There's one ride that's stayed with me to this day. A joyride turned critical. I was gliding out of a bend at top speed when a delivery van appeared in front of me. Despite both of us hitting the brakes with all our might, we crashed. It's a miracle that I didn't suffer any serious injuries apart from a few cuts and bruises.
Not only was the Bobby Car my first drive. It also featured in one of the first videos I did for Galaxus. Almost five years ago. In spring 2017.
50 years of vroom vroom
The Bobby Car has been around for 50 years. In 1972, inventor Ernst Bettag presented the polyethylene slide car just 60 kilometres away from his factory at the Nuremberg Toy Fair. Over the next few years, the red vehicle went from being an ugly duckling to the world's best-selling children's ride-on, with more than 20 million models sold.
When the inventor passed away in 2003, the Bobby Car was taken over by the «Simba Dickie Group». Over the years, the group added two more versions to the range: New Bobby Car (2006), Bobby Car Next (2017) and Bobby Car Neo (2019). Since 2020, there's also a Bobby Car video game for Playstation, Nintendo Switch and PC. However, the Bobby Car received the best acclaim from the German newspaper taz in 2012, when it was named the «most environmentally friendly car of the year.»
To this day, Bobby Cars are still manufactured in Germany. Around 1,500 units leave the production line every day. Their goal? To become the first car in the life of a child.
---



Riding my motorbike makes me feel free, fishing brings out my inner hunter, using my camera gets me creative. I make my money messing around with toys all day.
---
---
These articles might also interest you
Skeleton Loader

Skeleton Loader

Skeleton Loader

Skeleton Loader

Skeleton Loader

Skeleton Loader