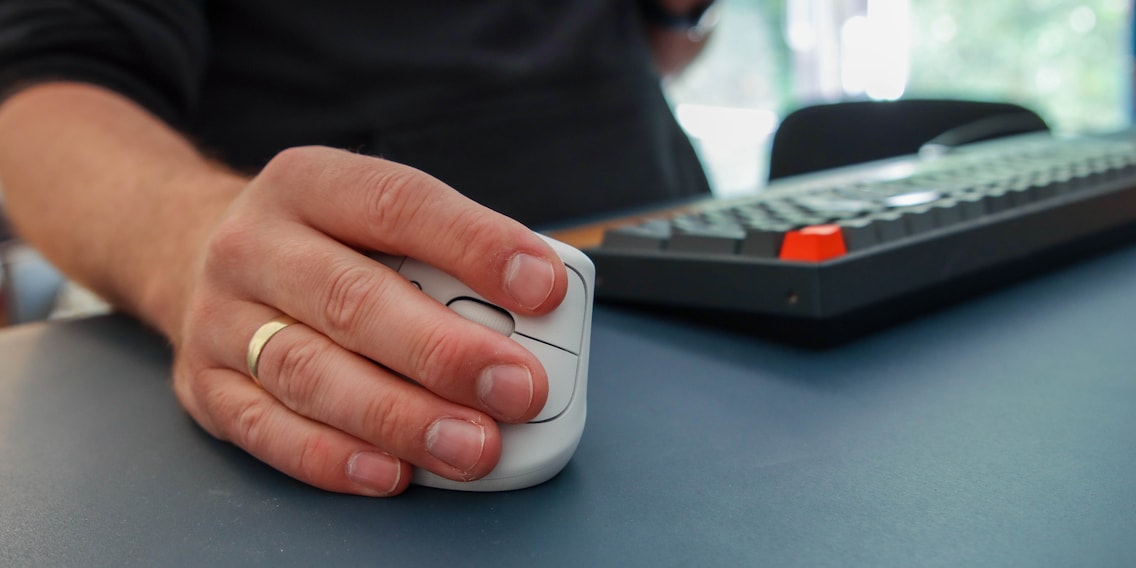 Logitech Lift review: unfortunately, it's great
Jan Johannsen
Hamburg, on 16.06.2022
Revision:
Katherine Martin
After a month using the Logitech Lift, I still think vertical mice look strange. But I don't like how conventional mice feel any more.
Up until now, I've steered clear of vertical mice. They give off the feel of pensioner paraphernalia a bit too much. When I was first given the opportunity to put the Logitech Lift through its paces, I wasn't immediately leaping at the chance. After a brief spell of thinking about it, my curiosity got the better of me, and now I'm happy I tried something new.
Quick set-up and assignable buttons
It's quick and easy to pair my computer via Bluetooth. Alternatively, you can set up a wireless connection via «Logi Bolt» and the USB adapter supplied also works. But then I can only pair the Lift with one computer, while Bluetooth lets you connect up to three devices. You can switch between them at the push of a button, which is on the bottom of the Lift. On my previous mouse, the Logitech M720, the button is on the side, which is more comfortable to use. But as yet, I've needed to use this function so rarely that lifting the thing up doesn't bother me. What's more, having the button on the bottom means you avoid accidentally pressing it.
In total, the Logitech Lift boasts seven controls: right and left mouse buttons, a clickable scroll wheel, a centre button, the Bluetooth change button on the bottom and the thumb-operated forward and back buttons. You can use the «Logitech Options» software to reassign keys.
The sensitivity of the Logitech Lift ranges from 400 to 4000 dpi and can be adjusted in hundreds of steps. In terms of power supply, the Lift relies on a replaceable AA battery, which should last up to two years.
Your arm will like it
The Logitech Lift puts my hand at a 57-degree angle. According to the manufacturer, this represents the «natural handshake position» and is designed to create less pressure on the wrist as well as a more natural position for the arm and upper body.
The first time you take hold of the Logitech Lift it feels a bit strange. But it's comfortable for my hand. I click the right and left mouse buttons without looking, and I also move the mouse wheel without thinking. It's only when I really start giving it thought that it feels strange. So, you're better just to use it without overthinking. That way it's just like any other mouse.
The click of the buttons on the Lift is very quiet, and you can barely hear the scroll wheel. In the context of my desk, that's a clear contrast to my mechanical keyboard. But for me, the feedback from the mouse is enough. I can tell when it's accepted an input.
So far, I haven't noticed any physical problems from how I held the old mouse. And yet, the Lift still feels nicer. So nice in fact that the M720 feels uncomfortable and wrong at my weekly day in the office. It takes a bit of time to get used to it again, but somehow I'm constantly thinking vertical is better. All while I have Tocotronic playing in my ears. If we're to talk about lasting positive effects, I can only rely on what experts say (site in German).
For standard Office tasks at work, a vertical mouse seems ideal to me. I don't play enough on the PC to assess how well the mouse fares when it comes to gaming.
Not 100% perfect
That being said, I miss the very fast scroll wheel on the M720. It had an idle mode, which would let me jump to the start or end of a website in a jiffy. The same can't be said of the «lying» scroll wheel on the Lift.
Over the last few weeks, I've still not been able to get my head around the height of the Logitech Lift. I'll still end up knocking it over from time to time when my right hand wants to get to the keyboard.
The Lift also seems a bit too small for my hand. I say this because Logitech explicitly advertises it as a vertical mouse for people with small and medium-sized hands. At 19 cm, my hand would just make it into the «large» section on their size chart. In other words, if I were to get a vertical mouse for good, I'd definitely try the slightly larger MX Vertical that Martin Jud reviewed almost four years ago (article in German).
Logitech hasn't forgotten left-handers
Logitech also sent me the left-handed version of the Lift to try out. As a right-handed person, I can't do much with it. Which is why I gave it to Laura Wohlers, who's part of the team in the Hamburg office responsible for expanding our range of products.
Here's the verdict from her test run. Even though, by her own admission, her right hand is «inept», she didn't warm to the left-handed mouse. But that's not got so much to do with the mouse as it does the keyboard.
«Getting used to a right-handed mouse is also a little challenge for left-handers. Especially at the beginning, as my cursor moved across the screen at a snail's pace. However, I have to say the position was pleasant for my hand and I found the transition intuitive. After a while, I managed to find my way around with the mouse, but there was still one problem. All the shortcuts that I use in everyday life – and I'm not just talking about copy-and-paste – are designed to be input with my left hand. That means switching over to a left-handed mouse requires extra custom shortcuts. Unfortunately, that isn't so easy to set up on my work PC, so the mouse isn't suitable for everyday use for me at the moment.»
Verdict: vertical mice lead an unjustly niche existence
I hardly dare admit it openly, but I actually got a taste for vertical mice. Now I'm ready to accept a mouse that looks strange when it means I get to work in this new arm position. There aren't any drawbacks when moving the cursor, and in the long run, my body is grateful for it.
The Logitech Lift is definitely a worthy candidate. The only thing is, it's a bit too small for my hand. That's why I plan to take a closer look at the MX Vertical before I splash out on a vertical mouse.
---



When I was but a young student, I'd sit in my friend's living room with all my classmates and play on his SuperNES. Since then I've had the opportunity to test out all the newest technology for you. I've done reviews at Curved, Computer Bild and Netzwelt, and have now arrived at Galaxus.de. 
---
---
These articles might also interest you
Skeleton Loader

Skeleton Loader

Skeleton Loader

Skeleton Loader

Skeleton Loader

Skeleton Loader