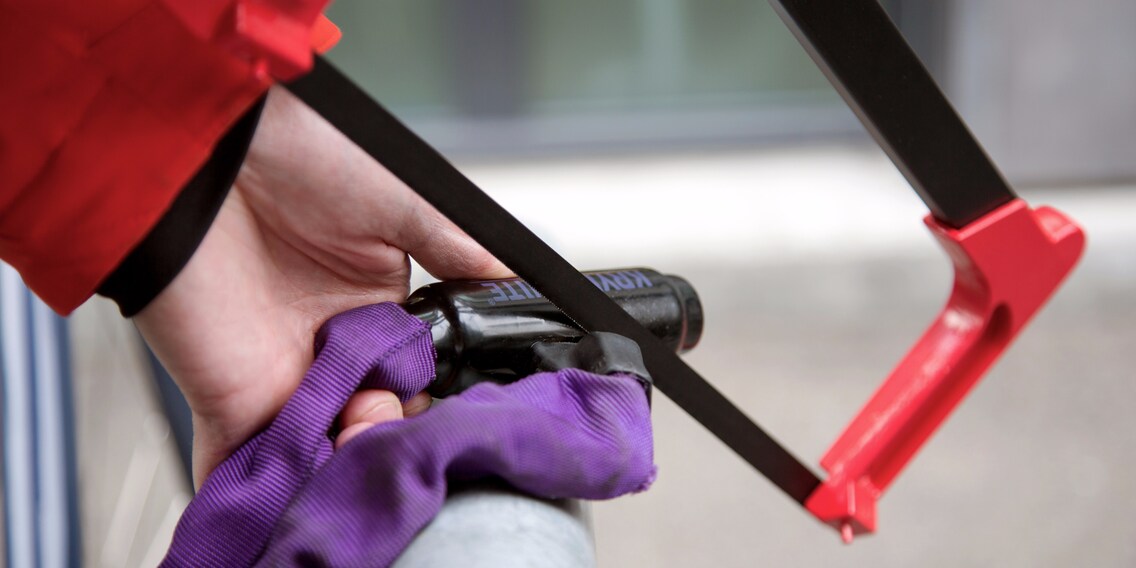 Kryptonite Keeper 785: When bicycle locks are TOO safe

Bike locks have one purpose only: To protect bikes from thieves. But what happens if it protects your bike from yourself?
Only one month after starting my new job in Zurich, my bike was stolen. And I had made sure to lock it with a massive lock. They just took it, the scoundrels! Maybe I should have chained it to a fence.
I could really do without a nicked bike a month – let alone my insurance – so I needed to toughen things up. So for my new bike I bought an even more massive lock. The Kryptonite Keeper 785. If its name is anything to go by, it's even Superman-proof. According to several ratings, it is said to be extremely theft-proof and easy to attach to things thanks to its long chain.
I should have known better
Right from the get-go, I noticed that the lock was quite difficult to open. The key has a very special shape – and might be the reason for the lock being super-safe. Anyway, I didn't give it much thought. After a few weeks, locking and unlocking the Keeper became increasingly difficult. I was careful not to be too forceful for fear of ending up with a wonky key. But then the inevitable happened – the lock refused to cooperate. I was able to turn the key about 45 degrees. That was it. WD 40 didn't help, neither did cleaning oil. All it did was make it easier to slide the key into the lock. But it did absolutely nothing in terms of unlocking it. My options had run out: The lock had to go. If I had read one of our user's comments before getting Keeper, I would have known better.

Translation: We ordered two locks. Opening and closing them proved tricky from the start and required a lot of patience to get the rotation right. Unfortunately (after a very short lifespan), we can no longer open the locks with their keys and will have to call the locksmith. I would advise against purchase.
Kryptonite is only partially aware of the problem with the Keeper 785. "We can safely say that we have not established a general problem with this lock – otherwise we would no longer sell it", says Element Sports, our Kryptonite distributor. They also added that they have dealt with the odd broken cylinder in the past but simply replaced the faulty locks in these situations.
Hacksaw vs. hardened steel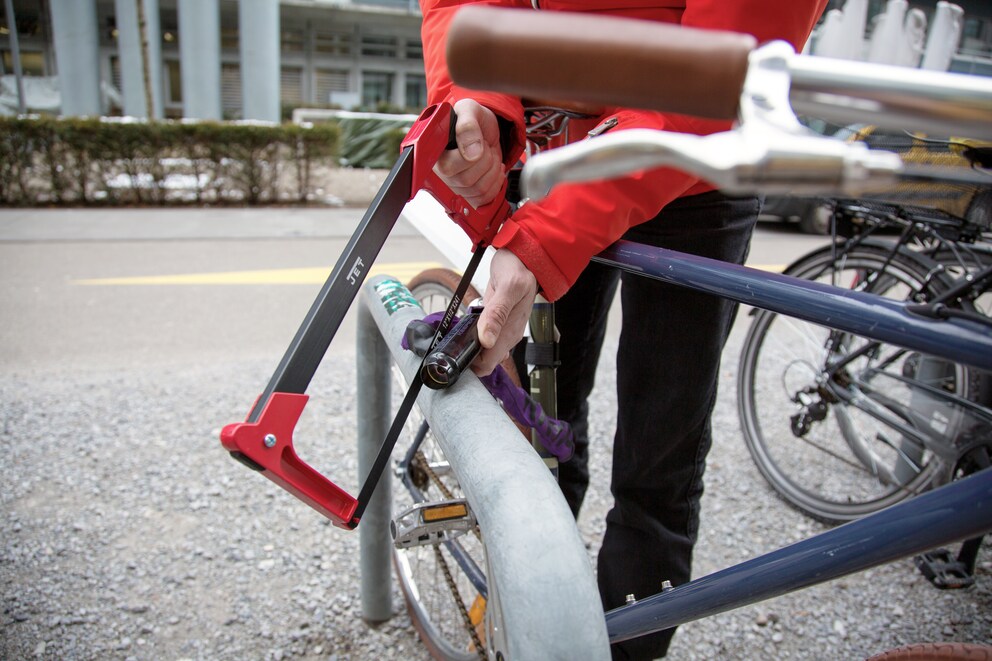 Fortunately, the lock went on strike in front of our office and not at the station. This allowed me to briefly borrow the hacksaw from a workmate. Five minutes later, I was breaking a sweat and the hacksaw had lost all its teeth. And the Kryptonite Keeper? A small scratch. Damn. It was time to bring in the heavy artillery. The first thing that came to mind was a bolt cutter. Unfortunately, there are no thieves among our employees – or at least none who are willing to admit they're a bit shady. So there was nothing else to do but pay a visit to the bike mechanic.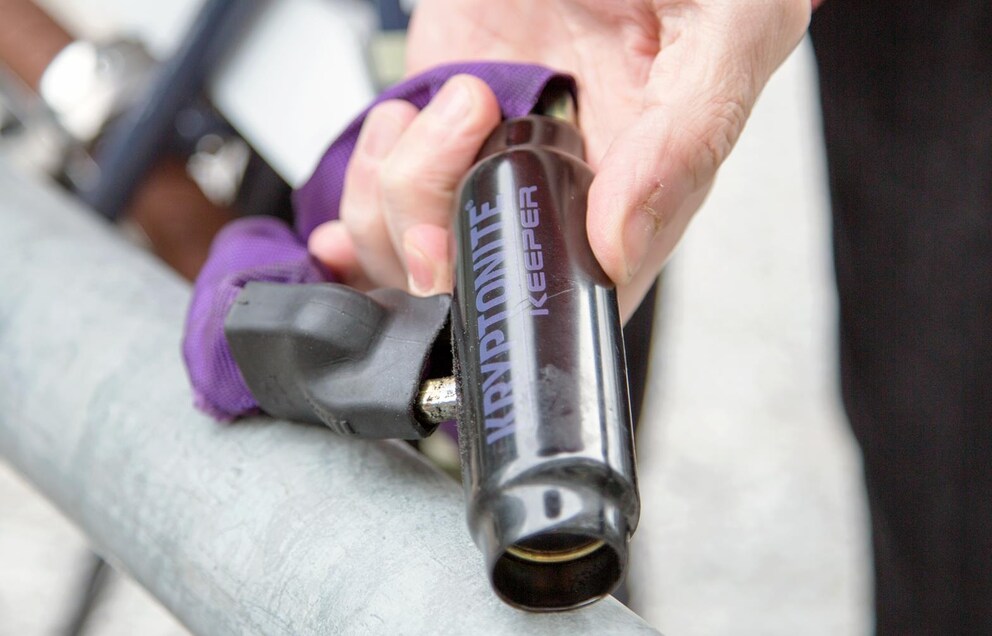 Lock 1, saw 0.
The closest mechanic to our office is Velotto. I rang them up and was told: "We don't have a bolt cutter but we'll get the thing open." So I set off – half carrying, half pushing my bike all the way to Velotto. Thankfully, I hadn't chained my bike to one the massive iron bars in front of the office. So my bike was semi-mobile. Maybe I could've called the breakdown service?
We need more power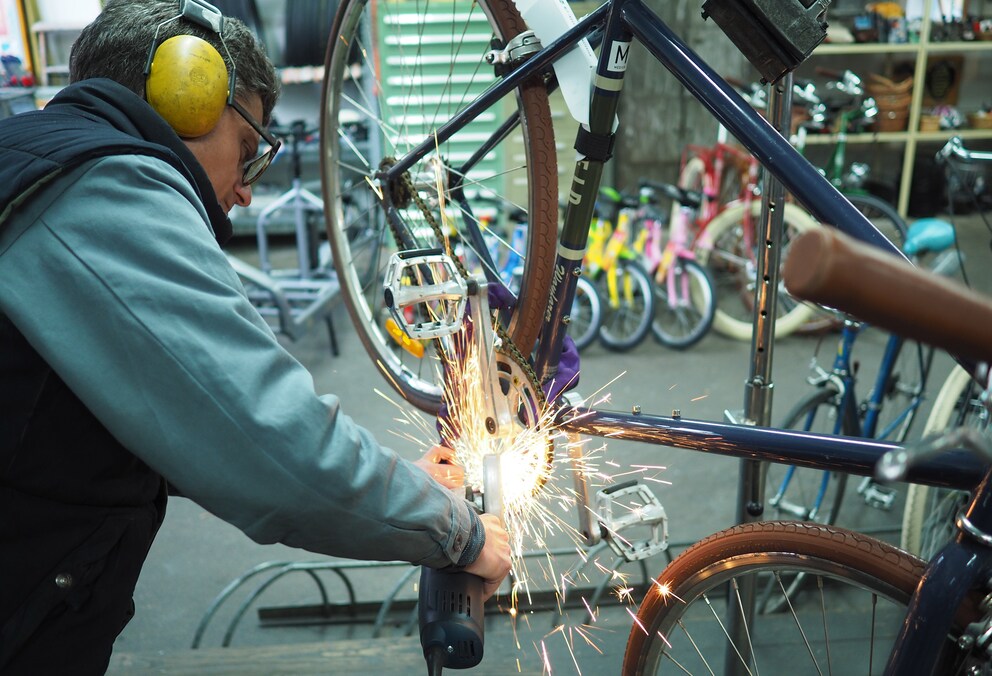 The lock could feel the heat at the Velotto workshop.
At Velotto, I was greeted by a friendly mechanic. After taking a brief look at the state of my key, he clamped my bike into the repair stand and got out the angle grinder. I told him about my failed attempt with the hacksaw, to which he responded with a weary smile: "This is hardened steel. You wouldn't stand a chance with a hacksaw." Whoops, as a trained automation technician I probably should have known that. I hope my former boss never hears about this. And yet they say the proof of the pudding is in the eating.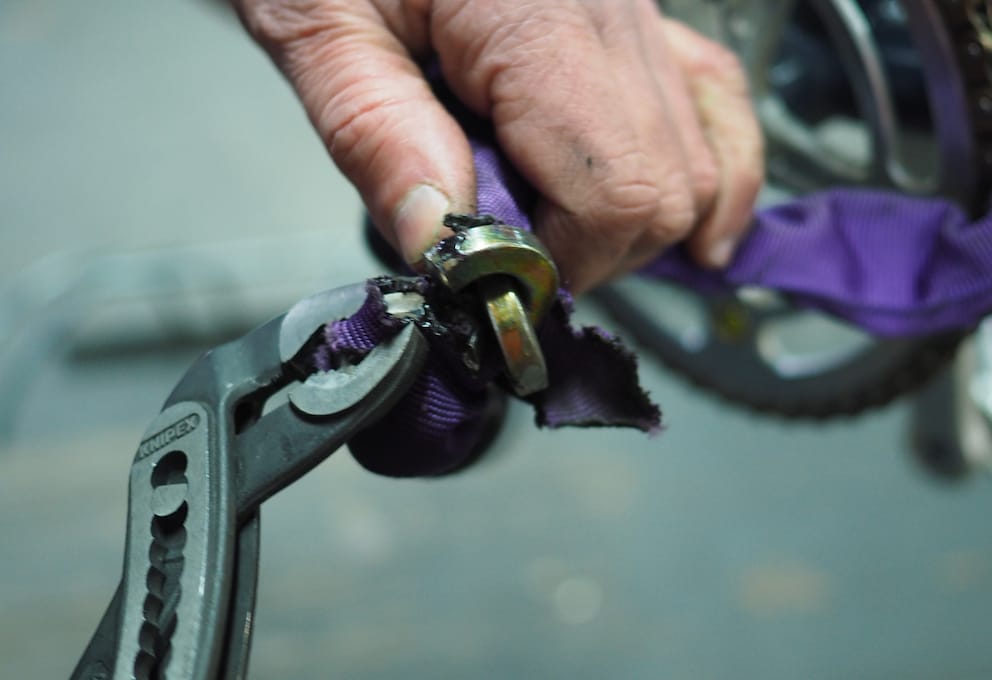 Ten seconds later, sparks were flying and it was a joy to see! However, it wasn't as easy as it first looked. Even the over 1500 W device was struggling with the Kryptonite. "It really is a sturdy lock", the mechanic admitted after telling me he was no fan of Kryptonite locks. A few minutes later, the shackle was broken and my bike was free again. I could tell just by looking at it that it was jumping for joy on the inside.
Taking it down a notch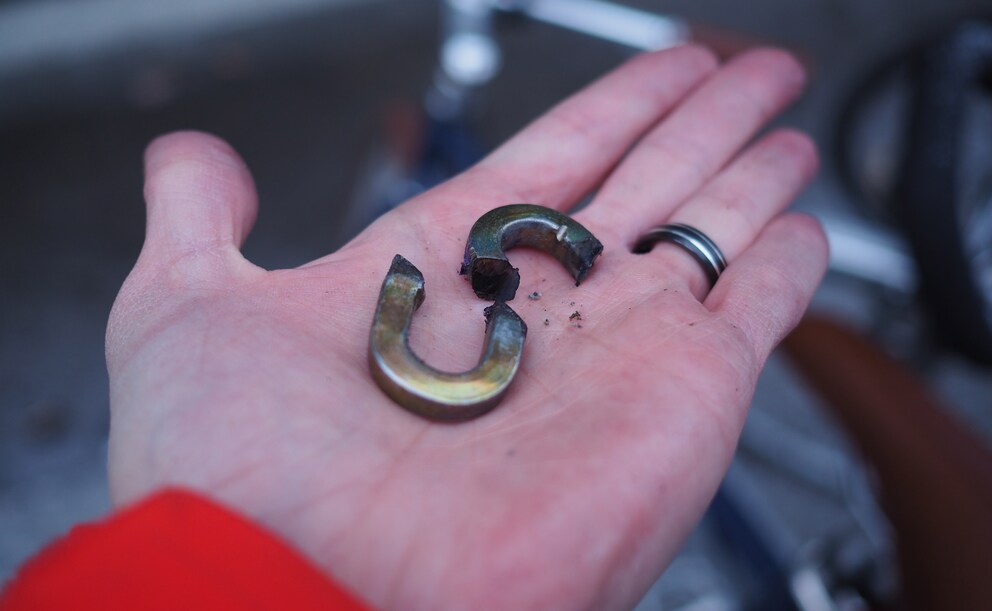 Serves you right, stupid lock.
The liberation of my bike sets me back a humble 12 francs. Now that's what I call a fair ransom. However, as I did not plan to expose my bike to Zurich's bike mafia unprotected, I needed to get a new lock. Although I do appreciate a nice shower of sparks, I didn't want to go down the one-way lock road again. My bicycle is now protected by an Abus uGrip. It's a lot less massive but my esteemed bike mechanic still gave me a confident: "Yep, that's a good one". Let's see how long it lasts.
My new protector
You might also like (in German):
Skeleton Loader

Skeleton Loader

Skeleton Loader

Skeleton Loader

Skeleton Loader

Skeleton Loader
---


Being the game and gadget geek that I am, working at digitec and Galaxus makes me feel like a kid in a candy shop – but it does take its toll on my wallet. I enjoy tinkering with my PC in Tim Taylor fashion and talking about games on my podcast http://www.onemorelevel.ch. To satisfy my need for speed, I get on my full suspension mountain bike and set out to find some nice trails. My thirst for culture is quenched by deep conversations over a couple of cold ones at the mostly frustrating games of FC Winterthur. 
---
These articles might also interest you
Skeleton Loader

Skeleton Loader

Skeleton Loader

Skeleton Loader

Skeleton Loader

Skeleton Loader