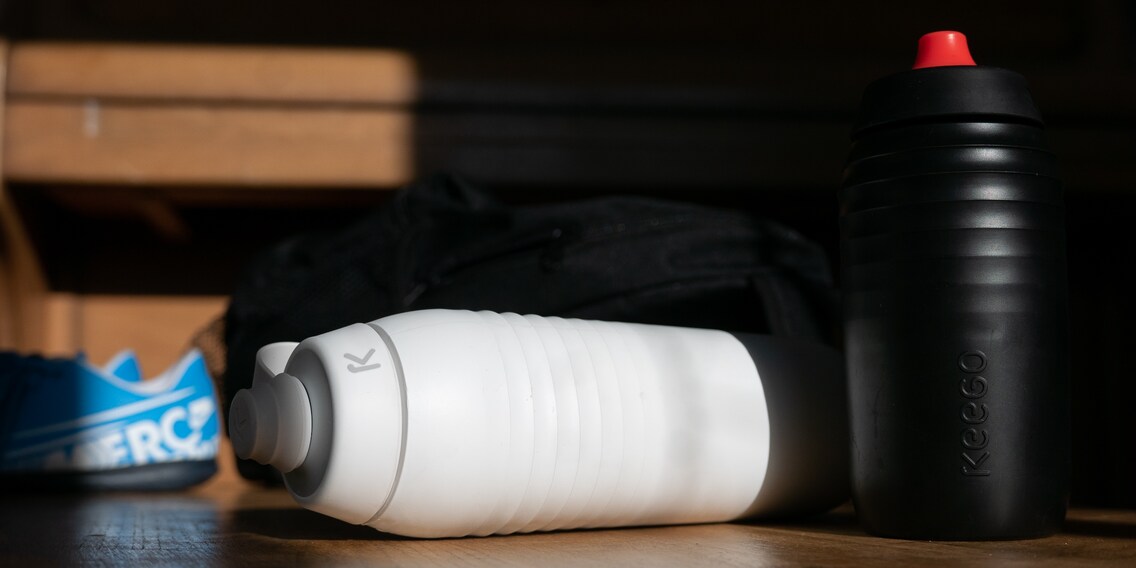 Keego – squeezable plastic bottle without the plastic taste

For the price of one Keego water bottle, you could easily get five cheap ones. Still, it's worth considering. Why? It has an elastic titanium layer that keeps water fresh and free of that plastic taste.
«Have you heard of Keego?» – «Give Keego a go!» – «You wouldn't have that problem with a Keego.» A few weeks ago, I wrote about the horrible plastic taste that's part and parcel of those free water bottles you sometimes get. The response? A flood of messages that can be summarised as follows: «Keego!» The Austrian company's brand name stands for «keep going» – and it seems to be a household name to everyone but me. I suppose people know it from the TV show «Lion's Den» or crowdfunding campaigns or whatever. Now, I wasn't actively looking for a new water bottle. I was merely complaining about the status quo, as the ubiquitous cheap bottles reportedly release a ton of plastic compounds into the water.
Despite this, they're everywhere. They are handy, after all – light, squeezable and unbreakable, they sneak their way onto our bikes and into our sports bags in the face of all sustainability and health concerns.
Grippy, light and inconspicuous
Keego claims to have combined the advantages of metal and plastic into a single bottle. How's that possible? Well, the bottle is lined with a layer of flexible titanium, which is what the water comes into contact with. This is the brand's main selling point. At the same time, the BPA-free outer shell made from recycled plastic keeps the bottle lightweight and flexible. I was sent two samples of the newest generation. I used them on the regular myself and also had my kids take them to their sports class. The large one holds 750 ml, the smaller 500 ml. My first impression is that it's inconspicuous – in a good way. There's no tagline and no gaudy logo, only an embossed «Keego» in the same colour as the bottle and a «K» on the lid. It seems the bottle's inner values are convincing enough on their own. With its grooves and not quite round shape, the 750 ml bottle reminds me of something in my fridge: milk.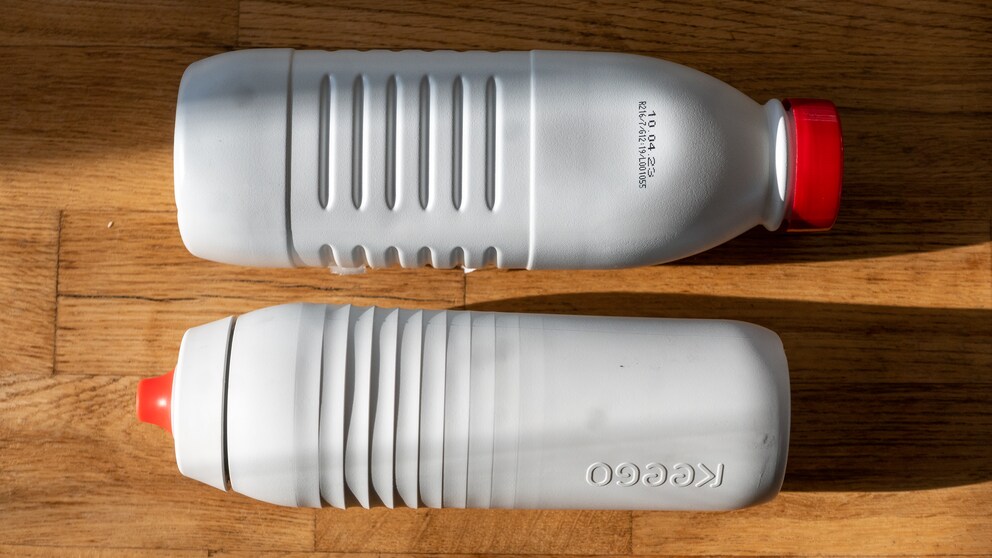 Don't throw the Keego into your sports bag
Mind you, the danger of confusion only exists if I use the red mouthpiece; the silicone drinking nubs can be boiled and switched out. They've got an X-cut that opens when you apply pressure, making the water flow quite freely. There's no active closing mechanism, but you can buy a cap to protect the cap from any dirt that may fly around when you're out biking, which might otherwise spoil the taste.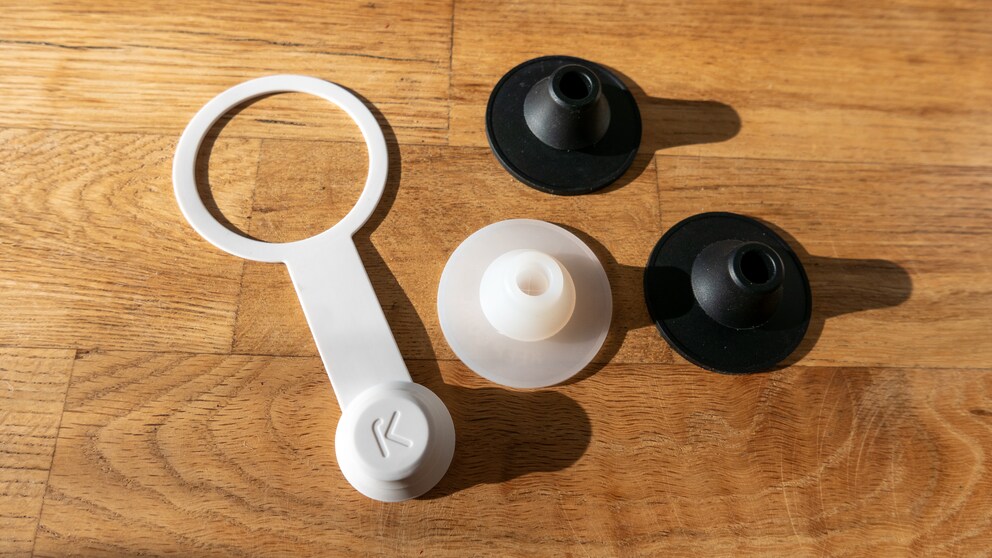 The bottle is designed primarily with cycling and the corresponding bottle cage in mind. Throw it in your sports bag and there's a risk of leakage. On the other hand, you're sure to find a suitable spot for it in your backpack. Keeping that in mind, I was able to take it anywhere. Only once did it let out a casual «Pfffff» and jet of water when my son accidentally stepped on it. Despite being a lightweight at 86 grammes, the Keego can handle pressure. Solely based on looks, it blends right in with the herd of conventional plastic bottles. If that isn't the perfect segue to the matter of taste!
Water, period
Five days a week, I go through the motions of filling my kids' water bottles. They typically only bother to sip from them during sports practice. I deliberately decided not to say much about the test bottles. I wanted to see if they'd notice anything on their own. And both my kids immediately reported that the water from the Keego bottles tasted better. What I'm especially pleased with is the fact that the bottles are much emptier upon being brought back home. And even if I don't rinse them out until a day or two later, I can take a whiff without my nose recoiling. The smell remains neutral and seems to confirm the manufacturer's claim that the titanium layer protects against microplastics and prevents mould.
Cleaning
Because of this, I don't even feel the temptation to bang the Keego in the dishwasher. While it's not recommended you do so, it typically won't cause any issues. Keego's kryptonite is more likely scratchy sponges, brushes and aggressive cleaning agents, which could damage the titanium coating. With a bit of common sense, all the other warnings are also self-evident. Namely, don't put the bottle in the freezer or microwave, don't fill it with hot drinks and filling it with carbonated drinks creates excess pressure that'll escape through the mouthpiece. I add a maximum of one magnesium tablet to my water, which causes the Keego to hiss like a coffee pot. This may all sound as unspectacular as the bottle's insides look, but there you have it – the effect of the grey titanium coating. It indeed combines the advantages of plastic and metal bottles.
Verdict: a tasteless affair
I like it when someone takes on a problem everyone else simply accepts. And this is one Keego's managed to solve. My drink tastes neutral, and the bottle feels robust and is easy to clean. Rinsing the bottle with warm water and letting it dry completely is typically enough, and the mouthpiece can be boiled out and exchanged if necessary. But there is one problem not even the Keego has solved: my son is a mastermind bottle misplacer. And with the Keego, a single bout of forgetfulness would rack up quite the bill. But given the product was developed in Austria, is innovative and is manufactured in Germany, I'm inclined to let the price slide. I say it's worth it – because this bottle really is tasteless.
---



Sports scientist, high-performance dad and remote worker in the service of Her Majesty the Turtle.
---
---
These articles might also interest you