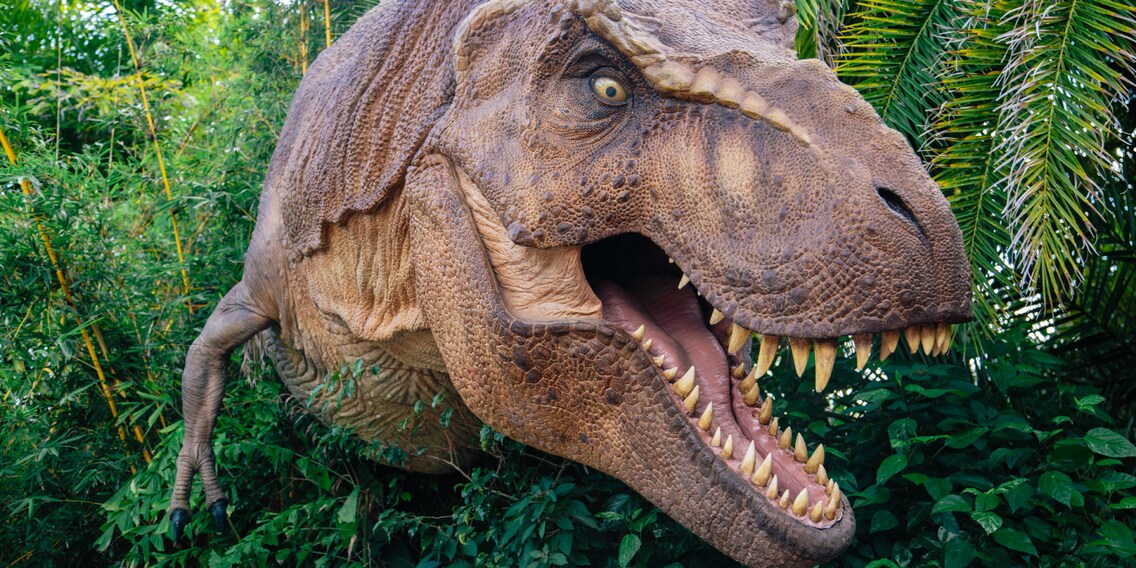 "Jurassic Park" turns 30 - and the characters are still orderers

Translation:
machine translated
Welcome to our Retro News! Here you can find out all about an important event from the past. This time: "Jurassic Park"! The film was released in German cinemas on 2 September 1993.
"Jurassic Park" is one of the best films ever made, there are no two opinions about it. (And if you do: stand in the corner and be ashamed!) Based on a novel by author Michael Crichton, it tells the story of billionaire Hammond, who has bought an island on which dinosaurs created with the help of genetic engineering live. Unfortunately, a careless employee has damaged the electric fence that is supposed to keep the dinos at bay. A fight to the death begins. The film, which was released in the USA on 11 June 1993, is today regarded as Steven Spielberg's greatest work.
What do you think?
Is "Jurassic Park" Steven Spielberg's greatest masterpiece?
Yes!
No!
Absolutely!
The competition has ended.
Realistic portrayal: Animated dinosaurs thrill viewers
The film was shot mainly in Hawaii and in the Mojave Desert in California. For the dinosaurs, Spielberg had animatronics made, i.e. mechanical puppets consisting of a metal skeleton, a wire net running over it, clay and a latex skin. The T-Rex, for example, was six metres high, twelve metres long and weighed 4,000 kilograms. Thanks to built-in motors, it could move. The animatronic models were combined with computer-generated images. The film showed the most realistic depiction of prehistoric animals to date and triggered a storm of enthusiasm: "Jurassic Park" grossed almost a billion dollars, breaking the record set by "E.T. - the Extra-Terrestrial". Within a year, the creators generated another billion dollars with game characters, video games and books.
Game figures, video games and books are big sellers
. I would say: I am not entirely innocent of the latter. I can still remember as children - I was about six, my sister nine - watching this scary film on video cassette: Fascination and fear alternated. The evil fat guy (Wayne Knight) who gets even with the dinos. And the nice guy (Jeff Goldblum) who rescues Hammond's grandchildren Tim and Lex in the stuck jeep. And T-Rex, my goodness! We could watch the film over and over again, and even though it gave us the odd nightmare. In fact, Steven Spielberg's masterpiece is only released for ages twelve and up. Nevertheless, we wanted to watch the film over and over again and also have "Jurassic Park" play figures, stickers, bed linen and cuddly toys.
By the way, toy giant Mattel is also celebrating its 30th anniversary with new "Jurassic Park" toys for dino fans young and old. Here, too, I won't be entirely innocent of the sales and will give my boys, who were already at least passively watching "Jurassic Park" with their parents when they were two years old, a treat or two.
Toy figure
Jurassic World HAMMOND COLLECTION Metriacanthosaurus
Toy figure
Jurassic World Hammond Collection Brachiosaurus
Toy figure
Jurassic World HAMMOND COLLECTION Corythosaurus
The toys are part of the "Hammond Collection". The Metriacanthosaurus probably has what it takes to become a collector's item: according to Mattel, it impresses with its "high-quality workmanship and luxurious mobility". The predator, which we know as a test tube embryo, has 17 movable joints, a wired tail, striped skin, sharp teeth and a jaw that opens wide. Brachiosaurus also has 16 joints and a movable, wired tail. The herbivore that appeared on Isla Sorna has a faithful design, a crested head and a movable jaw with a duck's beak.
Toy figure
Jurassic World HAMMOND COLLECTION Dennis Nedry
Toy figure
Jurassic World Hammond Collection John Hammond (JP1)
Now you can also find new figures of the evil would-be embryo smuggler Dennis Nedry and the park founder Dr. John Hammond. John Hammond: The action figure has a true-to-the-original design and comes with, among other things, his characteristic amber-tipped cane, two interchangeable heads (with or without hats), two interchangeable hands and an ice-cream bucket with scoop.
If that's not a reason to celebrate!
Titelfoto: Luuk de Kok/Shutterstock
---



A true local journalist with a secret soft spot for German pop music. Mum of two boys, a dog and about 400 toy cars in all shapes and colours. I always enjoy travelling, reading and go to concerts, too.
---
---