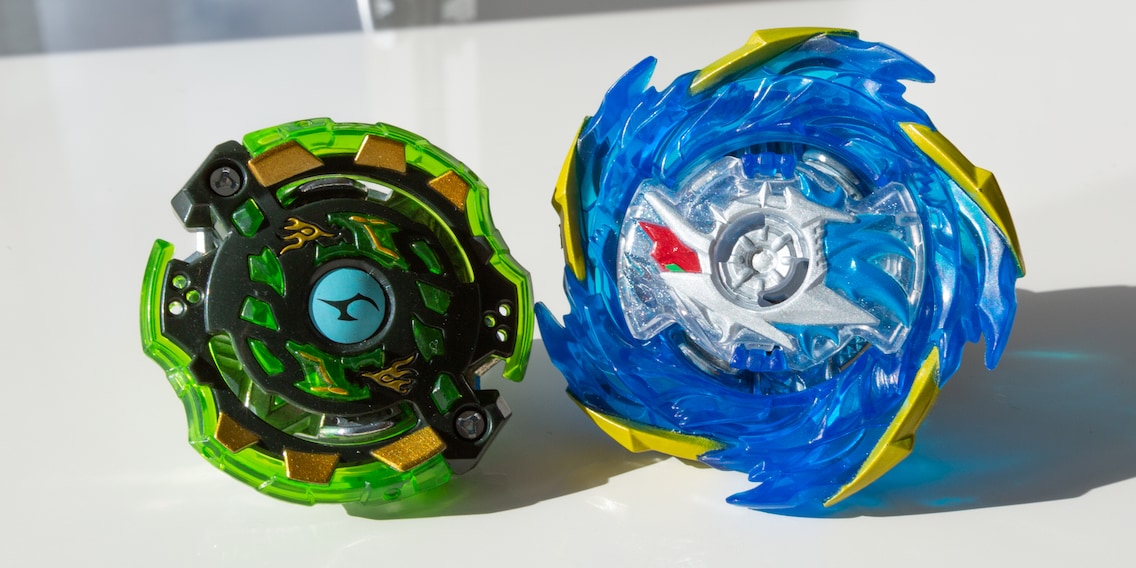 I have a confession to make: I used to rip off everyone using Beyblade

They inspired, shaped and frustrated me – the toys of my childhood. One of them being Beyblade.
At the beginning of the 2000s – I was between ten and twelve years old – the worldwide hype surrounding Beyblade spilled over into my small home village in eastern Switzerland. Within a summer, almost every kid in my neighbourhood had one of these spinning tops in their pocket. Whether it was in backyards, underpasses or playgrounds: if someone challenged me, it was time to «Let it Rip!»
They were hard-fought battles, and rules were almost nonexistent. The last top that was still spinning won. In case of a false start, one restart was allowed. Whoever had more victories after five fights won the battle. But I wasn't just battling for street cred back then, there were serious stakes involved. This ranged from snacks to sweets to the opponent's Beyblade.
From comic to toy
Beyblade first sprung up in 1999. It started as a Japanese comic by Takao Aoki that was adapted into an anime series. This resulted in enormous amounts of hype. The series' gyroscopes, intended as merchandise, were subsequently bought en masse. Between 2000 and 2005, Beyblade was actually one of the most popular toys in the world, with over 100 million sold.
I would do anything to win
Then, as now, a Beyblade consisted of three elements: The Attack Ring, the Weight Disk and the Blade Base. These components can be interchanged, augmenting the properties of a Beyblade. Depending on whether you focus on offence, defence, or endurance, you'll need different elements.
Since Beyblades weren't cheap, I teamed up with a school friend. We exchanged components with each other and went to battles together. At some point, we came up with the idea of not only replacing the individual parts, but also modifying them. This worked best with the Weight Disk, since it was made of metal and not plastic.
Using a file, we sharpened the edges and added nasty prongs to the Weight Disk. However, since this changed the weight, we had to be very precise. Otherwise, the gyro wouldn't turn smoothly and lost its balance faster. Fortunately, my friend's father was a metalworker and could give us a tip or two. This gave us an unfair advantage, which we naturally exploited. Shameless. In the series, we would've definitely been among Dr Ziggurat's henchmen.
No sooner had we got the hang of it after a year – by now we were the undisputed champs of our village – than the trend unfortunately disappeared again. My relationship with Beyblades was therefore short and intense. A time, however, that I remember fondly.
Still available today
Although the trend disappeared pretty quickly after 2005, Beyblade still exists today. At time of writing, the sixth season of Beyblade Burst has already aired. Even toy manufacturer Hasbro is still launching new Beyblades.
Hasbro Beyblade Burst Surge Speedstorm Helios Blazebringer n Jormuntor
English, Italian, French, German
I am no longer familiar with these modern tops. But if my long-forgotten Beyblades were still lying around somewhere, even today's teenagers wouldn't stand a chance against me. And yes, I'd unabashedly nick their lunch.
---



Riding my motorbike makes me feel free, fishing brings out my inner hunter, using my camera gets me creative. I make my money messing around with toys all day.
---
---
These articles might also interest you
Skeleton Loader

Skeleton Loader

Skeleton Loader

Skeleton Loader

Skeleton Loader

Skeleton Loader