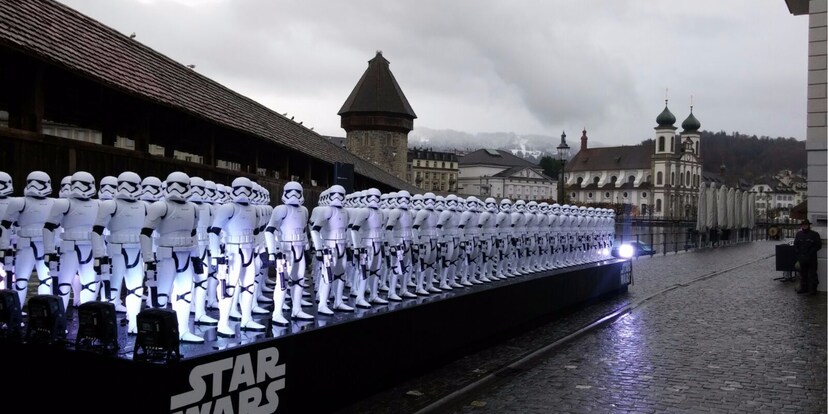 Deine eigene Stormtrooper-Armee
In «Star Wars: Rogue One» wird erzählt, wie die Rebellen an die Pläne des Todessterns gekommen sind. Die Gelackmeierten sind dabei das Imperium und insbesondere die Sturmtruppler. Doch wer ein Herz für erfolglose Stormtrooper hat, der kann sich jetzt eine kleine Privatarmee in Fast-Lebensgrösse kaufen.
Die Stormtrooper aus den «Star Wars»-Filmen gehören mit ihren weissen Plastikrüstungen und ihren Helmen zu den ikonischen Schurken der Filmgeschichte. Sie sind so dermassen beliebt, dass es in der Schweiz sogar eine ganze Division der Sturmtruppler gibt. Die Cosplayer von der 501st Legion - Vader's Finest haben auch eine Garnison in der Schweiz. Diese Garnison hat nun in Luzern nahe der Kapellbrücke Verstärkung erhalten.
108 kampfbereite Einheiten stehen in Luzern
Maxi-Figuren für Fans
Bei den 108 Einheiten in Luzern handelt es sich aber nicht um echte Menschen, die Wind und Wetter zum Trotz still in ihren Rüstungen dastehen, sondern um die Maxi-Action-Figures von Jakks Pacific.
Die Figuren sind 121cm gross, also fast lebensgross. Kindersturmtruppler, vielleicht. Denn wenn wir eines aus dem jüngsten Film der Saga um den Krieg der Sterne wissen, dann ist es, dass die Stormtrooper nie Klone waren. Weiter wissen wir, dass Finn (John Boyega) als kleines Kind von seiner Familie getrennt worden ist, damit er als Soldat dem Imperium dienen kann. Daher sind die kleinen Stormtrooper durchaus plausibel. Zudem wissen wir, dass Stormtrooper dann und wann wieder in Todesstern-Gängen agieren müssen, für die sie einfach zu gross sind wie in folgendem Video zu sehen. Achtet auf den Stormtrooper am rechten Bildschirmrand.
Hingegen weniger plausibel ist ein 121 cm grosser Darth Vader. Kannst du aber trotzdem haben, denn irgendwer muss die Stormtrooper ja anführen.
Rogue One kommt
Trotz dem Ruhm, den die Stormtrooper im Universum der Filme und in unserer Welt geniessen, sie haben einen Fehler: Sie treffen praktisch gar nichts. Hundert Stormtrooper vs. ein Luke Skywalker und Skywalker zottelt unversehrt aus dem mehrstündigen Gefecht heraus. Ihre Zielgenauigkeit ist zwar in «The Force Awakens» etwas besser, da sie in der ersten Szene des Films mindestens eines ihrer Opfer treffen, aber trotzdem, sie haben ein schweres Kreuz zu tragen.
Vielleicht aber werden sie im neuen Film, «Rogue One», zu Ruhm kommen. Der Film, der zwischen Episode III und IV - also dem ersten je gedrehten Star Wars Film - spielt, zeigt den Krieg im Krieg der Sterne. Wenn wir dem Trailer Glauben schenken dürfen, zumindest.
Okay, da gibt es vielleicht die eine oder andere Szene in der zwei Rebellen eine gefühlte Million Stormtrooper besiegen, ohne selbst einen Kratzer abzubekommen. Aber die Hoffnung stirbt zuletzt!
Dennoch, auf Rogue One freuen wir uns! Möge die Macht mit uns sein!
---
Journalist. Author. Hacker. A storyteller searching for boundaries, secrets and taboos – putting the world to paper. Not because I can but because I can't not.
---
---