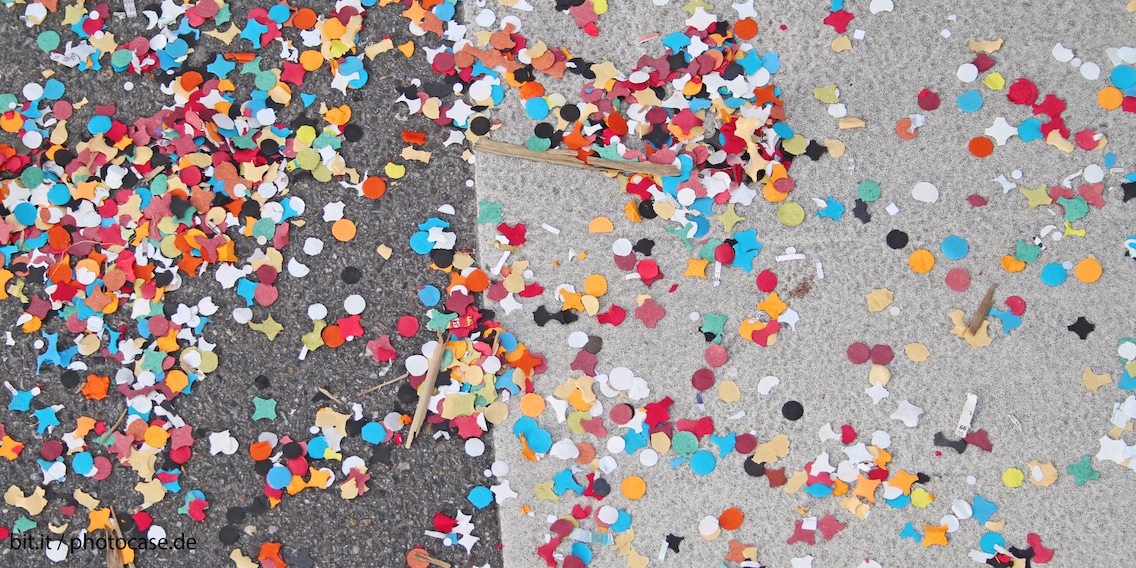 Confetti and costumes – carnival is around the corner!

"Chesslete" in Solothurn, "Tagwach" in Lucerne or "Iitrichlä" Einsiedeln: 23 February marks the beginning of carnival or "Fasnacht". For a week, there's mischief in the streets, "Guggen" filling the air with out-of-tune melodies, "Schnitzelbangg" groups performing and the most beautiful costumes awarded at masked balls. I've put together a large selection of costumes and accessories for your perfect outfit.
Confetti
No matter which costume you go for, don't forget your confetti! What would carnival be without the streets covered in polka dots?
A true evergreen: Hippies
A typical and classic costume that always works. We've got the right accessories or the full costume for you – just in case you've none of those embarrassing remnants left from that last motto party.
The golden entrance
Clad yourself in gold from head to toe for a more elegant entrance at the mask ball or simply use a few of these fancy accessories to upgrade your costume.
Sweet girls in pink
From princess to ballerina – think pink! That's the name of the game for many little girls out there. Here are some matching costume ideas.
The superhero
Fasnacht is the perfect opportunity for the little ones to live their superhero fantasies and try out their superpowers. Who doesn't want to be a comic hero for a day?
The craziest accessories
We've got special, funny, weird and even fluffy accessories and masks. Check out our range's eye-catchers!
Hearing protection
Especially the "Guggenmusik" but also the colourful parades can get pretty loud at times. Protct yourself and your kids from the noise.
---



I love the strategy game "The Settlers of Catan", the Ravensburger puzzle "Colourful Cupcakes" and the pink fluffy unicorn that sits on my desk (a birthday present from my workmates). Not only do I have a weakness for toys, I also get excited about good food and comedy TV shows. 
---
These articles might also interest you
Skeleton Loader

Skeleton Loader

Skeleton Loader

Skeleton Loader

Skeleton Loader

Skeleton Loader