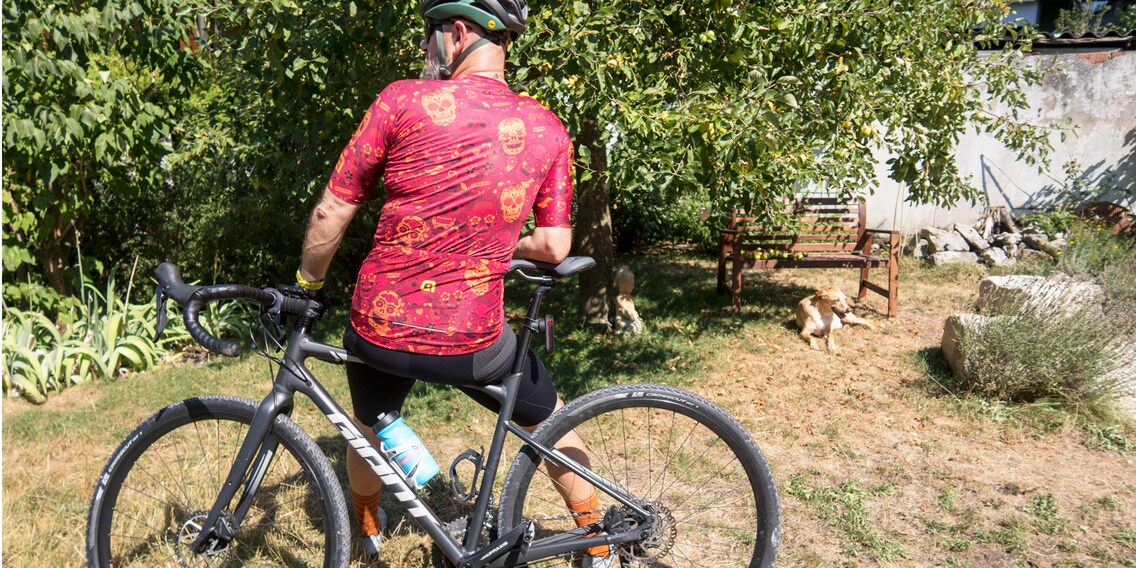 Climate crisis, energy crisis – or an existential crisis triggered by a new bike shirt

I only wanted to buy a new bike shirt. Now, I'm plagued with existential questions on life, death and our consumer culture.
The Day of the Dead has its roots in Mexico. These days, however, it's celebrated throughout Latin America. If I understand it correctly, «Dia de Muertos» goes back to the cultures of the Aztecs, Tolteken, Nuhua and other peoples who considered it disrespectful to mourn their dead. In these cultures, death was a natural part of the long chain of events that makes a life. The dead were still considered members of the community and kept alive in spirit and memory. It's a custom that fascinates me. In these cultures, death is met with riotous celebration, and isn't a taboo. Colourful calaveras (skulls) and calacas (skeletons) are typically a part of it. And I guess I have a slight penchant for morbid stuff.
A bike shirt and its consequences
This morbid fascination led me to stumble across this bike shirt on our shop. Of course, I ordered one immediately, even though I definitely don't need it – I've got more than enough bike shirts already.
But, like I said, «Dia de Muertos» fascinates me, I'm entranced by the bright colours and I'm a sucker for the combination of red and orange. The colour also matches one of my tattoos. I know that's a bit shallow of me, but hey-ho.
I'd hardly clicked order when the shirt landed in my mailbox. Deliveries are made at a crazy speed these days, with a constant drive to boost efficiency. But that's a different kettle of fish. Being who I am, I ripped the shirt from the package, put it on immediately, hopped on my gravel bike and pedalled off.
It was a hot Thursday – a smidge hotter than the Thursdays in previous weeks. The thermometer was displaying 38 degrees Celsius and after a few minutes on the bike, my black, skin-tight bib shorts had birthed their own tropical climate. My water bottle did the same, and the contents sure tasted like it. Climate change, I thought, before going on pedalling.
I used to fantasise about southern climes and spending Christmas under palm trees. However, I'd always assumed that I'd need to travel south to experience them. These days, it's the palms that come to me. It's easy to get confused.
Suddenly, I was overcome by a guilty conscience. Wasn't I directly contributing to the climate crisis with my totally unnecessary bike shirt purchase? Of course I was. At least the thing was made in Bosnia and not in Shanghai, though. At least it didn't need to be shipped halfway around the world to get to me. But still. I indulged in a brackish sip of water from my French water bottle. Drink, Patrick. Drink while there's still water left. I glanced at my Asian-made bike computer and vigorously rode off.
Crisis after crisis
I was struck by the thought of my bike computer – yet another gadget that constantly needs charging. No wonder we're running out of power with all of this tech stuff constantly plugged in and screaming «feed me». Electricity crisis. Energy crisis. At the end of the day, my French-produced water bottle and Bosnian-produced bike shirt had also involved the consumption of oil and gas. Not to mention the bike computer made in China.
Thinking about these numerous crises was almost as exhausting as riding along the gravel paths at full pelt. So I focused on the key thing: my Giant gravel bike. The brand happens to come from Taiwan. Taiwan? There was something about Taiwan ... Ah yes, Speaker of the US House of Representatives Nancy Pelosi's visit to the small island off the Chinese coast presented us with another escalation in the China-Taiwan powder keg. Apparently, the war in Ukraine wasn't enough. That was the moment I turned around and headed home.
On the way, I took another look at my new skull shirt. I decided it wasn't the right time to celebrate death with exuberance and bright, cheerful colours. Or at the end of October/beginning of November when «Dia de Muertos» is celebrated on the streets of Latin America once again this year. Maybe then I'll put on my shirt and take it out for a spin. For today, however, I'm leaving the skulls and morbid thoughts well alone.
---



What matters isn't how well you play when you're playing well. What matters is how well you play when you're playing badly.
---
---
---
These articles might also interest you
Skeleton Loader

Skeleton Loader

Skeleton Loader

Skeleton Loader

Skeleton Loader

Skeleton Loader