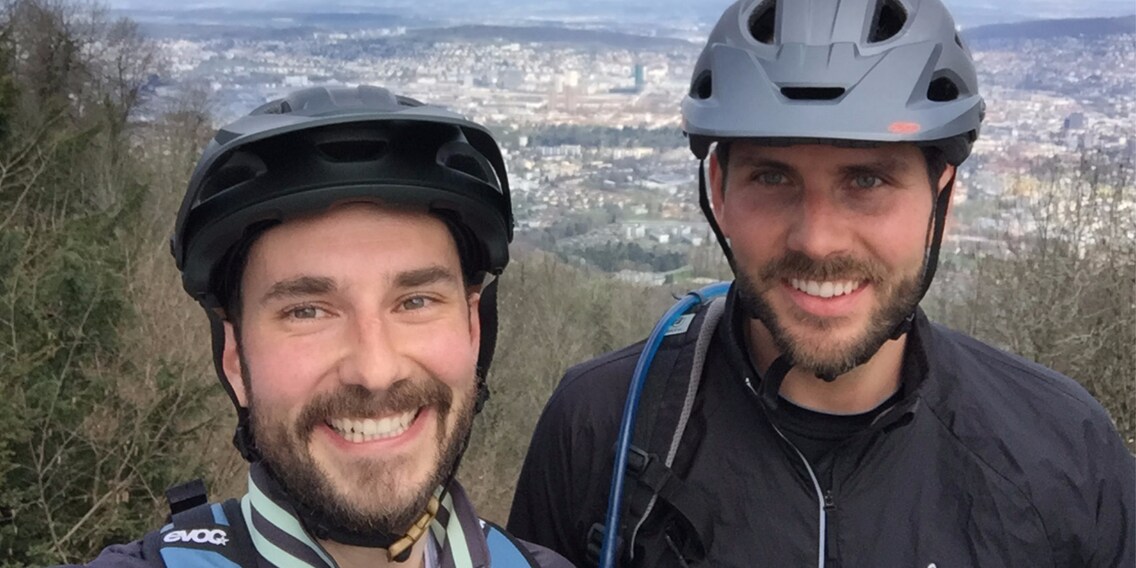 The testers: Florian (pictured right) and Gion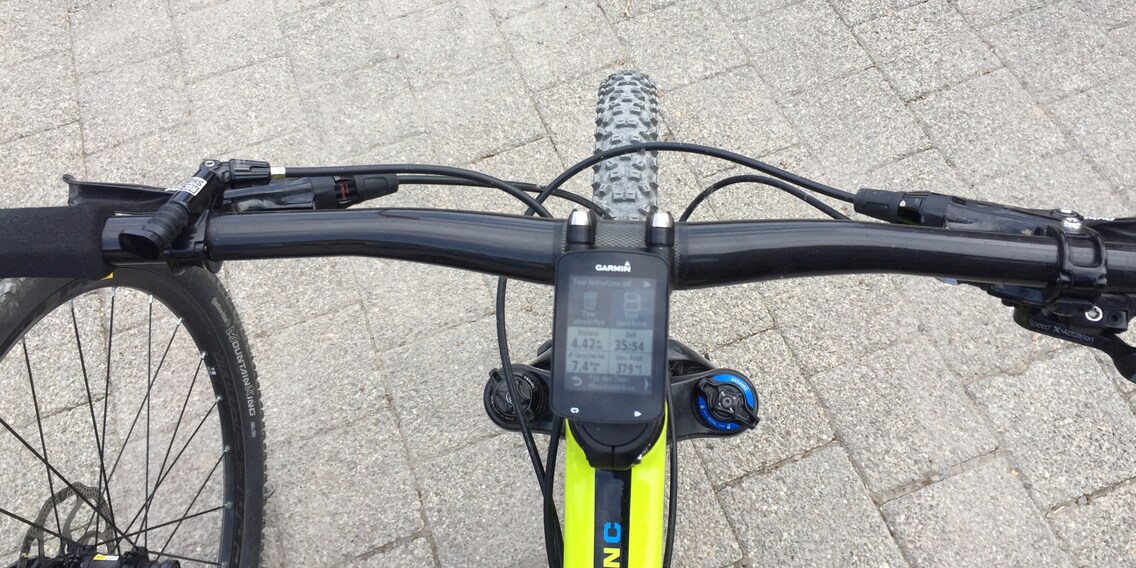 Gion tested the model Edge 820 by Garmin.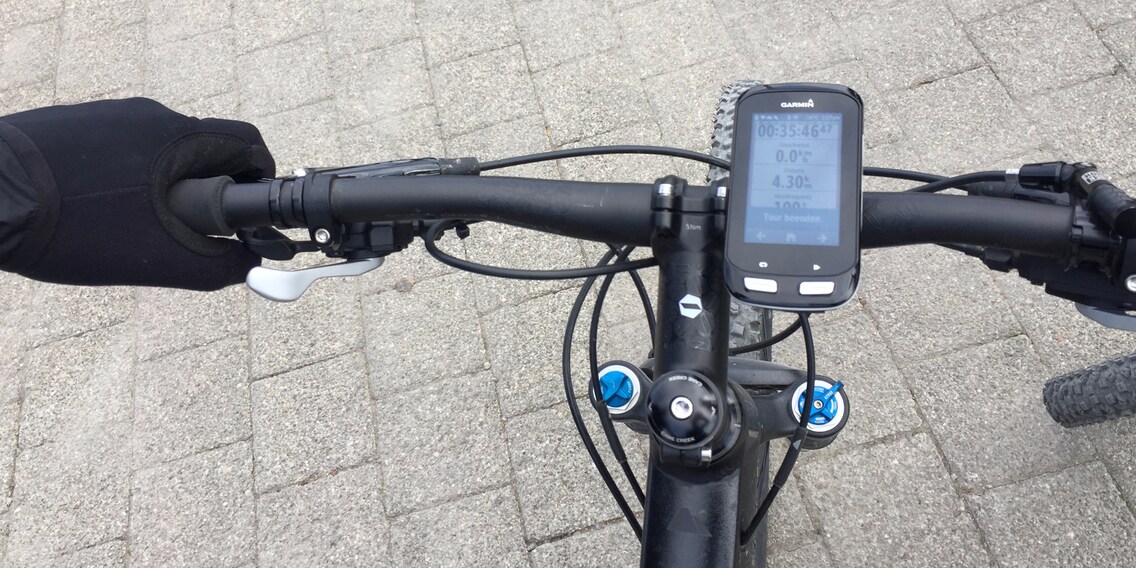 Florian attached the Garmin Edge 100 GPS bicycle computer to his bike.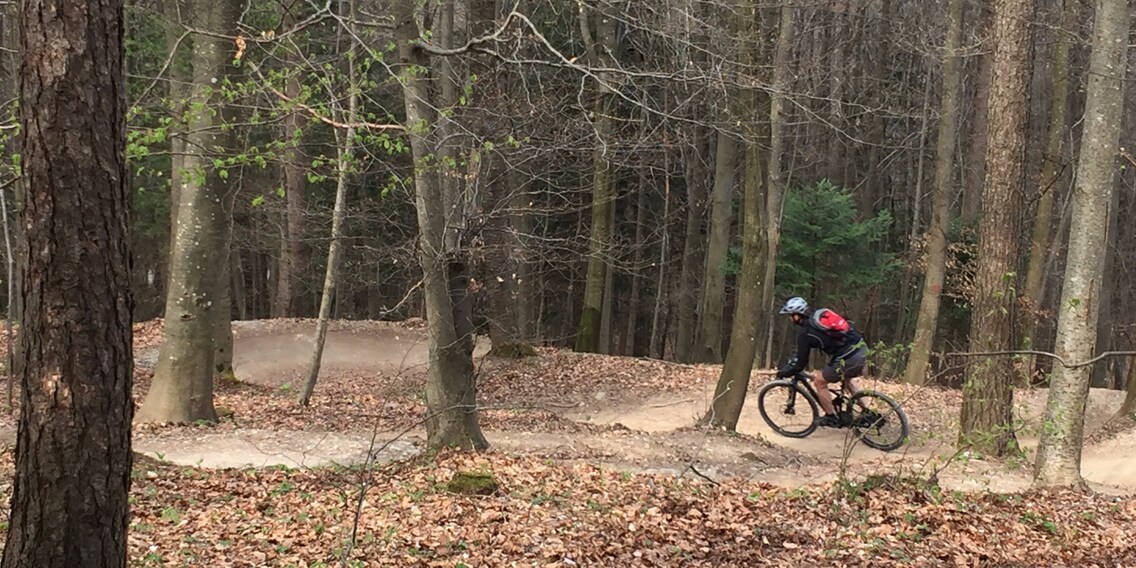 The Uetliberg descent.
Bike computers – our CEO and product manager go head to head

For ages, Florian and I had been planning to climb Uetliberg and then bike down the Triemli bike trail, dubbed the Antenna Trail. We figured it would be a great opportunity to test our two top-selling bike computers. Although we both only use a GPS bike computer sporadically, we wondered what the latest Garmin products could do.
The riders
Rider 1 (pictured left)
Name: Gion Manetsch
Job: Product Manager Bike, Digitec Galaxus AG
Age: 32
Height: 182 cm (5'9")
Weight: 76 kg (11.9 st)
Physique: well-toned with a six-pack (drinking the night before)
Activities in the last three months: tennis, badminton or squash one to two times a week, cycling once a week, beer on an empty stomach twice
Rider 2 (pictured right)
Name: Florian Teuteberg
Job: CEO, Digitec Galaxus AG
Age: 38
Height: 189 cm (6'2")
Weight: 86 kg (13.5st)
Physique: still working on a six-pack
Activities in the last three months: going to the gym, rowing or cycling one to three times a week, sometimes with a bike trailer
The products we tested
Our test ride began on Sunday 2 April at 12 noon at Triemli, Zurich. Florian attached the Garmin Edge 1000 GPS bike computer including Topo Switzerland. I used the smaller Garmin Edge 820. Before we got started, we paired our heart rate meters, cadence and speed sensors with our bike computers via Bluetooth. It was quick to do, and we didn't encounter any significant problems.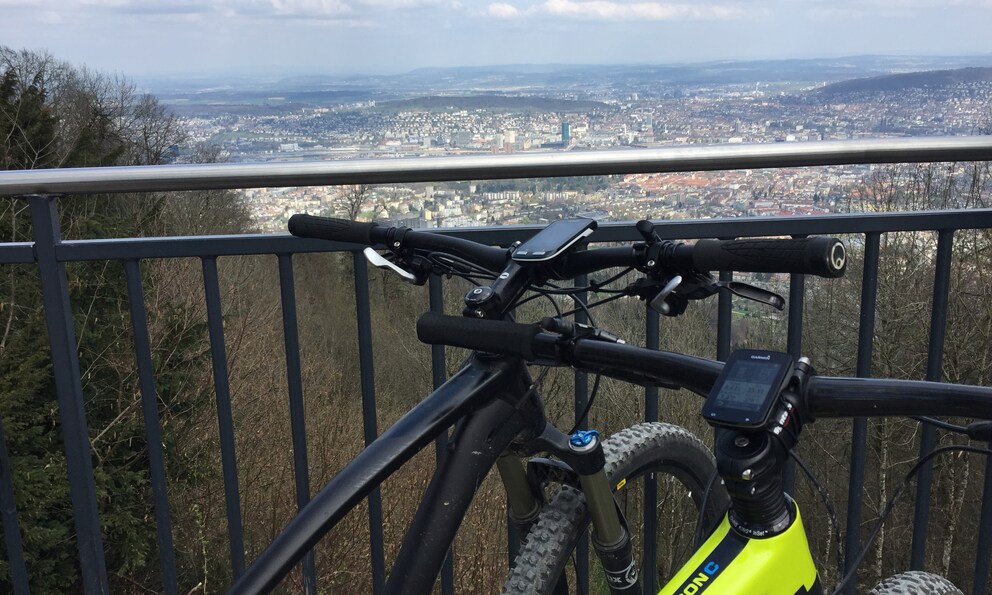 Preparation
Florian: Have you found us a good route?
Gion: Hmm, it wasn't so easy. Either I've not been looking properly or there isn't really any route on the Internet that goes our way. As a new user to Garmin BaseCamp, I didn't feel creating my own route on my PC was altogether intuitive.
It was only when we tried to set Hotel Uto Kulm as a destination that the differences between the two models became noticeable.
Florian: The new touchscreen is definitely better than the one on my old Garmin Edge 700. This one shows you where you are and where you want to go.
Gion: Yes, and what's really good is it has Topo Switzerland. That at least lets you see the routes well. The display is also a lot larger (7.6 cm diagonally on the Edge 1000 compared with 5.9 cm on the Edge 820). I think it'll take me a while to find anything.
Florian: Does your Edge 820 not have a Swiss Topo map?
Gion: No. Unlike your Edge 1000, the Edge 820 doesn't have an SD card slot. But it does have 16GB internal memory and comes with a preloaded OSM map.
Florian: Apart from the display size and maps, are there any other major differences?
Gion: There are no real differences when it comes to pairing accessories and additional functions like GroupTrack, LiveTrack, Strava Live Segments and so on. The larger display on the Edge 1000 does use more battery than the smaller 820, which is why the Edge 820 is bound to have a longer battery life.
Ascent
Once we had input our destination we could get started.
Gion: Right, let's go! I hope the extra 50 g weight of your bike computer doesn't stop you from keeping up with me.
Florian: I'm sure I'll manage. I'm more concerned by the fact you used to be a professional mountain biker.
Gion: Away with you. That was so long ago my body can hardly remember. Besides, you go rowing a lot and are fairly sporty. But we've got the heart rate monitor on, so let's see what it shows.
Florian (30 minutes into the cycle): Gion, what is your heart rate showing?
Gion (panting): 161... no, now it's 162.
Florian: Darn! And you thought you weren't fit? My heart rate is 169.
Gion: I think not having to contend muscly upper arms like you might have something to do with it.
Florian: Nonsense! That's an understatement. You're too modest.
Once we got home and examined the Garmin Connect App in more detail, we came across some interesting data:
Florian's average heart rate: 145 s/min
My average heart rate: 141 s/min
Florian's heart rate at the end of the ascent was the highest of the two of us at 169 s/min
My heart rate was highest on the descent (rather than on the long ascent) at 167 s/min
Compare our heart rates throughout the ride here.The elevation chart is marked in green.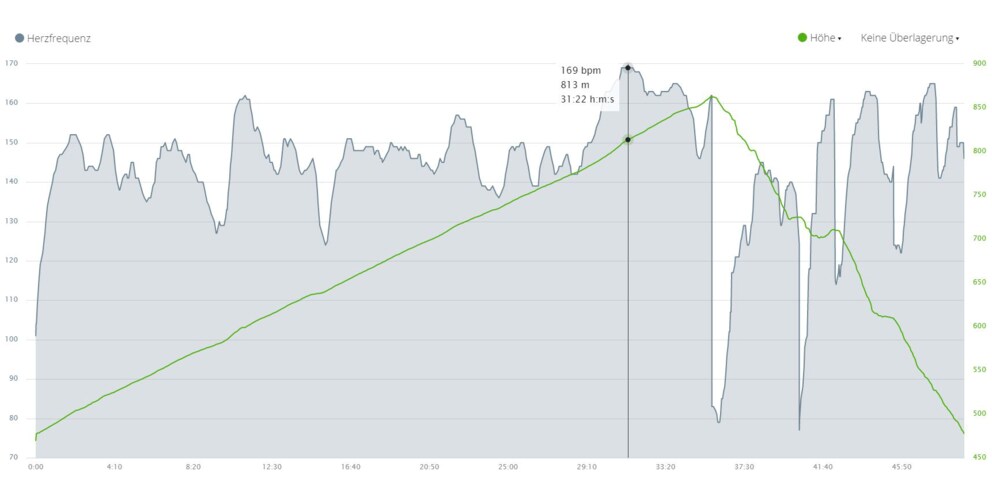 Florian's heart rate
Gion's heart rate
Descent
Once we had scaled the top of Zurich's mountain, taken a short break and snapped a few photos (we could even see our office from the left of the Prime Tower), it was time to get down to business. We had to pedal through an altitude of 350 m across the 3.5 km-long Antenna Trail.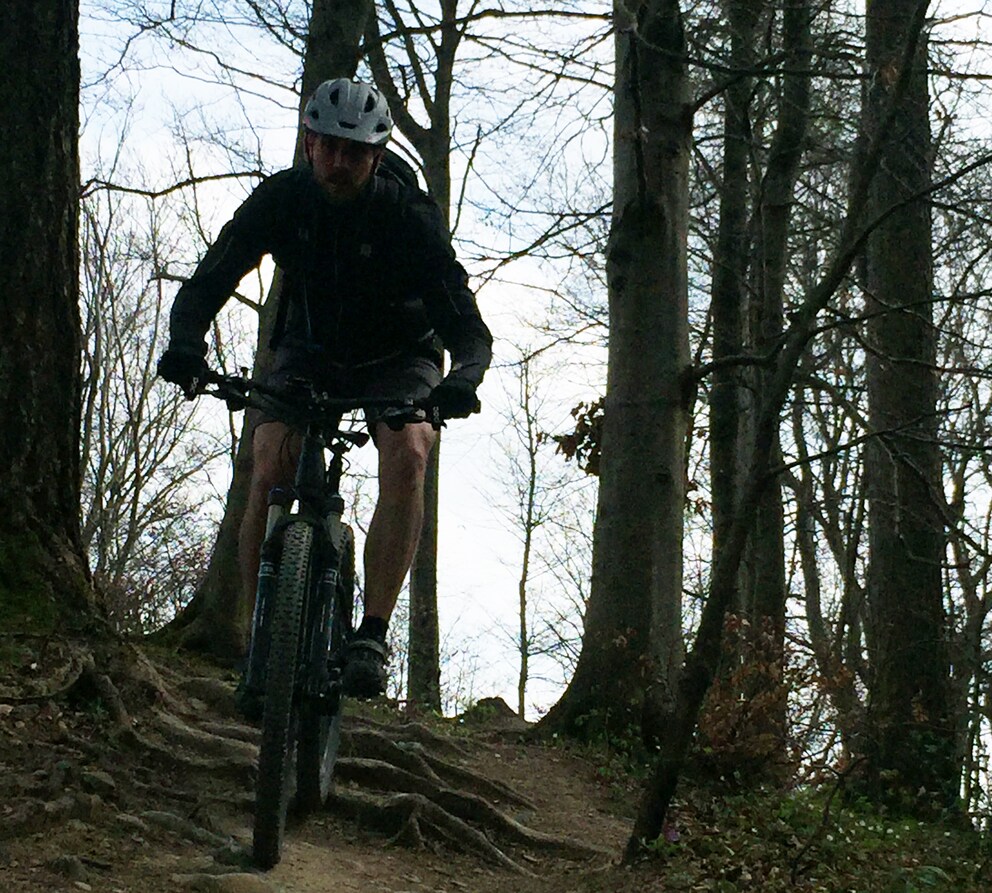 Gion (grinning): Wow, you're pretty quick. I'm pleasantly surprised.
Florian (also flashing a smile): Thanks! My upper arms come in handy for something at least.
This is the entire route that was saved on the bike computers. You can also find Florian's and Gion's exact route on the Garmin Connect website.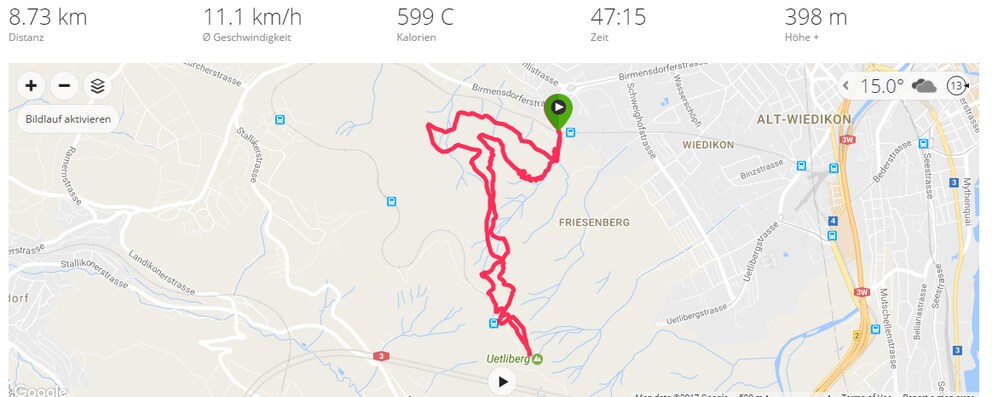 Our verdict
Gion: Which of the two bike computers would you choose for your private use?
Florian: I'd obviously go for the Edge 1000, as the display is larger and it's not as fiddly to use. Having Topo is also a big plus for me – especially when I'm in Graubünden in eastern Switzerland. I can just download the routes and follow them using the routing function. Battery life isn't really an issue for me, as I'm never that long in the saddle. What about you?
Gion: Hmm, if I was just cycling, I think I'd choose the Edge 1000. I like how easy it is to use and read the big display. But I do use the racing bike from time to time, which is why the lighter, more compact Edge 820 appeals to me more. The longer battery life is a real advantage, not to mention the lower price.
You may find the following interesting (in German):
---
---
These articles might also interest you
Skeleton Loader

Skeleton Loader

Skeleton Loader

Skeleton Loader

Skeleton Loader

Skeleton Loader