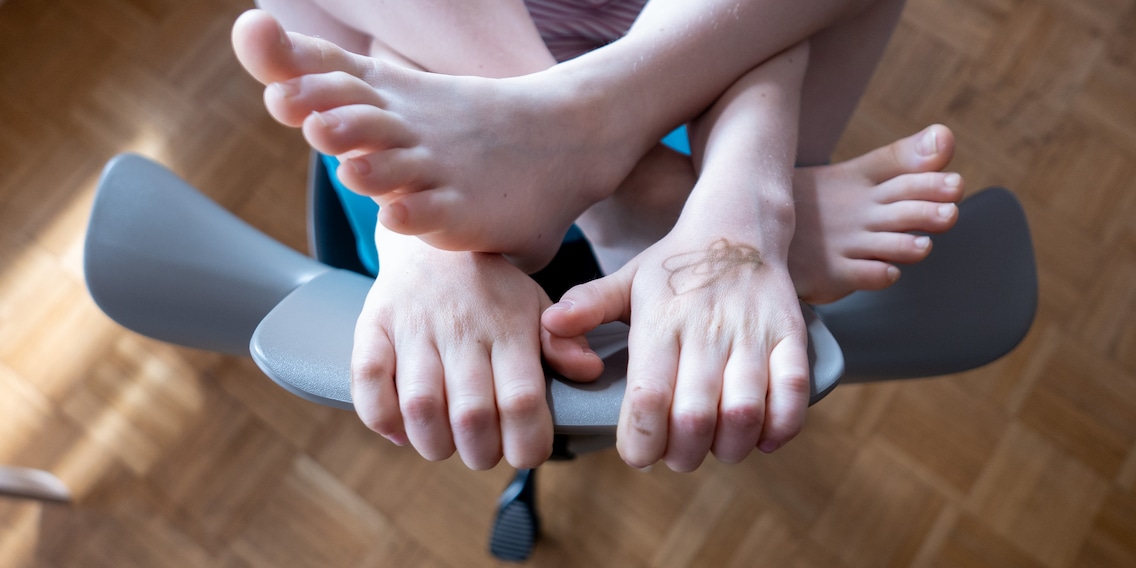 This article was translated automatically.
A children's chair with hand and foot? My daughter tests the Håg Capisco Pulse
When nine years of life meet several decades of design experience, worlds collide. Do they fit together and can a child benefit from the "small" Håg Capisco Puls? It is a model that is meant to grow with its tasks. Just like my daughter.
This test report is a little experiment. Fortunately, my nine-year-old daughter doesn't yet know anything about back pain, lack of exercise and far too long days at the desk. But there is the office chair called Håg Capisco Puls 8020 Kids. Who, if not a child, should test it? The offer to try out this chair is great for my not-so-little one. We agreed not to show her face ("anyone in the world could see that!"). But her thoughts and experiences are allowed to flow in here.
Of course, my impressions also play a role. Because, it quickly becomes clear, we see this seat with completely different eyes. She lives in the moment, I rummage in memories and think about the future. Our common starting point is a large cardboard box on which it is quite often written "Håg" and now and then "made in Norway". The company Flokk provides the Capisco Puls for several weeks and everyone is eager to see what comes out of this experiment.
Wait and see? No way!
Of course, the assembly is my business, and I'm under pressure right away: "Daddy, will you do it later?" is what they say as soon as the box is in the apartment. That doesn't really suit me at the moment, because I'm expecting a major handicraft project. But in the end, it's easier than I thought: I have to insert the gas spring into the base, screw the backrest to the seat and put the whole thing on. This takes less than five minutes and the required Allen key is included. My daughter is satisfied, the Capisco is rolled towards the nursery. Then the door closes and things take their course.
If the Håg Capisco Pulse looks familiar, there are several reasons why. For one thing, it's familiar. A classic. For another, it's a close relative of the upholstered Capisco 8106, which my colleague Pia Seidel tested. Although she dislikes office chairs, she was taken with the "design icon. The question with this model is: Is it also something for children? More filigree and more robust thanks to plastic surfaces, it is perhaps a little less iconic, but also considerably less expensive.
Can the classic also be used in children's rooms?
The chances are quite good, because after all, designer Peter Opsvik also designed the Tripp Trapp. For me, that's the epitome of a practical, co-grown piece of furniture. It helps toddlers at the table, doesn't tip over, and serves as a ladder substitute for mommy and daddy in a pinch. It often remains in the household long after the children have grown up. The Puls office chair is also not intended to be a classic children's chair, but a companion for life. The replaceable gas pressure spring - our test chair comes with the shortest version at 150 mm - lowers it far enough. I measure 40 centimeters in the lowest position at the front edge of the curved saddle seat. With padding it should be a minimum of 42.5 and a maximum of 52.5 centimeters.
In combination with the adjustment options on the backrest and seat, this ensures that it is already suitable for younger children. My daughter, who is just under 1.30 meters tall, sits well on it. I'm half a meter taller and surprised that it doesn't feel too small even for me at my desk, although the 200-mm spring is recommended from around 1.50 meters tall. Theoretically, the Pulse can be used forever, because you can replace the individual parts and adjust it in height up to working in an almost standing position. At most, it will need a few spare parts over the years. New castors, a different cover. But otherwise? It wants to blend in timelessly. Speaking of blending in: How's it going in the nursery?
Where there's a lever, there's a pull
When I first look, my daughter is doing what I also spent many hours doing as a child: She moves the chair up and back down. Up, down. Up, down. At least she tries, because with her 25 kilograms, the "down" is not so easy to manage. The short gas pressure spring offers considerable resistance. More than her previous chair.
It comes from the same place that a lot of kids' room stuff comes from: Ikea. For around 100 francs and with one basic idea when buying it: it will last until it is too small. So far, it does, and its spring is smoother, without me as an adult would whiz down criminally fast with it. "I can get down easier with mine," says the daughter, throwing back on the Pulse.
Why is it so hard with the Capisco? On purpose, I learn from Flokk. Children could get their fingers caught if it went up or down too quickly. However, the manufacturer assumes that parents will help adjust the chair once.
I do that once, twice, three times. The seat must be far back and the backrest down. I use the knob on the bottom to adjust the resistance of the movable backrest, which locks in place with the lever on the right side. I could adjust the chair a hundred times.
In the end, where there are levers, there's pulling. "It has a lot of cool options, I slid back and forth quite a bit," my daughter says a few weeks later, pulling the lever on the left rear to slide the seat back and forth as a demonstration. For her, the chair is more of an adventure playground than a work tool. And that's what the inventor intended.
Movement while sitting
As for the childish tendency to pull levers and change settings, I'm relaxed. My daughter doesn't have an 8-hour day at her desk, doesn't yet have to screw with her work-life balance, and can just go nuts. Much more important to me than the correct position of the seat is that she has internalized what the Capisco is supposed to teach us adults again: That movement and changes of position are part of it, even when we're sitting. Children actually take this for granted, and the chair encourages this by offering many ways to play with its curved saddle seat and winged backrest.
The first time we try it out, it doesn't take a minute for my daughter to turn around, press her belly against the backrest, and say, "It's comfortable like this, too! This way I can turn and sign all over the place." She's practicing a signature of her own, and I'm afraid she'll accidentally decorate the walls while twirling around. Instead of blue paint on white wall, though, a few weeks later I find white paint on the black back of the chair and nervously start scrubbing. After all, the good piece goes back to the supplier at the end of the test. Advantage plastic: the collateral damage can be removed with a damp cloth and a little patience.
"Sometimes I even stood on the backrest to climb onto my loft bed," I also learn. Now I'm glad for the cantilevered aluminum base and the stability it provides. Not only to the chair, but also to my daughter, who automatically rests her feet on the ribbed surfaces when sitting.
When doing Ufzgi or writing she takes posture and sits firmly in the saddle. Since riding is one of her hobbies, she knows her stuff and definitely recognizes similarities: "You sit like this, too," she demonstrates, centering herself and positioning her legs sideways. "But the stirrups are missing!" True. For the higher variants of the Capisco, there is a foot ring for this, which can provide additional stability.
But not everything comes as easily to her in handling the chair, which weighs a good 11 kilograms, as playing with the seating positions. "It's a little harder to turn than mine," she says of the Pulse. "With the other one, I drive around more, but I moved around more on the chair." She already notices, she says, that the Pulse is significantly larger, the back is wider and the seat is a little harder. Yet the test model has a cover that turns the Capisco 8010 into the 8020. The seat mat can be removed and replaced. It is hooked onto the underside and then holds without slipping.
For me, who has spent some time scraping craft goo and gum off the seat of her chair, this is a practical advantage. From a child's point of view, other things count: my daughter would directly redesign the Pulse entirely. The color combination of the test model is too drab for her.
"I'd like to see the colors mixed a bit. Blue and yellow, for example. I feel different on a colorful chair." If she had a choice, there would be less gray and more parrot. There are several Scandinavian-flavored color options. Maybe not quite what my daughter has in mind right now, but in the long run, I think it would be a wise choice. A subtle combination still appeals at 16, or 66.
Her tastes will change. So will the demands with age. Once the amount of time spent working at a desk increases, the right position and active sitting will become more important. When I ask my daughter how she liked the test chair compared to hers, she understandably has a hard time answering. For her, every chair is still a climbing frame, and she probably can't imagine that this will ever change. That if we're not careful, over the years we'll merge with the office chair and screen into one dysfunctional unit. I'd like to spare her that. Just like the task of making a "sound" assessment out of her fingers when she doesn't even feel the big differences yet.
So I ask her how many stars out of five she would give the Capisco Puls Kids. "I'd give it four or four and a half stars," she says after a moment's thought. "I can move around quite a bit in the chair, but I haven't really needed the wings." I observed differently. She has, sometimes unconsciously, wrapped her arms around the part of the backrest that sticks out to the side, repeatedly wrapped her legs under it, or sat upside down. That which is not there, the recesses, are crucial to making this - except for the short gas spring - large chair work even for small people. In almost all positions, at least. "When I was writing, the backrest was in the way in the middle," complains my daughter, who likes to sit upside down on the chair and can't quite work over it yet.
Get rid of the backrest?
With this knowledge, I want to pack the chair away again and discover that the gas pressure spring can be inserted without tools, but not removed again. Logical. It has to hold when the chair is lifted, and it does. Since I don't have a rubber mallet or other helpful tools on hand, I just remove the backrest and wait for the chair to be picked up again. In the meantime, my daughter continues to use it. "Maybe it's even better for me this way," she says, sitting on the leaning stool at her puzzle table. True. Of course, that's one way to use it.
Conclusion
At nine years old, the world can be anything but gray. With more color, my daughter's enthusiasm would have increased exponentially, but even as it was, she enjoyed using the chair and intuitively moved around on it. Only the gas spring made life a bit difficult for her, besides the foot cross needs a bit more space to maneuver. From her point of view, four stars are fair for the chair.
I observed a lot of what I like and asked myself one question: What should it be? A chair for life? Or various life stage chairs? For the price of a Capisco Puls Kids, I'm sure I could buy her three others. A parrot-colored kid's dream, a teen taste aberration, and one for adults. Sustainable, better, and more ergonomic would not be. I don't believe in the one overchair that does everything incredibly much better than the others. But I do believe in thoughtful design that is durable and adaptable to needs. The Capisco belongs in this category; it promotes an active life even when seated by leaving free space in the crucial places.
---



Sports scientist, high-performance dad and remote worker in the service of Her Majesty the Turtle.
---
---
---
These articles might also interest you
Skeleton Loader

Skeleton Loader

Skeleton Loader

Skeleton Loader

Skeleton Loader

Skeleton Loader